Speedquizzing is a popular pub trivia game where you answer questions in an allotted time. The idea of the game is to see how many questions you can answer correctly in the shortest amount of time possible, and it has become a very popular game for pub quiz nights. However, with Speedquizzing being played in many pubs around the world, your venue could stand out by hosting one of the popular alternatives to Speedquizzing, such as music bingo!
The Speedquizzing game is popular and well received, however many have over-saturated the use of this concept and many establishments are ready for something different. In this blog post, we will discuss the best alternative Speequizzing trivia games that can replace or supplement entertainment in pubs or at home!
Why are quiz nights so popular?
There are many reasons quiz nights are so popular. Trivia nights are a great way to get together with friends and family and have some fun. A pub quiz night offers a sense of competition, rivalry and fun, all while using your brain! Pub quizzes now vary from music trivia games to general knowledge, social media games and to traditional bingo games! New ideas and concepts around pub quizzing are constantly growing and evolving and this means there are many alternatives to Speedquizzing for your pub quiz night!
How can quiz nights increase business?
Quiz nights can increase business in many ways. If your pub offers something new and exciting, you will draw customers from afar. Offering something different draws in customers who might not otherwise come to your pub or bar. These these folks can often become longstanding, loyal patrons. Putting bums in seats and keeping them there, is the name of the game, in pub success.
Music trivia nights can help increase business by drawing people from other establishments, as many will have their own weekly events and competitions for those looking for some extra fun on a weeknight! Quiz nights may also encourage patrons to stay in your establishment longer, and are a way of encouraging regular visits to your events. Music bingo in Scotland has shown how popular music bingo is as a pub trivia night. The Kilted Kangaroo's musical bingo brings returning patrons to the pub weekly for music bingo themed nights! Read more about how to host a music bingo night in your pub here.
How much do pub quiz platforms cost?
Most of the quiz platforms mentioned in this blog have a free version to try or a free trial so that you can test the app before using! Many pub trivia apps or platforms offer yearly subscriptions which are very cost effective when hosting multiple games per month. For example, Rockstar Bingo offers a free music bingo hosting trial. There is also a yearly subscription for groups up to 30 starting from just $29.99. This is great for pubs and bars looking to host a quiz night on a budget and take the concept out for a spin.
Can you use smartphones for pub quizzes?
Yes, most of the quiz platforms mentioned in this blog post can be used on smartphones (the game controller everyone is carrying around with them in their pocket or their purse). This is great for ensuring the games are more interactive as it gives participants the opportunity to play with their own device. Players using smartphones as their quizzing game controller also ensures the game is more covid safe as they only touch their own phone. You also save time and money by not printing quiz cards or music bingo cards, plus less hassle than handing out paper bingo cards out. Having a virtual bingo card or quiz card means answers can be automatically verified – check out how easy it is to host pub music bingo here for your next pub quiz night!
Rockstar Bingo
The best up first!
If you're looking or ready for an alternative to Speedquizzing that is a bit more fun and interactive, then consider hosting a Rockstar Bingo music trivia night! This event can be tailored to any topic or theme that is related to music, and it's perfect for large groups of people. Many hosts use 90s music bingo playlists, classic Rock and Pop, Disney Music Bingo and more. Check out our recommended best music bingo playlists here.
Rockstar Bingo is very versatile – you can either have teams compete against each other or have individuals compete against each other. Additionally, you can make the music bingo themes as difficult as you want to, depending on your audience.
Music bingo was first hosted in 1958 as a TV Show, and has grown in popularity ever since, especially in the last 5-10 years thanks to music bingo apps. Read more about how to play music bingo here.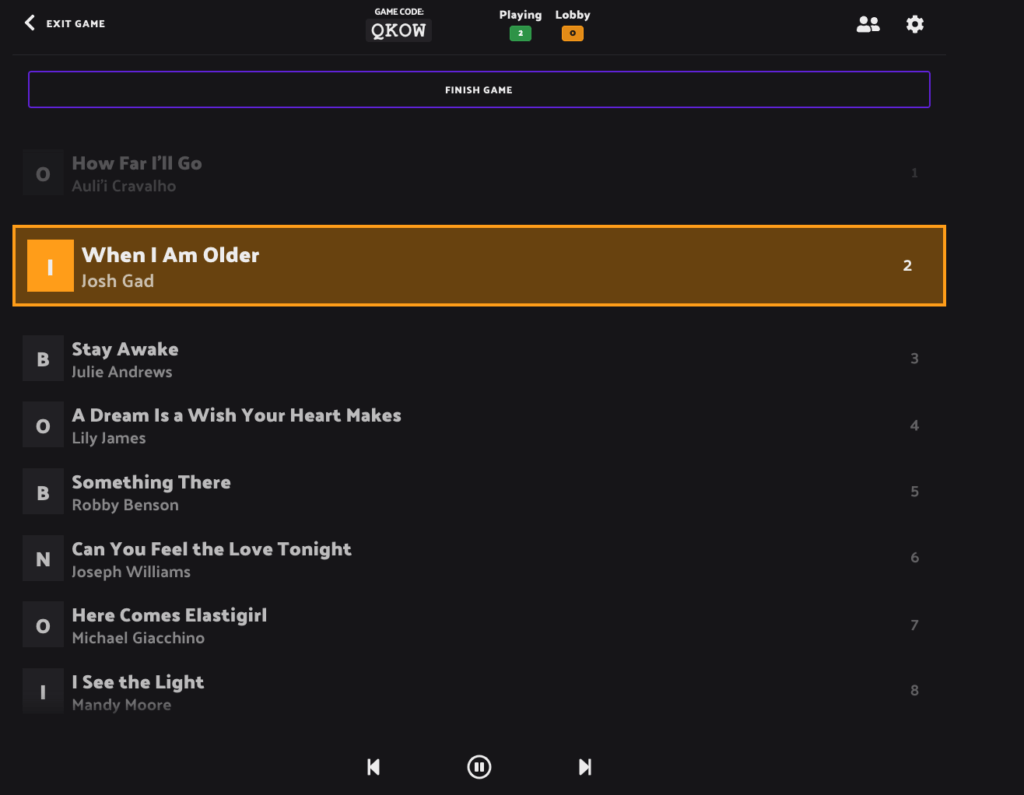 Quizzo
Quizzo has been popularized thanks to television shows like The Office, Parks & Recreation, The Big Bang Theory, and Modern Family. In this game, contestants are given a sheet with questions listed on it that they must answer correctly before time runs out.
There are bonus points awarded if you finish answering all the questions within one minute – but those come at an increased risk as well (because there will be more difficult questions)! One major difference between Speedquizzing and Quizzo is that teams can be made up of any number of players, as long as everyone knows the answer!
Family Feud
Family Feud is a classic game show that has been on TV for decades. The premise is simple – two families compete against each other to see who can guess more survey responses than the other family. The questions are typically general knowledge, covering topics like sports, movies, music, and current events.
This game can also easily be adapted for pub quiz nights by having teams of four or five people instead of two! The questions can also be changed to be more appropriate for the audience and location.
Quizlet Live
This game allows people to compete against each other in real-time and the questions are pulled from a set of pre-made flashcards. The great thing about Quizlet Live is that it can be played with any number of people. This means that it works for pubs and/or large groups. Additionally, there are many different quiz formats available on Quizlet Live, so you can find one that best suits your needs.
Kahoot!
Another popular alternative to Speedquizzing is Kahoot! This game is played in real-time, and it features thousands of different question sets that you can use in your venue.
The best part about Kahoot! is that it's very easy to use – you simply create a quiz, share the link with your friends, and then play! The game can be played on any device, so you don't have to worry about people huddling around one.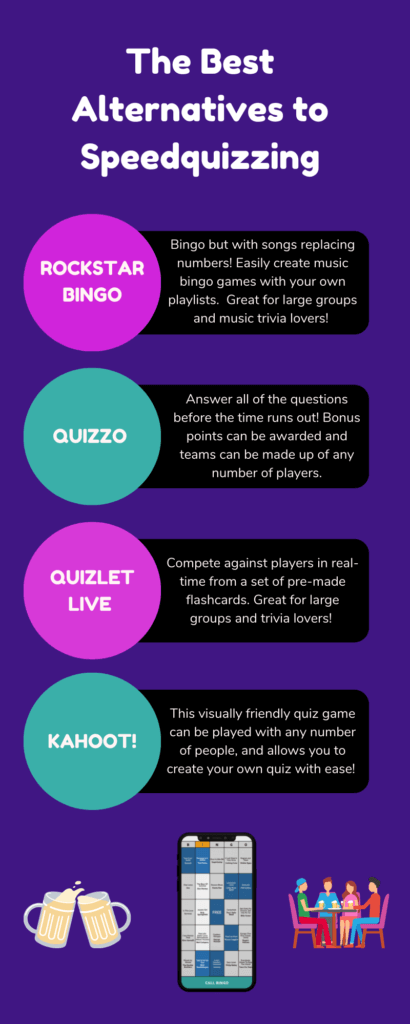 Conclusion
There are a range of alternatives to Speedquizzing that can be used for pub quiz nights. The great thing about the options above is that they can be played with any number of people – individuals or teams.
Of course, music bingo is one of the pub quiz ideas that has grown rapidly over the years. Thanks to apps like Rockstar Bingo, hosts can use their own Spotify playlists to create a music bingo game quickly, with a variety of playlist choices!