This is our fifth Music Bingo Podcast with three music bingo host Guests, Del, Jen, and Claire. They are our first virtual YouTube music bingo hosts on the show, and their experience is very unique. Read on and learn more about how to host or be part of Disney music bingo! Or read on if you are interested in how to host music bingo on YouTube.
About our Music Bingo Host Guests
Del and Jen, known as Get Binky, stand for "Do what makes you happy". Get Binky are a YouTube famous Disney influencer couple boasting over 25K YouTube subscribers, so have a large music bingo audience! Their Disney YouTube channel is predominantly about travel, particularly in Florida, and they feature hotels, restaurants, and attractions in Disney and Universal theme parks.
You may have spotted Del from Get Binky without knowing. Del went viral for screaming on the world's tallest swing ride, the Orlando Star Flyer. Picked up by LadBible and Visit Orlando, Del has been seen over 3 million times screaming on the Star Flyer on his YouTube channel video!
Claire's Disney YouTube channel is called Disscot. She also deals with travel but she mainly focuses on Disney and providing people with tips to help them plan for their upcoming holidays.
When the pandemic hit, sharing travel content became difficult and our Disney YouTubers had to find a fun distraction that was relevant to their audience. They started off with YouTube quizzes, which progressed to working with various charities, and later to an email from Rockstar Bingo that opened up their path to hosting music bingo.
Rockstar Bingo has enabled Get Binky to bring families together across the whole world by allowing many people to play the music bingo live via YouTube.
What are the best music bingo themes to use on YouTube?
The Disney Rockstar Bingo hosts have used many different themes for music bingo playlists from 80s music bingo to movie music bingo. To check out Get Binky and Disscot's Disney themed music bingo nights from the past, take a look below:
80s music bingo night with Get Binky. Featuring an awesome 80s music bingo themed playlist, this night got everyone reminiscing of 80s music with a great 80s music trivia night.
2. Disney music bingo night with Get Binky! Featuring the best Disney songs from movies to TV shows, Disney theme parks to musicals. This Disney music bingo experience had a Disney song for everyone! This would fit perfectly into an entertainment night at Disney Springs.
If you are interested in finding the best Disney playlist for music bingo, check out the Rockstar Bingo Disney playlist on Spotify. Or head to Inside the Magic, where they revealed the top 20 Disney songs…. ever!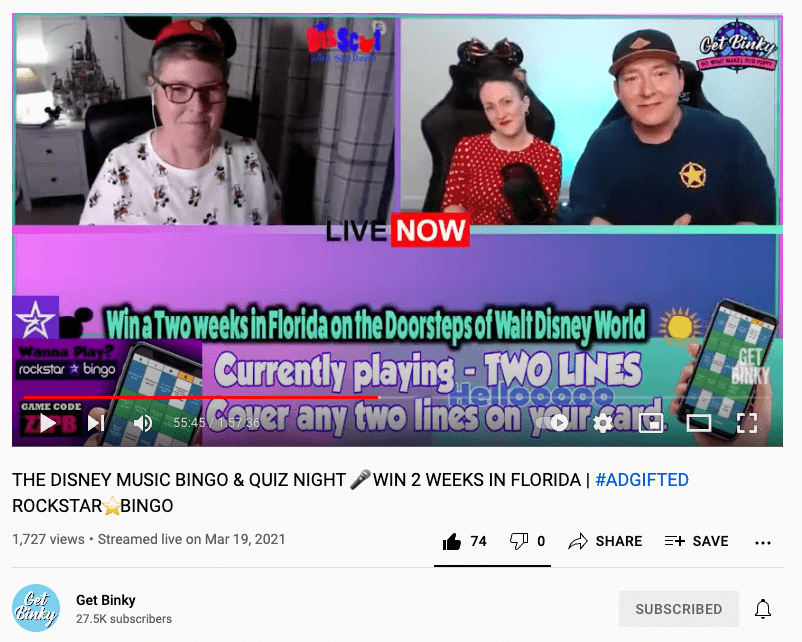 3. Get Binky and Disscot also hosted an awesome Motown vs Cheese music bingo night, with a great mix of songs for all ages. A music trivia night with a twist indeed!
What is your favourite music bingo playlist?
Claire: Cheesy music bingo is the one that I'm most excited about for two reasons. One, it's great fun, and two, watching Del suffer while listening to cheesy music is so enjoyable!
Jen: I like a lot of genres like Disney music bingo, Universal park and film songs, movie music bingo, and the club classics music bingo playlist.
Del: I like anything that hypes our Youtube community up! It doesn't matter if it's rock and roll music bingo, old-school, or 80s music bingo. Any music that people know and can get a good vibe from that is what I like.
Our audience has also created music bingo playlists and they are amazing. They're unique to them and means they have songs they love in a music bingo game. But I think the power of Rockstar Bingo is giving people that energy and party vibe in their living rooms.
We predominantly host music bingo events on Saturdays and Sundays. Even while so much is now open, we still hit 100 bingo players on such days. Music brings so many people together, and Rockstar Bingo has created a fun way to do that. Everybody loves Bingo and combined with music; it's an absolute hit!
So would you like to host Rockstar Bingo with house music bingo?
Del: I would love to, and I think some of our audience would be surprised. Some of them will not have a clue about the songs, but we know there's a little army of Shazam music bingo users out there. They don't know the songs, but they will just Shazam the hell out of it.
How long have you been hosting Rockstar Bingo now?
Del: We started hosting Rockstar Bingo in March 2021. We've been Rockstar Bingo's since the beginning of the app, and we have seen all the new music bingo features coming through. It has been great! We have seen the kickout player features, setlist organizing, winner details and more.
Claire: Our main music bingo prize is a two week stay at Our Disney Place in Orlando, Florida thanks to Rockstar Bingo. We also have $300 to spend at Walt Disney World and $300 to spend at Universal Studios.
If everyone that wins one of your music bingo games goes to the final game, how many people have you got now?
Del: Thirty-six households are in the Disney music bingo finale in December 2021 so far. There are few more opportunities left but we will be spontaneous with the next few Disney quiz or music bingo opportunities. We have great plans for the Get Binky music bingo finale, with a great video showing the best Disney condo in Orlando, Our Disney Place at Bahama Bay Resort! To find out more about the competition to win a holiday to the Orlando condo, watch the video below!
If you are interested in learning more about the Disney condo that is the big prize for Get Binky's music bingo games, check it out here. Our Disney Place is a condo situated just 15 minutes away from Walt Disney World and has a Star Wars themed room, perfect for the kids…. or grown kids! Our Disney Place is a condo situated in Kissimmee at Bahama Bay Resort, so is the perfect location for your next Walt Disney World trip! Read more about staying at Bahama Bay Resort here, or check out your date availability on VRBO.
You can check out The WDW Couple staying at Our Disney Place here on their YouTube channel, with over 13K views of Our Disney Place!
If you could add any features to Rockstar Bingo, what would you add to it?
Del: Rockstar Bingo has a loyal fan base, and it's growing. I think if people could create their own profile and customize how the app looks to them as a music bingo player, that would be great. Maybe the same for music bingo hosts too.
Or perhaps players could tap a bingo square to make a particular noise, a funky flash, or anything that has to keep happening on the screen if the song doesn't come or they are just looking at a card. It may sound like something minor, but music bingo could become more addictive and even more fun.
Who are your biggest fans of your music bingo quizzes?
Claire: There are a few Disney girls because they are always posting videos.
Del: They just love it, and every week, they're filming Instagram stories of our Disney music bingo games. The Disney girls all have a drink in hand, are singing along and partying. They are all playing our games with the music bingo app, and you can see them in the videos. Bingo players have even canceled London nights out to attend our music bingo events.
After the final big game, do you think you will carry on hosting YouTube bingo and quizzes?
Claire: I really want to do a Christmas music bingo event, that would be great fun on YouTube. Over winter, people do stay in, and it's a good opportunity to host music bingo online.
Del: If Rockstar Bingo is happy for us to continue using their music bingo generator app, we will always be up for hosting Disney music bingo. Especially when we move to do in person Disney events.
Do you have any exciting plans for future music bingo games?
Jen: New Years Eve is a party night, music bingo on New Years Eve could be fun? We will see, but would be something a fun virtual event on New Years Eve! Other New Years Eve game ideas don't look quite as fun as a music filled night!
Can you play song clips on YouTube without copyright infringement for music bingo?
Our hosts chatted about how they bypass copyright flagging on YouTube when hosting their music bingo games. The keys appear to be playing a range of sound effects while the music clips are playing. Keeping song snippets on YouTube under 20 seconds help to avoid copyright issues too. Other platforms such as Facebook and Instagram flag or stop music playing live in music trivia games. However, YouTube and Twitch seem to give trivia hosts a route to bypass music copyright problems. That being said, you must be prepared for your music bingo game or video to be removed from YouTube after your virtual game whilst YouTube assess the songs.
YouTube operates under a 'fair use' policy. So as long as you stick within these rules, your YouTube bingo games should be great! You can read more about YouTube copyright rules here. Of course, having a license for use of the copyrighted music is the best way to play the bingo songs!
Rockstar Bingo do not take responsibility for any issues surrounding hosting a music bingo game and any copyright issues that may arise. It is your job as a music bingo host to properly research the music and copyright rules prior to hosting a bingo game.
Want to host music bingo for a New Years Eve Trivia Game?
We rounded off the podcast chatting about how music bingo events could make a in-person or virtual New Years Eve event, and how the YouTube community would enjoy this! Families and friends across the country can make use of our free month of music bingo offer for Rockstar Bingo premium accounts.
This means you can play Rockstar Bingo with your family with up to 30 people for free using code 'GREENBINGO' at checkout. Just head to the checkout here to sign up for your free month using code 'GREENBINGO'.
---
If you are interested in learning more about hosting music bingo or adding our platform to your event or venue, you can find all sorts of information on our website (see link buttons below). Alternatively, click the "Tell us about your unique event or location!" button to reach out for a chat.