Here at Rockstar Bingo, we keep trying to do our bit to be a green, eco friendly party game. From being active on Stripe Climate (you can direct a fraction of your revenue to help scale emerging carbon removal technologies) to minimizing carbon emissions through paper reduction, we are aiming to push the entertainment industry greener and of course, creating more music bingo fun as we go! If you are looking to host music bingo as your eco friendly party game, make sure you do it the green, sustainable celebration way!
Replacing your music bingo paper cards with our electronic music bingo experience is a huge step in the right direction for reducing your carbon footprint. With no binning of paper, no ink costs or use, no dabber ink, and no printing fees – it's a winning combination for your environmentally friendly party game.
Rockstar Bingo is helping many hosts to achieve an environmentally friendly game and attract like-minded and eco-friendly guests for a number of reasons. You can check out our latest video below to find out our top reasons for using digital music bingo cards at your eco friendly party game.
Rockstar Bingo turns paper bingo cards into a thing of the past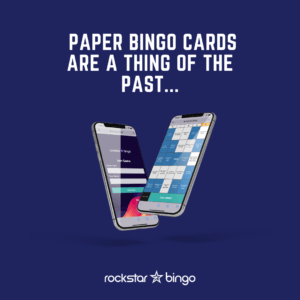 Our Rockstar Bingo platform produces totally digital cards that appear quickly and aesthetically on your player's screens. With a simple game code, they will receive their virtual music bingo card and be good to go, real-time.
FACT
Paper accounts for approximately 40% of all waste in the United States – totally around 71.6 million tonnes per year. Not only does paper production involve the process of deforestation, but it also releases nitrogen dioxide, sulfur dioxide and carbon dioxide into the air.
SOLUTION
Going digital is an effective, yet easy solution that makes a difference! It minimizes the environmental impact as well as combatting the limitations of physical documents – everyone is using a smartphone, so why not put it to good use.
Rockstar Bingo removes the need for printing
Printing is a monotonous process when producing bingo cards and can also be costly. But there are also more detrimental environmental impacts of ink.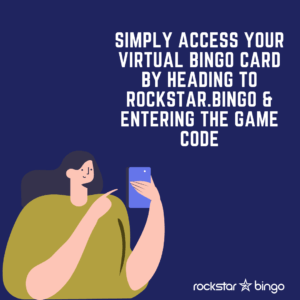 FACT
There are harmful chemicals in printer inks for the environment and the heavy metals in ink can lead to soil and water pollution when binned, taking thousands of years to degrade – and even then, they can continue to pollute. We make music bingo environmentally friendly.
SOLUTION
Limit your usage of ink and turn to digital solutions or re-using content. Are there ways of using a digital platform to replicate your printed assets? If you do need to print branding or information, re-use these assets as much as possible! Here at Rockstar Bingo, we have a range of hosting assets for our venues and hosts to use. From table instructions to QR codes – we try to limit the amount of ink that hosts will need – providing assets that can be re-used and laminated to increase longevity! Re-use and make your game of music bingo environmentally friendly.
Rockstar Bingo stops you printing more cards than you need, without capping player numbers
Why print cards to excess for many of them only to be wasted at the end of the game?
FACT
Currently, companies in the US spend over 120 billion dollars per year on printed forms and papers. Whether that be company documents, paper for entertainment purposes or contracts, most of these print forms become outdated in just three months.

SOLUTION
Playing virtual music bingo on Rockstar Bingo's platform allows you to provide a card for everyone without the need for paper, printing or counting numbers! If a player turns up, they can simply enter the game code and get their card. This saves the need for printing cards that won't be used or re-used for another game due to a different playlist.
Other Benefits of Rockstar Bingo's Eco Friendly Party Game
Less wasting time between games handing out paper bingo cards. You can put this time to good use by getting to know players, entertaining them, taking playlist requests and allowing everyone to grab a refreshment.
No spillages or damaging of the paper cards. Make soggy paper bingo cards a thing of the past. Sticky tables, food and drink spillages could damage your card or even make it void! With a virtual card, you have clean cards and a tidy table!
Fancy a last-minute change in music bingo playlist? You don't have to waste your cards! You can quickly swap your imported music playlist ready for your event. It's super easy to choose your music bingo playlist with Rockstar Bingo.
Looking to Host a Music Bingo Event?
Are you looking to host your own music bingo game? Rockstar Bingo has you covered! With an easy-to-use hosting platform, virtual bingo cards and SO many ways to link your playlists such as YouTube, CSV files and Spotify – you can live your music bingo hosting fantasy!
Operating around the world, from the UK to US, Canada to South Africa, we are spreading the music bingo love!
Head to https://rockstar.bingo/ today or email marketing@rockstarantics.com for more information or a free trial today.