Looking for an app to host music bingo with? Rockstar Bingo is making the 'how to host music bingo' answer SIMPLE! Not sure of the rules of music bingo? Check out our bingo rules blog here.
This blog will run you through how to set up your Rockstar Bingo account and host your first music bingo game successfully!
Where to start with Rockstar Bingo as a music bingo host?
First, head to Rockstar.Bingo and choose your subscription account and level. 'Free' is for groups up to 6, Premium for up to 30 and Pro with unlimited players and additional features.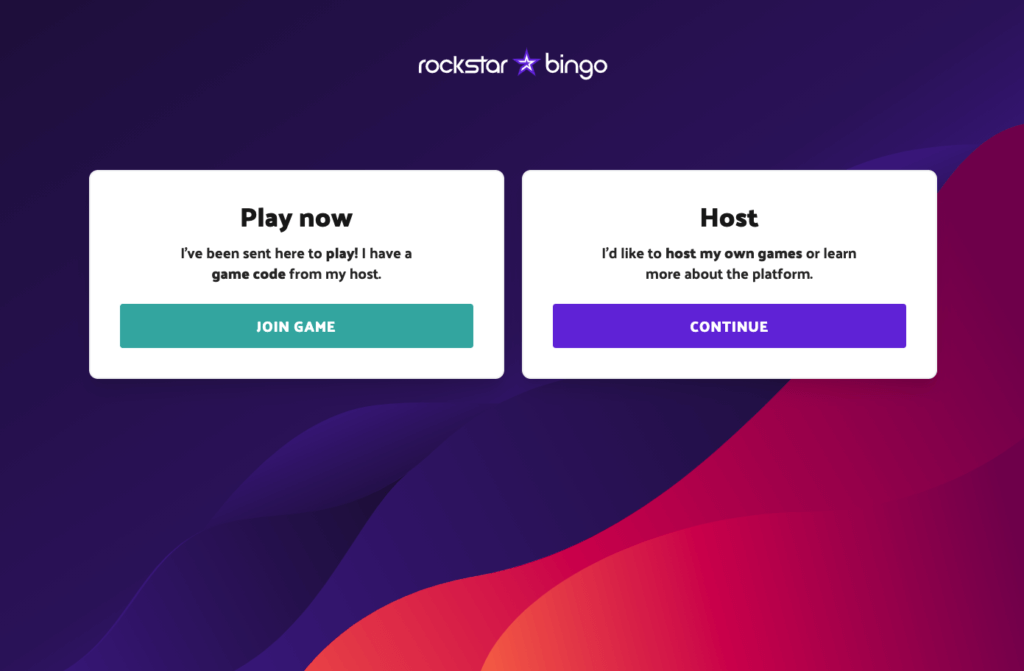 Once you have signed up, you will see the Rockstar Bingo provided playlists, custom playlists and connected Spotify playlists.
If you fancy, you can choose dark or light mode in settings.
How to connect Spotify to your music bingo game?
Click 'host game' and choose your playlist. Rockstar Bingo will select 75 songs to play the music bingo game with.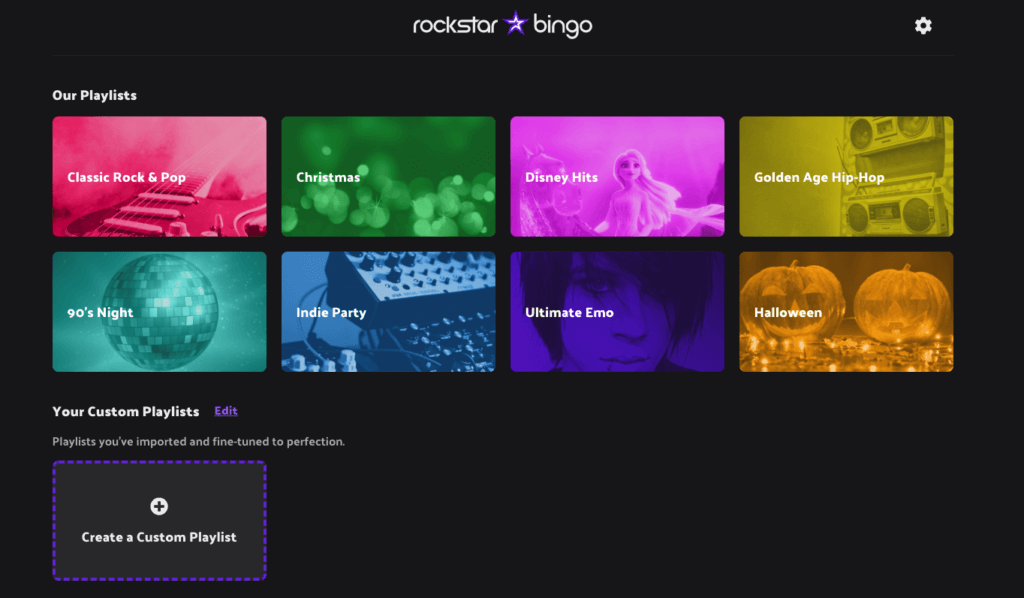 The next question you will be shown is if you want to use a Spotify Playlist – therefore hosting your music bingo game with Spotify. Spotify connection allows you to click the 'next song' button as a host to move onto the next song. The songs will play via your speakers – whether that be in a venue or even via Zoom, Teams or similar (be sure to share your computer sound). To use your own music bingo playlist or sound provider with Rockstar Bingo, choose 'no' and Rockstar Bingo will simply provide the bingo cards and game play while you find and play the music. You could use Amazon Prime, Soundcloud, your MP3 collection, live music, or any other music source you wish.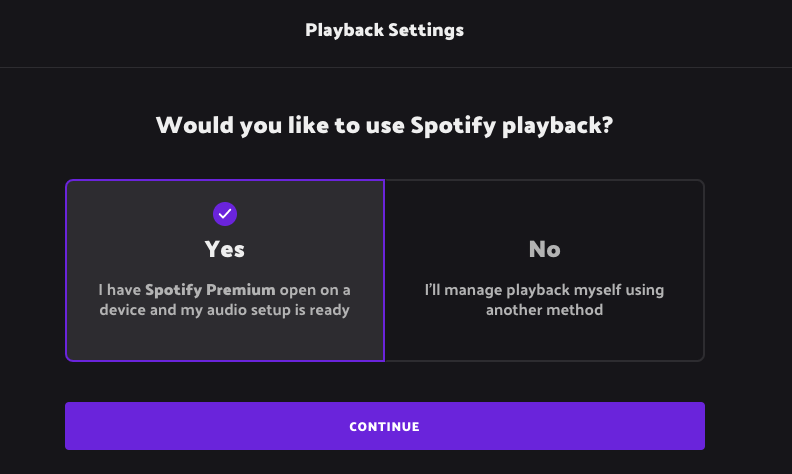 Choose where you will run your music playback. This is where you connect your device if you chose to use Spotify. You will need Spotify open and running on this device and it should be identifiable on the device playback screen.
How to host music bingo with a game code – where to find the code?
The ready to go screen will show, including the music bingo game code which is made up of 4 randomly generated letters. At this point, you will then direct players to enter this 4-digit code on the 'play game' screen on the Rockstar.Bingo site. Players will also enter a name.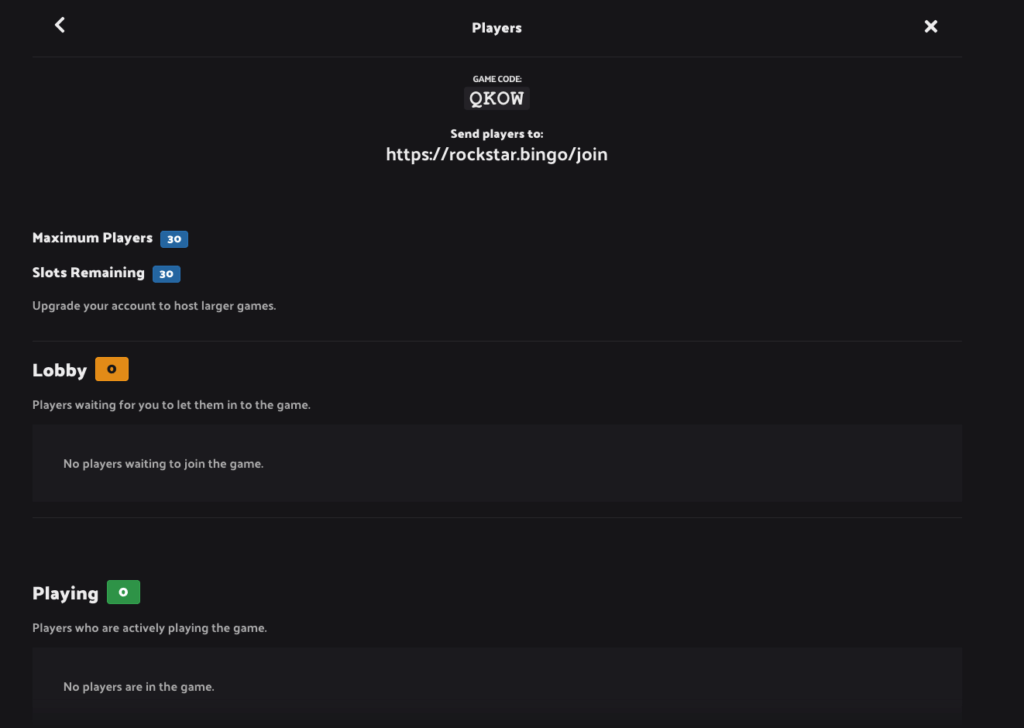 Once players begin joining with their player name and game code, you will see names appear in the music bingo lobby. The host will then be able to admit these players. You can do this one by one, or if there is a larger number of players you can press 'admit all'.
At any point in your game, you can head back to the lobby and admit players. For example if people are late arriving to your venue or music bingo party.
When clicking continue, you can see your songs lined up and you are ready to start the game.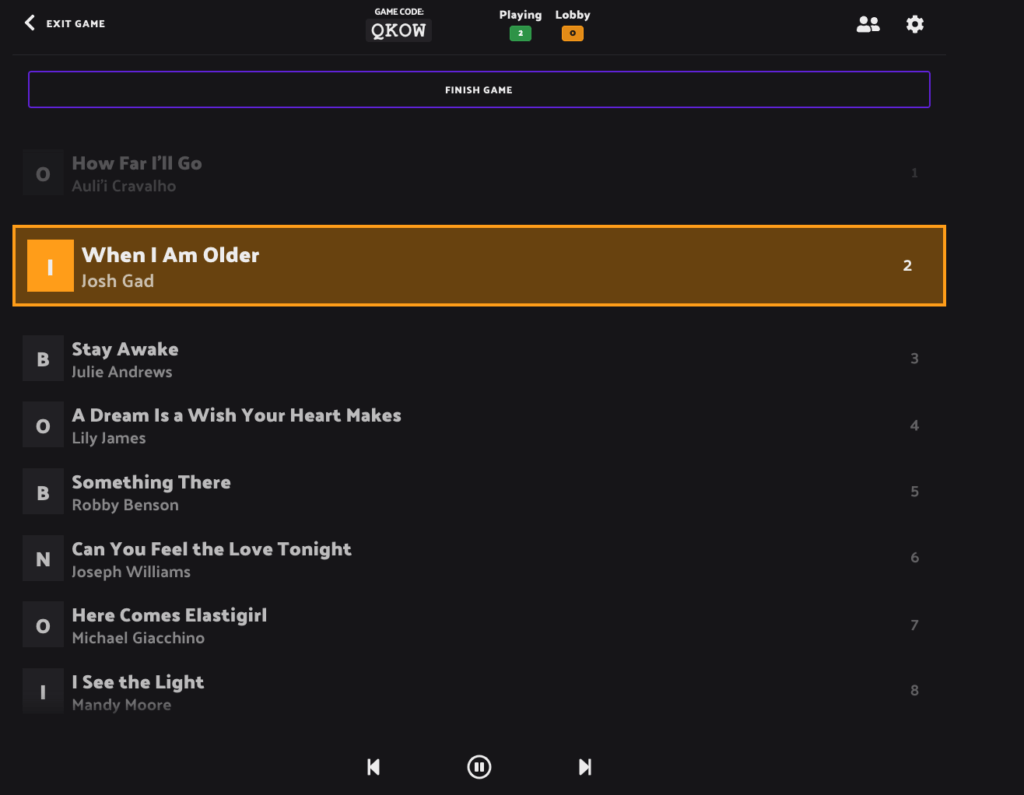 How do you choose your music bingo target and highlight columns?
Click 'Start Game' and choose the target to aim for – for example, 4 corners, X shape or one line. This target will then be displayed on your player's virtual music bingo cards.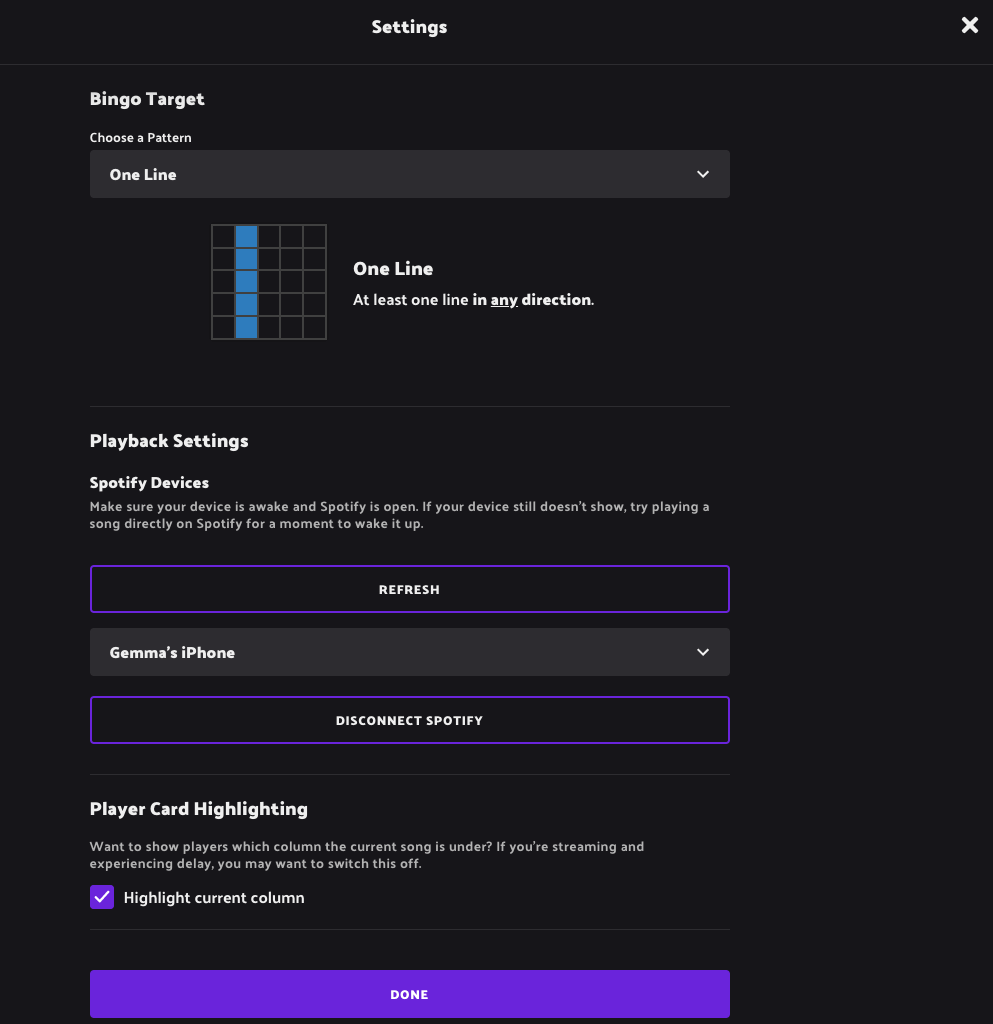 Player card highlighting is an option to turn on or off in settings. If you are streaming, it is best to turn it off as you may have a short time delay with music, such as on a Twitch feed. The highlighting is also fun to turn off if you wish to provide a more 'advanced' round. If you leave the column highlighting on, then it will give a glow over the column where the song would appear on the players card. For example, you could say as a host, 'Under the N is Survivor by Destiny's Child' and this row would also be highlighted.
How do you select music bingo song duration and check player card progress?
You can choose the length of song that you play by just letting the song run and then hitting the 'next arrow' button when you wish to head to the next song.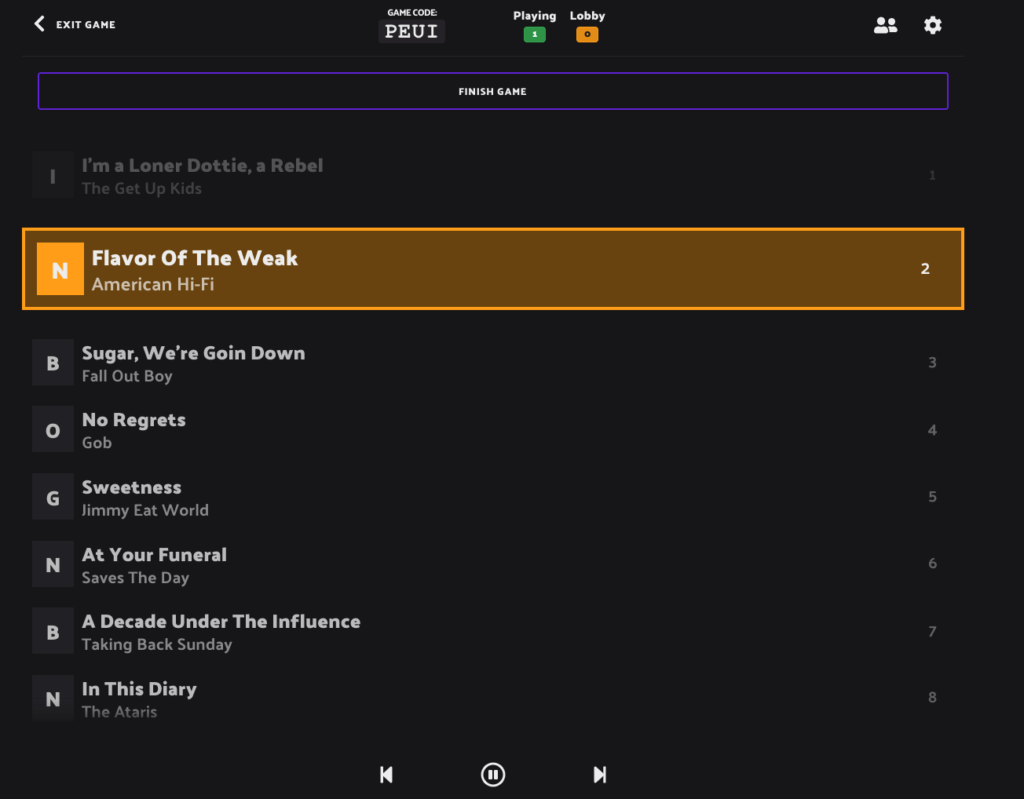 By clicking on the 'players' icon at the top of your screen, you can check your player's progress. The grey check-mark means a player has a song but has missed it. A green tick indicates correct song selection and red means the wrong song was dabbed on their music bingo card.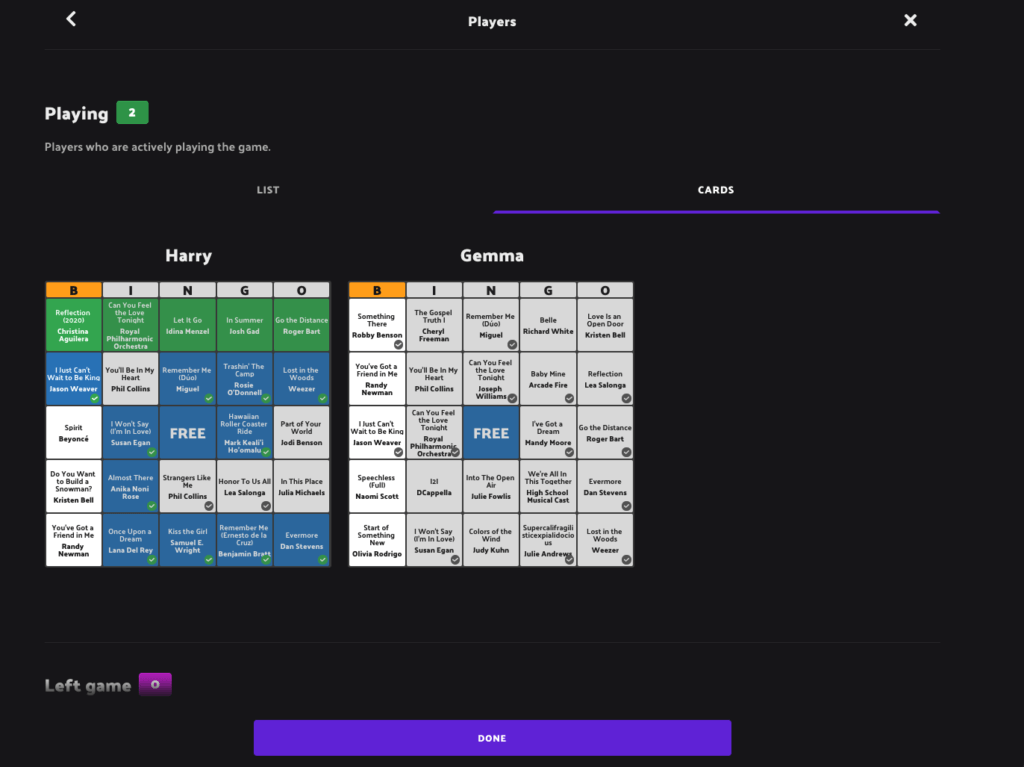 How does a player call bingo with Rockstar Bingo?
If a player thinks they have a 'bingo' on their music bingo card, they can 'call bingo'. If they haven't met the target or have some incorrect songs dabbed, then their bingo will be denied by the Rockstar Bingo app. Correctly dabbing a music bingo card, will mean the bingo will be accepted under verification. The host will be able to confirm this and the winning player will be delighted with a confetti party! It must be noted that the other game players will see that someone has called bingo. This bingo will appear as a small notification bar at the bottom of their screen.
What to do when someone wins music bingo?
Game duration depends on the number of players. The higher the number of players, the quicker the bingo will be!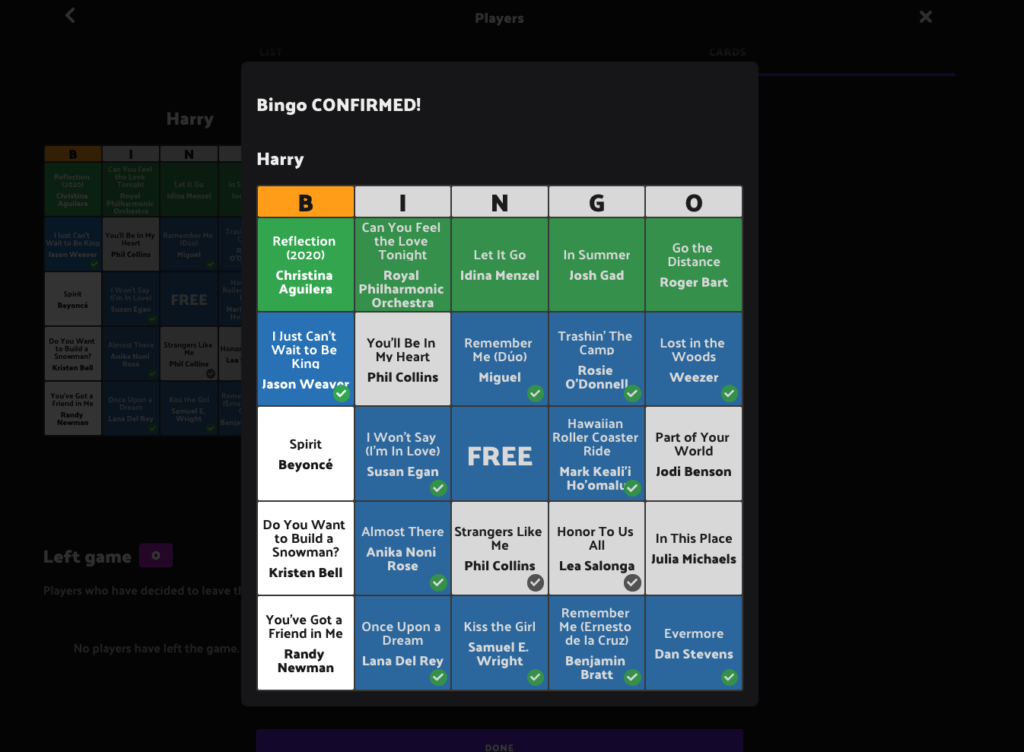 If you wish to continue playing music bingo, you can change the music bingo target and this will be shown on your player's screens as a new target.
The same steps apply as the first game, once somebody calls bingo, you can verify through the Rockstar Bingo platform!
You can then end the game, and the players cards will close. The player will get a card summary of songs selected and they can then leave the game. You could then start a new game afresh or completely finish Rockstar Bingo for the night.
If you were to play again with Rockstar Bingo and the same playlist soon after and there are over 75 songs in the playlist, Rockstar Bingo will automatically pull the 'non played' songs into the players virtual music bingo cards, meaning you will have a fresh round of songs!
We hope you now are clear on how to host music bingo with Rockstar Bingo! We also have a super easy to follow Rockstar Bingo demo on YouTube – just click here to view it!
Hosts across the world are using playing music bingo with the Rockstar Bingo app! We are receiving so much awesome feedback – we would love to hear yours on our Google page here.
Be sure to let us know any questions you may have, or submit your interest on the form below, we will get back to you shortly! Alternatively, feel free to email marketing@rockstarantics.com