Do you own a business that could benefit from a unique and entertaining new hosting platform? If so, we have you covered! Music Bingo pub nights are the future of engaging and revenue boosting entertainment due to Rockstar Bingo. We can help you combine the love of music and an exciting variation of bar bingo to: 
Increase the duration people stay in your establishment
Bring in new customers and in turn, increased sales
Turn your least popular nights into a booming music bingo themed night!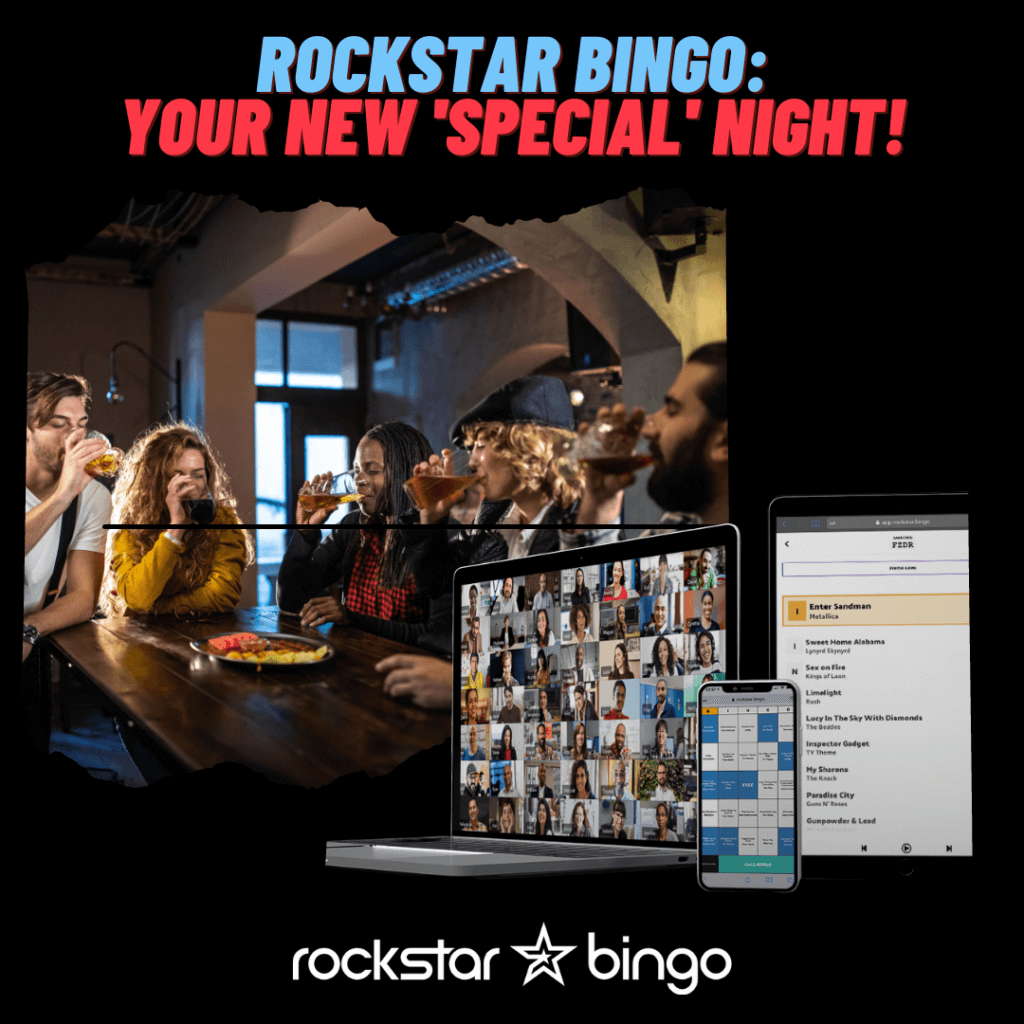 Rockstar Bingo is helping businesses across the globe expand their entertainment offerings through a tech and user-friendly music bingo platform. Explicitly due to its design, the music bingo app is also hygienic for staff and patrons. Music bingo pub nights are an expansion of what bars can easily host due to the Rockstar Bingo Music Bingo app.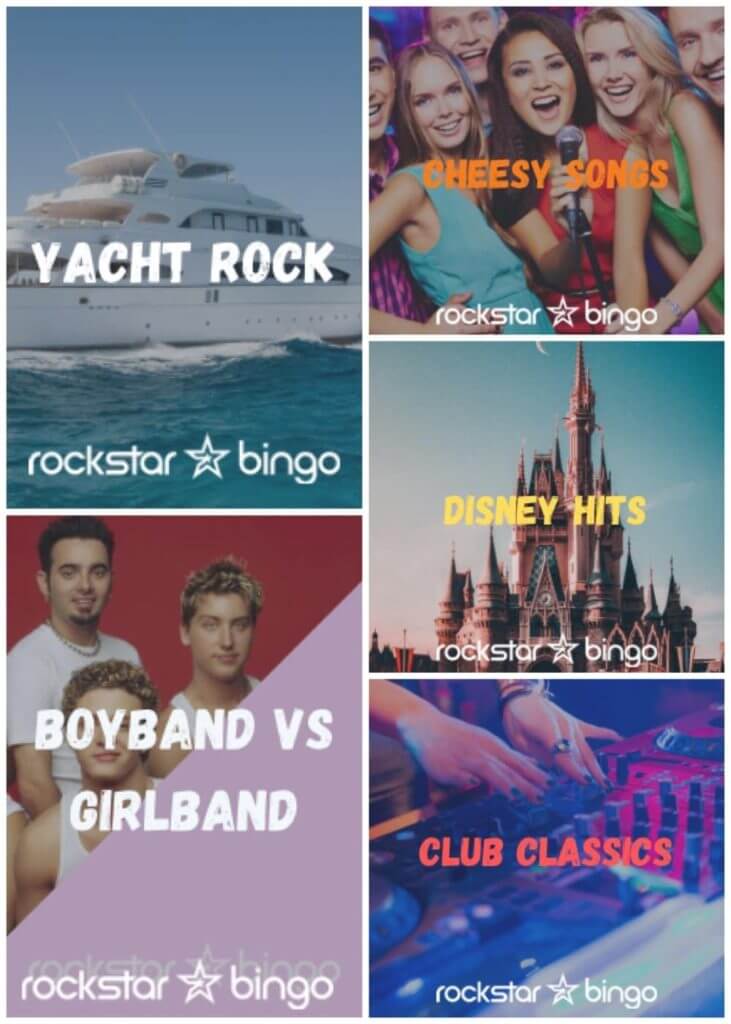 The app is unique in the fact that it empowers hosts. Whether it be that you take on the role of hosting internally within your business, you approach your current DJ or entertainment provider and suggest Rockstar Bingo as an option or you look to find that dream host or even a LIVE BAND to deliver your Rockstar Bingo service.
The platform itself offers a technologically savvy game of music bingo, fully controlled by a host via a digital device (PC, iOS, Mac, Android). Furthermore, the music bingo app is also fitted with easy audience bingo card tracking and 'bingo verification'. Hosts can connect the app to their existing music platform and link 75 song playlists seamlessly to the game of music bingo, with unlimited game capacity.
How do you play music bingo?
With songs replacing the numbers on a classic bingo card, players can access their virtual bingo card through entering the host's game code. On their virtual bingo card, players can begin ticking the songs off their card on their smartphone or similar device. When a player hits the hosts target shape, whether that be a line, full house, X or four corners, they can press the 'call bingo' button. This notifies the host as well as all the other players of the game. As soon as 'bingo' is called, it is verified by the host with a mouse click, and the name of the winner is announced.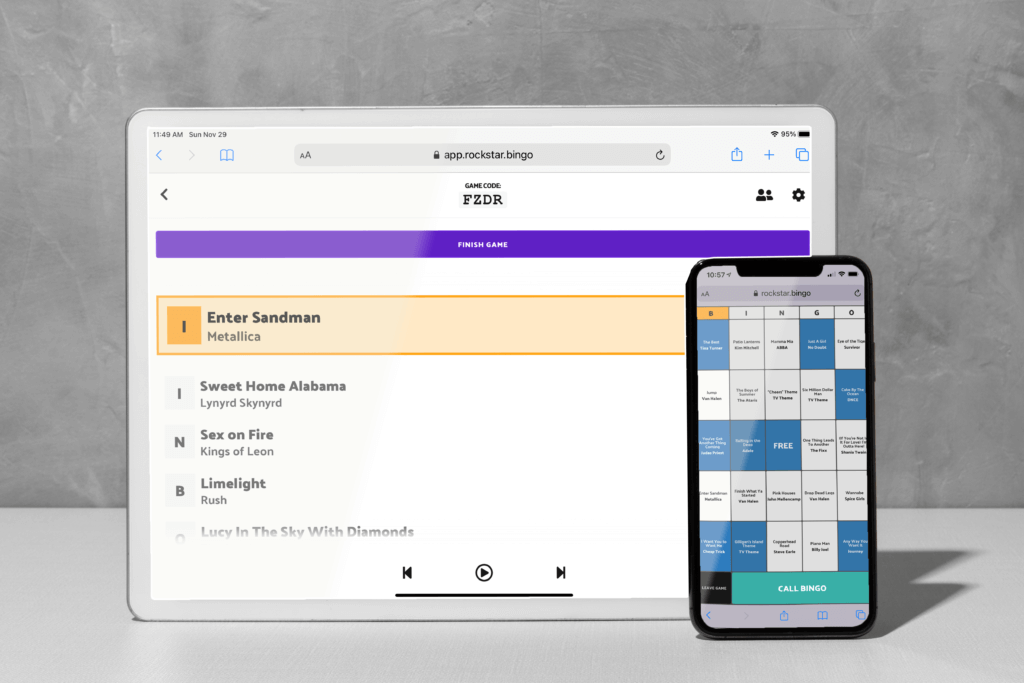 The possibilities of incorporating this game within your business are endless. Offering a unique prize for the winner, combining the music bingo genre alongside a themed food night or running drinks promotions alongside the music bingo game. Music bingo really does offer a great night of fun for your customers.
Exclusively to Rockstar Bingo, you can host music bingo with music videos from YouTube or Vimeo and create a visual background for your bingo game. This could be displayed on screens in a pub or bar, or used on a game of Zoom music bingo. The feature is called the Jumbotron, and is available with our Pro pub music bingo subscription!
Bar Bingo – a pub event that really works
Attract players of all ages. Bingo is a game popular throughout all ages, but recent insights have shown young female millennials to be the prime audience.
Players can join at any stage of the game, if you arrive late you can still play!
Environmentally friendly, as it eliminates the use of paper and ink daubers.
PRS for music studies have shown that uplifting music can increase pub sales by up to 50%.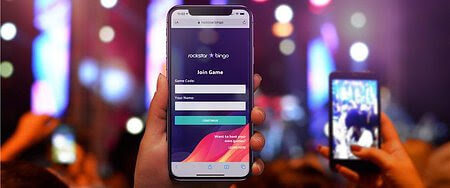 Rockstar Bingo is simple to use and we have an easy to follow demo here to watch! With expert music bingo playlists curated on our Spotify profile, getting your games started will be simple.
Looking to host your own pub music bingo night? Fill out the form below and we can set up a great deal to start your music bingo host journey! We will be in touch shortly.