Music bingo is a fun and exciting take on the classic game of bingo. With songs replacing the numbers on a bingo card, this game can be played by many. After receiving a card, the host will play music, and if you have that song listed on your card, you tick it off. The same rules apply as regular bingo – get a line, call bingo!
The First Game of Music Bingo?
But with the game spreading worldwide, just where did music bingo begin? Well, it all started with a TV game show. 'Music Bingo' was actually a TV series beginning on 29th May 1958. Contestants would listen to a song being played and when this song stopped, they ran to a large board and placed a musical sharp or flat symbol on the large bingo board. The famous 'Music Bingo Board' had the letters 'M-U-S-I-C' at the top. The first contestant to get 5 songs in a row won the game. The game was aired in black and white, and aired for two years in total.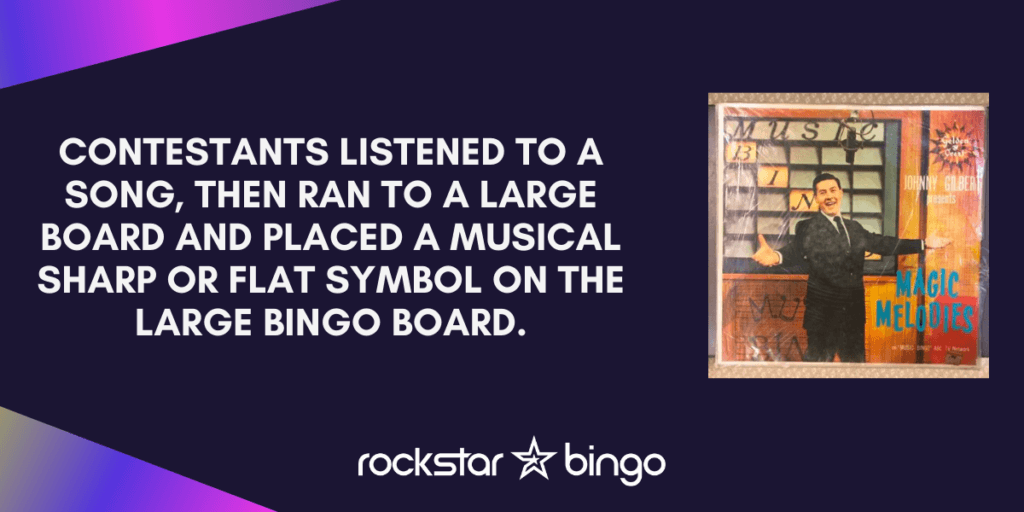 At this time, the only options for TV at this time were the stations of ABC and CBS. The only program to watch when children returned home from school was Music Bingo. Undoubtedly, it appears the program was a favourite for these children and something they looked forward to daily.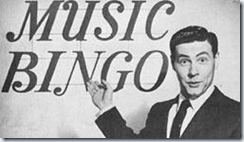 The show was the first network gig for the now-famous Johnny Gilbert, who is now best known for 'This … is Jeopardy' since the show's revival with Alex Trebek. Originally a nightclub singer and entertainer, Gilbert has hosted numerous game shows. The 1958 show was Gilbert's first job on national television and ran for 3 years. After the show ended, Gilbert went on to host the game show Words and Music on KTLA-TV in Los Angeles.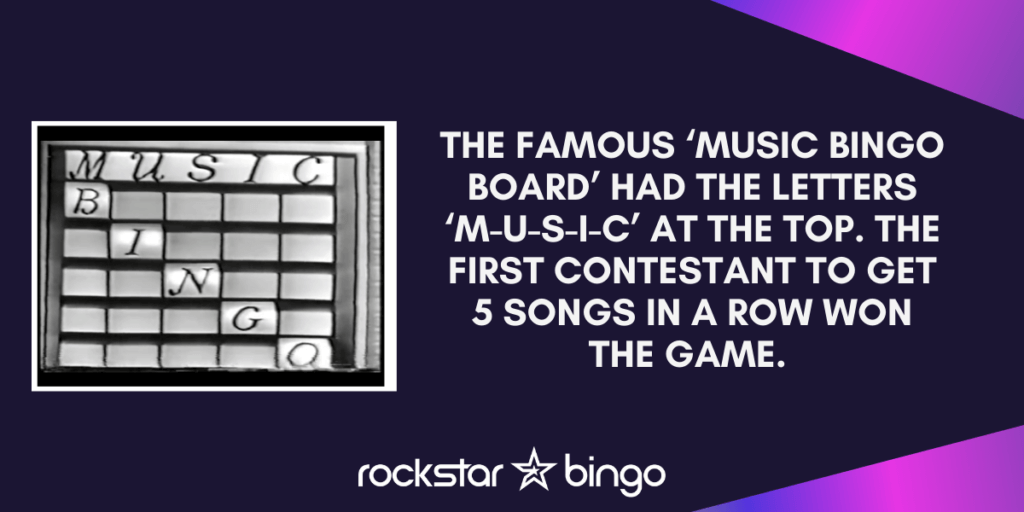 Current Music Bingo Games
It now appears that there is a lack of information about the show online, but for the world of Music Bingo, its legacy has lived on. With shows now taking place on Radio Stations Such as Virgin Radio Victoria, musical bingo filling theatres like Smittys Cinema and with performances such as live band bingo hitting the Twitch Streaming world, it is great to see a legacy. Markedly, YouTubers such as Get Binky have added a new dimension to the live game of Rockstar Bingo to their fans.
Likewise, we were excited to watch clips from an episode of Music Bingo here on YouTube, it really was something special.
If you are looking to host your own game, head to Rockstar.Bingo to host games with a fully integrated hosting platform. Rockstar Bingo can compliment Spotify and other music inputs and a range of user friendly and fancy features, to give you a professional platform to host your event, either live or virtually.
How to host musical bingo
Musical bingo, or music bingo, is super easy to play, especially with Rockstar Bingo. Simply use our music bingo software and choose a playlist with over 75 songs. If you choose a Spotify music bingo playlist over 75 songs, this will allow you to play music bingo with this playlist on out system.
Once you have chosen your playlist hosting theme, simply start a game and invite your players with the bingo game code, just like Jackbox! Then start incorporating features such as our Jumbotron which allows you to host music video bingo with YouTube videos, order setlists, play bingo with Spotify playlists and more! You can learn how to host music bingo with Spotify playlists in the video below:
You can read more about how to play musical bingo here in our blog.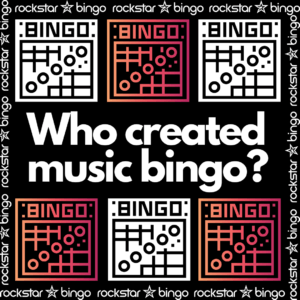 You can find Rockstar Bingo on:
Want to Host Music Bingo?
Rockstar Bingo is a fast, simple and fun web app used to host music bingo. Just go to https://rockstar.bingo/host and sign up to join the party!
If you are interested in learning more about hosting music bingo or adding our platform to your event or venue, be sure to contact us!