Music bingo is the trendy music trivia game of the moment! With many pubs, bars, theatres and DJ's now hosting the pub trivia game, it is important to understand how to play music bingo and what is needed to play the popular game.
Music bingo can be played with paper bingo cards, or with digital, smartphone based music bingo cards. We are going to run through what you need to play music bingo with a music bingo app on your smartphone.
The most important things you will need to play music bingo:
A smartphone or iPad will be needed so that you can enter the bingo game code and receive your music bingo card. When you receive your bingo card, you will see squares appear with song names inside them. When you hear a song played, you will need to dab this song, by tapping the box with the song in.
Good internet will be needed to ensure that you can receive your card. Don't worry about this, your pub will have WiFi most likely, however having 4G as a back-up may be useful.
A laptop. For virtual music bingo games over Zoom or Microsoft Teams, you will need two devices, one to watch the game on and one to get your music bingo card on.
Another thing you may want to use whilst playing music bingo is Shazam. Shazam is an app which allows you to identify a song name and artist with the click of a button.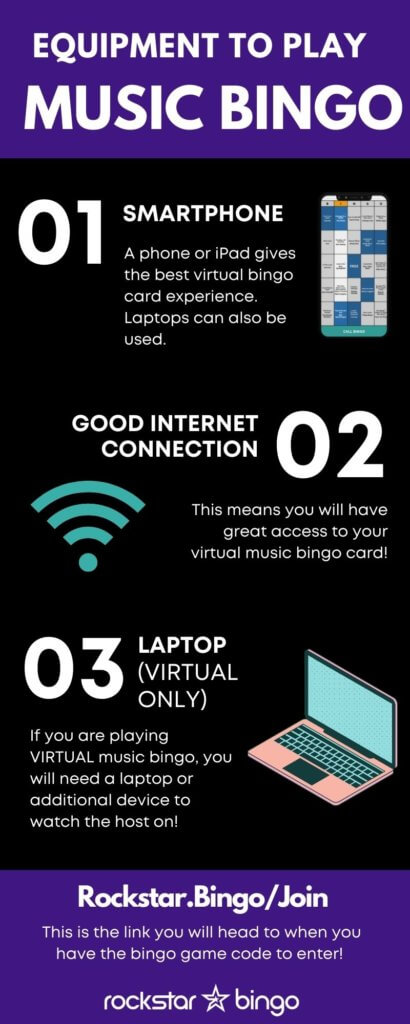 If you are interested in the equipment that you may need to host music bingo, take a look at the infographic below!
It really is simple to host a music bingo game! All you need is a music bingo theme and playlist with over 75 songs, a laptop, speakers, good internet and some prizes!
A good grasp on the rules of the music trivia game may also be an advantage, but don't worry, we have a whole blog on the rules of music bingo!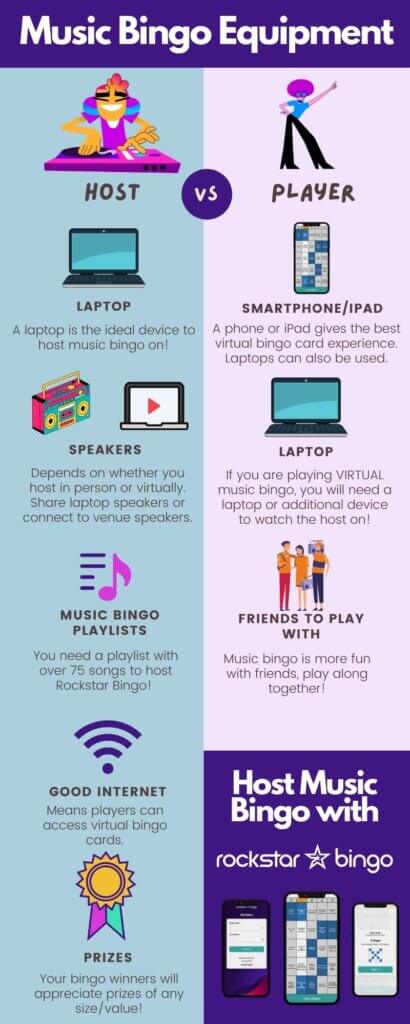 Playing music bingo is a great SpeedQuizzing alternative and a traditional pub quiz night! The music replacing numbers on a music bingo card will create a vibrant and fun atmosphere at any venue!
How to Host Music Bingo
To get started hosting music bingo with Rockstar Bingo, head to our pricing page and sign up for an account with the number of players you desire. You will be able to host as many games per month as you want with this number of players, as long as they are not hosted at the same time.
What Next?
If you are interested in learning more about hosting music bingo or adding our platform to your event or venue, you can find all sorts of information on our website (see link buttons below). Alternatively, click the "Tell us about your unique event or location!" button to reach out for a chat.