Finding new and exciting ways to keep your guests happy and engaged at your event or hospitality venue can always be a daunting prospect. Having a good hotel entertainment team in place is one thing. But adding to these issues with costing and equipment for new guest activities, training the entertainment team in new games, as well as finding something that will appeal to all ages and guest genres is a tough call. It's easy to see why Rockstar Bingo ticks all the boxes. It is fast becoming the most popular way to keep managers, staff and hotel guests happy with fun hotel entertainment ideas.
Bingo will always be a favourite at hotels and entertainment venues across the country, and not without good reason. It's a low cost and inclusive way to bring people together and have a little fun. But traditional bingo games are not without their drawbacks. This is why you should consider bringing Rockstar Bingo to your guests this upcoming season. Music bingo is one of the go-to hotel entertainment ideas for summer!
If you didn't know, Rockstar Bingo is an exciting twist on the traditional bingo game. Players have 'cards' (accessed through their smartphone) with song and artist titles on the squares, instead of the usual numbers. The host will play a short snippet of the song, and players mark the songs they recognize. Get a line, call a bingo!
This exciting take on traditional bingo can be marketed easily to new, younger players, as well as the older generation with ease. Rockstar Bingo also manages to cut out some of the trickier parts of hosting a traditional bingo night that, as a venue you will know about all too well.
Why should you add Rockstar Bingo to your hotel entertainment line-up?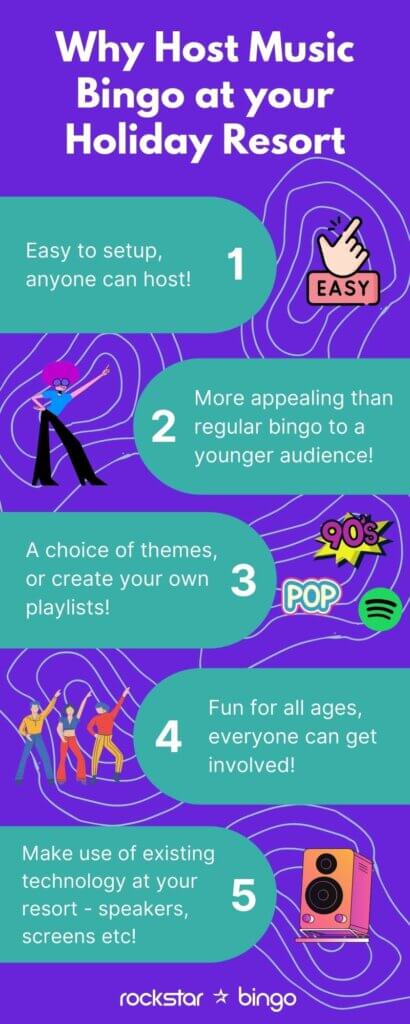 Rockstar Bingo is inexpensive in the long run, compared to sourcing and funding traditional bingo equipment from tickets to balls. If you have ever run a traditional bingo night you will almost certainly have found keeping account of stock and organising visitor's tickets, dabbers and seats a drag. Hello hassle free music bingo night!
Every venue owner or member of the hotel entertainment team has taken a deep breath and sighed at the sight of guests piling in to queue up and be given bingo cards. Guest then play the game with their tickets perched precariously amongst drinks on the table or on knees. Rockstar Bingo is different. The whole game is run through customers mobile devices. This means that during a game you will look out to the audience and enjoy watching a sea of excited customers playing on their own devices.
A game of music bingo is extremely versatile and can change every game due to the fun custom playlist option. If you are in a hurry, connect to one of our pre-made playlists designed to keep all ages in the bingo spirit or theme your game to match your night.
Signing up to Rockstar Bingo means minimal training for hotel events staff. The game has been designed with ease at the forefront and as part of your subscription you can expect to be able to plug in to the site and go. Add in a compere and you are all set for a fabulous night.
This sounds great, but how can I theme my night to appeal to our guests?
With Rockstar Bingo, the theme options are endless. You are able to be set a theme specifically to your venue's demographic. This ensures all guests can be involved and have a great night. Perhaps you could run a golden oldies event, or a 90's bingo night to include the classic songs of a generation. If there is a special event coming up that needs commemorating, then it's Rockstar Bingo to the rescue! Thinking of hotel entertainment ideas becomes easy with so many themes in your hands for a music bingo game!
The Rockstar Bingo website gives venues the option of using our pre-made playlists for total ease, or you can take advantage of our custom Spotify playlist features, which connects to your Spotify account so you are in complete control of the songs used in your bingo game.
Check out our blog on music bingo themes to get inspired!
From the benefits above, it's easy to see why so many hospitality venues are making the switch to Rockstar Bingo. But if you are not quite convinced or would like some additional support or a chat to hear how Rockstar Bingo is working in other venues like yours, the team is ready to connect.
What Next?
If you are interested in learning more about hosting music bingo or adding our platform to your event or venue, you can find all sorts of information on our website (see link buttons below). Alternatively, click the "Tell us about your unique event or location!" button to reach out for a chat.