Events to use Rockstar Bingo for:
Rockstar Bingo is a music bingo generator platform that allows you to host music bingo games with ease. One-off music bingo games and regular games are possible with our platform.
Music bingo replaces numbers with songs on a bingo card, and Rockstar Bingo allows you to host bingo games with your favourite Spotify playlists or other music playlists.
Music bingo is a popular game idea for several events. Many charity fundraisers choose music bingo as a fundraiser idea, and auction prizes for music bingo winners. It is easy to engage a crowd of any size with music bingo, and our subscriptions are tailored to the number of players that you have at your event.
Many pubs and bars choose to host music bingo on a regular basis and attract a regular crowd to their venue with fun and themed playlists. The game is a great pub quiz alternative and boasts several benefits over the traditional paper bingo game:
No printing of cards
Eco friendly
No soggy cards from drink spillages
Attract a new crowd, with themed music nights
No need to hand out cards, players access via a game code on a website
Radio and festivals are another popular area for music bingo events. Why not host a music bingo game as an audience interaction and warm up event prior to your main show? Virgin Radio have previously hosted games with Rockstar Bingo and fans really loved engaging with hosts on a new level. You can read more about Virgin Radio music bingo games here. With an audience that have a phone in their hand or pocket, this becomes a fantastic way to engage your fans and turn their smartphone into a digital music bingo card.
How to host a one-off music bingo game
Rockstar Bingo makes it super easy to host a one-off music bingo game. Our subscriptions come in monthly or yearly plans, which means you can host a one-off event easily with our monthly plan.
Choose your number of players
Rockstar Bingo subscriptions come in a range of packages. For one off events, we recommend our Pro platform. The Pro subscription offers more features and the option to integrate music videos to create a visual display for your event.
Rockstar Bingo subscriptions come in increments of 50, so you can choose the number of players you require, or simply upgrade your account if you need more players for your game.
Purchase the relevant Rockstar Bingo subscription
Head to our website, Rockstar Bingo pricing page and purchase your subscription. Go ahead and enter the discount code 'ONEOFF' to get 25% off your Rockstar Bingo subscription for one month.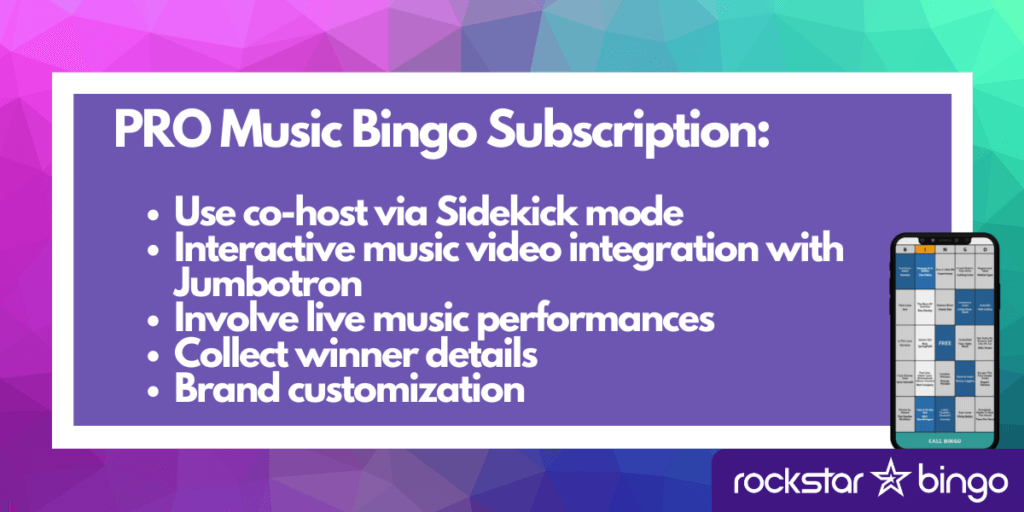 Choose your playlist and practice hosting
Rockstar Bingo is compatible with Spotify, meaning that you can choose any playlist on Spotify with other 75 songs to host a game of music bingo with.
75 is the magic number when it comes to a music bingo playlist. 75 or more songs are required in your playlist to use it for your bingo game.
We have a range of music bingo playlists available on our Spotify profile that are ready to use and full of great bingo songs. Be sure to check them out here.
You can create your own playlist on Spotify to use with Rockstar Bingo or learn how to save a Spotify playlist to use for Rockstar Bingo. We have tutorials for both options on our YouTube channel.
Cancel your plan after your event
As we do not have a specific subscription for a one-time event, we recommend that you purchase the monthly Rockstar Bingo plan and cancel before the month is up. This means that you have a full month to prepare your music bingo game, and time for a couple more games if you need.
We feel like this option is superior to a one-off event purchase, as this gives you time to familiarise yourself with the music bingo platform, perfect your playlist and give you time to utilize all the features to create the perfect music bingo game!
So, after purchasing your one-month bingo subscription, be sure to cancel your subscription before the month is up.
Features that make hosting an event easier with Rockstar Bingo
Collection of bingo winner details
When hosting music bingo with a large crowd, it can often be difficult to find the winner. There is no need to worry with Rockstar Bingo. With our Pro subscription, we give the option to collect your bingo winner's details so that you can contact them when the game is over.
On top of this, you do not have to check for correct bingos yourself. Rockstar Bingo offers automated verification of 'bingos', and collection of winner's names, email &/or phone number when selected as an option.
This means if you need to send out a prize, you can simply email the player and organize prize shipping or collection.
Branding
Rockstar Bingo allows Pro hosts to insert branding into their music bingo game. This shows players your logo and tagline on the digital bingo card, as well as the entry and leave game screens. This gives your game the individualized touch and resonates with your players.
To be more specific, Pro hosts can upload an image that will appear in the header of the lobby and game over screens.
Jumbotron – music video visual display
The Jumbotron is Rockstar Bingo's solution to a visual screen to accompany your music bingo game. Many hosts look to display visuals alongside hosting their music bingo came. The Jumbotron allows hosts to insert one default video to display for the duration of the music bingo game, or singular videos to accompany each individual song.
This screen can be cast or mirrored to the venue's screens to give a more interactive aspect to your game. Also featuring on the Jumbotron screen will be the music bingo game code and the last 3 songs that were played.
How to sign up for Rockstar Bingo
You can learn more about Rockstar Bingo and our available music bingo subscriptions here. We are a host empowering music bingo platform, and hope that we can help bring your next event to life with music bingo!
Be sure to use code 'ONEOFF' for 25% off your month of music bingo, this is applicable to any subscription.
If you are interested in learning more about hosting music bingo or adding our platform to your event or venue, be sure to contact us!