Virtual fundraisers are a common use for music bingo as it is so simple to learn and play leaving more time for fun! Rockstar Bingo offers you the opportunity to increase interactivity with a range of fun and easy to use features. We often get HR workers, charity event organizers and a range of sports team hosts coming to us looking for virtual fundraiser ideas. We think hosting music bingo is a great way to get everybody involved and to make some great money for your charity night. Learning how to host and run a music bingo fundraiser is a great way of utilizing a game that everyone knows and loves with a great music bingo playlist – charity bingo is great!
How does a fundraising event with music bingo work?
Music bingo replaces numbers on a bingo card with artist names and songs. Fundraisers and music bingo work hand in hand. Companies, charities and teams often opt to sell bingo cards or a pay per entry scheme for a music bingo game. Charity bingo is fun and easy to host.
Music bingo is a great way to engage a large crowd and involve them in your fun charity event. Rockstar Bingo allows you to play music bingo with any 75+ song playlist and choose any music theme you desire. This means that you can have an epic night of music bingo fun. Play for a line, X shape, 4 corners or full card and customize your hosting style with our simple to use music bingo platform.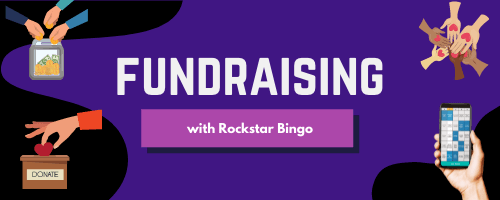 How to run a bingo fundraiser and use the Rockstar Bingo features to enhance your fundraising event?
Collection of bingo winner details (Pro feature)
Rockstar Bingo boasts a range of features that aid virtual and online hosting – with crowds of varying sizes.
The biggest help to you as a music bingo host will be collecting winners' details after a game of music bingo. With paper music bingo games and many other online options, it is very difficult to gain a winner's contact details or even work out who the winner is in a large crowd. Rockstar Bingo solves this bingo night issue!
Rockstar Bingo's Pro subscription offers a great solution. Not only does Rockstar Bingo offer automated verification of 'bingos', but also collection of winner's name, email &/or phone number when selected as an option. This makes identifying the winner in a large crowd simple. It also gives you the details of winners post game (in the game history section) or during a virtual game where you may be unsure who the music bingo winner is. This means if you need to send out a prize, you can simply email the player and organize prize shipping or collection.
Branding
Rockstar Bingo allows Pro hosts to insert business or charity logos onto the virtual bingo card and entry/leave game screens. This gives your game the personal touch and identifies your chosen charity or business for a fundraiser. This means players identify your logo and bring a more focused virtual music bingo card. To be more specific, Pro hosts can upload an image that will appear in the header of the lobby and game over screens.
Pro music bingo hosts can also update the text that appears in the call-to-action. This appears in the section on the lobby and game over screens, as well as the URL button. This allows you to insert specific fundraiser related language onto your music bingo game and player music bingo cards.
Playback start position input
Rockstar Bingo hosts can choose the start time of a song in the minute:seconds format. This allows you to choose the start position of a song in your music bingo playlist. This means that you can choose the best and most catchy bingo songs to feature in your music bingo game, such as a chorus or fundraiser related section of a song!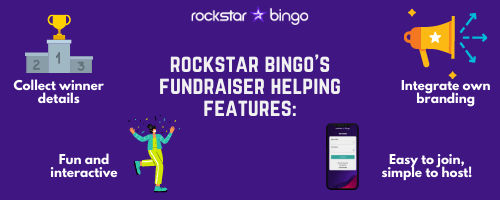 How regularly can you host a music bingo night fundraiser game?
With a Rockstar Bingo subscription, you can spread your music bingo charity games across several weeks and make a charity month, over a couple of days, or host a few themed games in a great evening. With a Rockstar Bingo subscription, you pay for the maximum number of players (your maximum audience size) you wish and get this account for a whole month.
Who can run a bingo night fundraiser?
Anyone can host a game of music bingo with Rockstar Bingo! As long as you have a playlist prepared with over 75 songs (or use our ready-made music bingo playlists on Spotify), you can get started with hosting a game of music bingo.
We have had company directors, DJs, pub/bar staff, live bands and charity event organizers host music bingo and we see no reason to stop anyone from hosting a game of Rockstar Bingo. With a simple to use interface and range of engaging features, all you need is a Rockstar Bingo subscription and playlist… and of course a group of music fans!
Picking a theme is often the difficult decision for a music bingo event. Worry not, we have create a range of ready to use playlists over on our Spotify profile here, and even have a blog for you to check out on the best music bingo themes.
What prizes can I give away for music bingo fundraisers?
Rockstar Bingo provides the music bingo platform – and you provide the hosting experience. It is totally up to you to provide prizes and to what extent.
With prizes, there are a huge range of ideas as to how you can expand on this. You could follow a regular charity auction format and gather donations of exciting prizes such as signed sports merchandise, tickets, experiences etc. This is a popular music bingo structure as players play for music bingo cards at a price that suits the fundraiser, and they simply play along. The winner of one line could win a smaller prize, two lines win slightly bigger and increase up to a full house bingo for the top music bingo prize.
Alternatively, you could offer a single prize for winners, a donation from the winner's company, sponsorship rights from the winner's company, etc. Bingo night players are often happy to win anything. At Rockstar Nights live band music bingo in Victoria, BC (https://rockstarnights.ca), players are often over the top excited just to win an empty plastic bag containing "Air Guitar Strings". ?
If you are part of a wider sports team, you could ask players to sell a certain number of music bingo entries to their friends and family in order to raise money for tour or sports tournament arrangements. This is a popular option for many of our music bingo hosts, especially with school fundraisers or sports fundraisers.
How can I sign up to use Rockstar Bingo for a fundraising event?
We have a range of music bingo subscriptions on offer but always recommend for larger music bingo events to contact us directly via our web form or email address marketing@rockstarantics.com
All we need to know is the number of players/player cap required for your music bingo subscription and you can get started!