You may have heard of virtual music bingo for your local pub, corporate party or bar music bingo event. However, have you ever played Virgin Radio music bingo event? 
Virgin Radio Victoria set the bar high for radio stations by hosting virtual music bingo games during the COVID-19 lockdown. Not only did this allow Vancouver Island listeners to listen to their favorite radio songs, radio music bingo allowed them to personally interact with Virgin Radio hosts such as Brittany, Chris, Bailey and Johnny Novak.
How do you host virtual music bingo on the radio?
107.3 Virgin Radio Victoria decided to hold Rockstar Bingo games virtually using Zoom. Zoom is arguably the most popular video calling site and proved popular amongst their listeners. The station would simply post the Zoom call invitation code to their website and social media pages to alert music bingo players of an upcoming game. Players would join the Zoom call on the relevant day and be let into the music bingo Zoom room by the Virgin Radio hosts.
Virgin Radio mastered the music bingo recipe. Hosts and presenters would welcome all players and start with some general chatter before heading into the music bingo game. Listeners loved chatting to the presenters and getting to spend some 'off air' time with their favourite presenters. This is what really set this virtual music bingo apart – a feeling of radio community that perhaps wouldn't have happened at a live event.
Samantha Gill from Virgin Radio 107.3 was the organizer of the virtual music bingo event, and we took part in a post event Q&A to see what she thought of Rockstar Bingo as a music bingo platform.
Hey Samantha, great chatting to you again! What made you choose music bingo as an event for your listeners?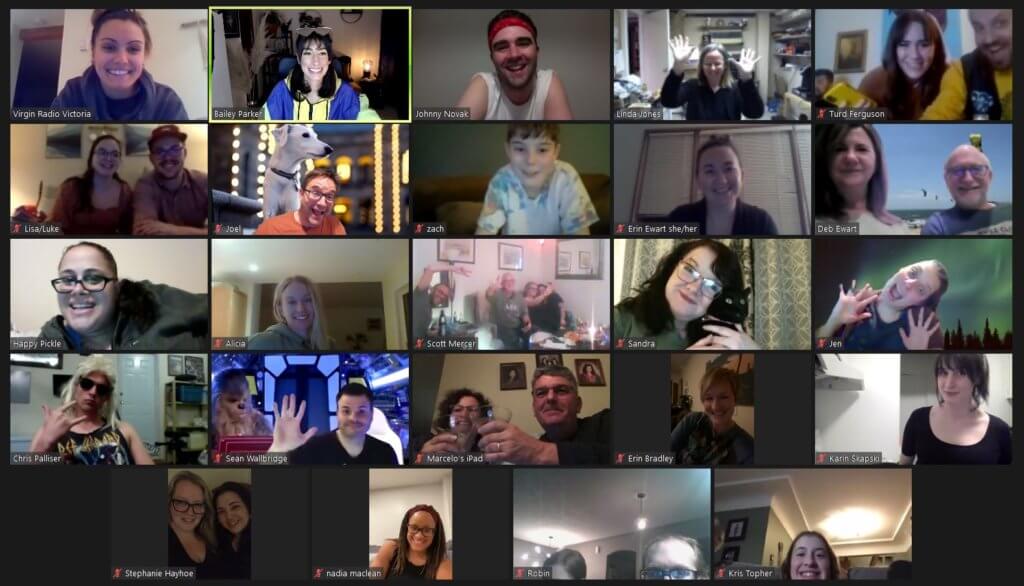 We are a radio station that revolves around music, so music bingo seemed like the obvious choice for a virtual trivia game. It was also a great way to adapt and get in front of our listeners virtually during the pandemic.
What was the best part about hosting Rockstar Bingo?
Getting in front of our audience again. We really rely on that face to face with our listeners and this was a great way to do that from a distance while having a great time.
How did your players react to the game? What was their favourite part of Virgin Radio Bingo?
Response from the players was great! I think everyone was just happy to have something to do again on a Friday night that didn't involve bingeing on Netflix.
What playlists and themes did you use?
We used our own curated playlist based on the music we play on Virgin Radio. You can check out our website here and listen live to our station to get an idea of our music bingo playlist.
How would you like to use a game of music bingo in the future?
At in person events!! Eventually, when the world returns to normality and live music bingo events are safe and possible again.
Do you think Rockstar Bingo could work as a live offering with acts or presenters hosting in a live environment?
I think that would be a hit!
Why would Rockstar Bingo work best for your music bingo event?
Rockstar Bingo offers a paperless and hassle-free structure to deliver the most beautifully presented, fun and interactive music bingo games for your players. With a simple to host platform, and music connectivity from your existing playlists, including Spotify.
Set up your account, select your playlist and give out the game code to your players. All they must do is search Rockstar.Bingo and you are set to go!
How do you play music bingo on Zoom?
It is super easy to host Rockstar Bingo on Zoom for a virtual music bingo event. Simply head to our demo video below and sign up for your Rockstar Bingo account today.
Looking to host your first music bingo event with Rockstar Bingo?
Here at Rockstar Bingo we make it super easy to host music bingo games live or remotely. Simply sign up for our Premium account (up to 30 players) or send the below form with your alternative player number and we can set your account up!