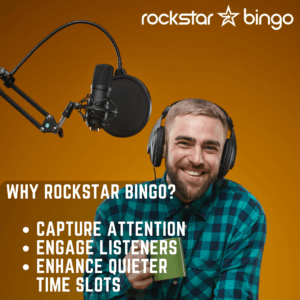 Looking for a fun and entertaining game to capture your audience's attention? As a result, keep them engaged and separate you from your competitors? Rockstar Bingo could be your answer! Music bingo radio games are the future for fun and interactive sessions with your favourite listeners and hosts!
Rockstar Bingo can turn slow, quiet periods into exciting and attention capturing entertainment, gripping your listeners and spreading the word of your station! Our web app is great for radio stations eager to have listeners stay tuned in and listen at certain time slots. This could be applied to times where you would like an increase in attention building up to another event, or creating a music bingo event in itself.
Rockstar Bingo would be suited for radio station entertainment because: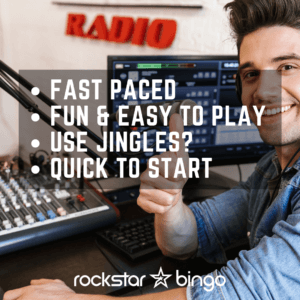 Games have a fast-paced flow – including short attention span music and multiple ad spots.
Radio stations already have a music license – why not use music in other ways, such as music bingo.
Jingles are always accessible for radio, why not turn these into a bingo game? Add all of your jingle snippets into a bingo card using Rockstar Bingo and get your listeners playing along to your advertisement jingles. This gives sponsors air time, and potential prizes from them for listeners.
Easy and quick to start, with simple instructions.
Easy to access for listeners and they can play along whilst listening to the radio.
Games of varying duration to suit your dedicated music bingo radio time slot.
Rockstar Bingo is helping businesses across the globe to expand their entertainment offerings through a tech and user-friendly platform of music bingo. Due to its design, Rockstar Bingo is also a hygienic solution for staff and patrons. Rockstar Bingo combines music, bingo and so many variations of fun.
What is Rockstar Bingo?
The platform itself offers a technologically savvy game of music bingo. In short, the app is controlled by a host via a digital device (PC, iOS, Mac, Android) and fitted with easy audience bingo card tracking complete with 'bingo verification'. Hosts can connect the app to their existing music platform and link 75 song playlists seamlessly to the game of music bingo, with unlimited game capacity.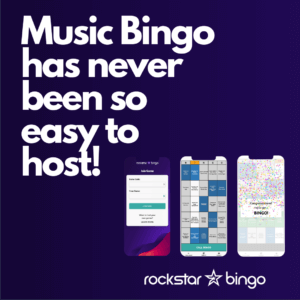 Music bingo involved songs replacing the numbers on a classic bingo card. With Rockstar Bingo, players can access their virtual bingo card through entering the game code. On their virtual bingo card, players can begin ticking the songs off their card on their smartphone or similar device.
When a player hits the hosts target shape, whether that be a line, full house, X or four corners, they can press the 'call bingo' button. This button notifies the host as well as all the other players of the game. As soon as 'bingo' is called, it is verified by the host with a mouse click. Accordingly, the name of the winner is announced.
Potential Music Bingo Radio Themes: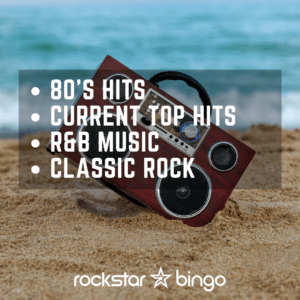 80s Night – everybody knows the 80s hits.
Current Top Hits – why not showcase the best songs from the current year, or previous year? Keep on trend, but turn it into a fun and snappy music bingo game.
Disney Hits – popular across generations, these will bring back the memories with Disney Music Bingo.
R&B Music Bingo – brings the RnB vibes to your music bingo radio game.
Classic Rock Music Bingo – bring a range of classic rock songs back for rock themed radio music bingo.
Above all, music bingo works with almost any genre. With a 75-song (or more) playlist, you can achieve a game of Rockstar Bingo and have your players join via a simple game code on their smartphones. Match your theme to what your audience loves, or why not bring on a guest to help host live on your radio station? 
If you are interested in learning more about hosting music bingo or adding our platform to your event or venue, be sure to contact us!