Have you ever thought of trying Music Bingo for entertainment alongside your sports game? Rockstar Bingo is a great way of learning how to entertain sports fans with an interactive and musical game that everyone can enjoy.
As a sports team, we know you are looking for ways to bring new fans into the building and engage with the crowd. You might also want to encourage people to show up early to your sports game. This encourages increased spending at your venue though food, drinks and merchandise. If you are looking to increase your fan experience, read ahead and see how you can host music bingo and reap these benefits.
Alternatively, you can watch our video on how to entertain sports fans with music bingo below:
How to engage and entertain your sports fans
Engaging with your fans is hugely important and bringing them something new is a great way to entertain fans. You could consider bringing in partners, sponsors and giveaway partners to create more connections with your fan base and the local community.
If you are looking for something that is fun and interactive, then music bingo is the platform to entertain your sports fans. We have a custom music bingo playlist with the best 'Sports Stadium Songs' included available on Spotify.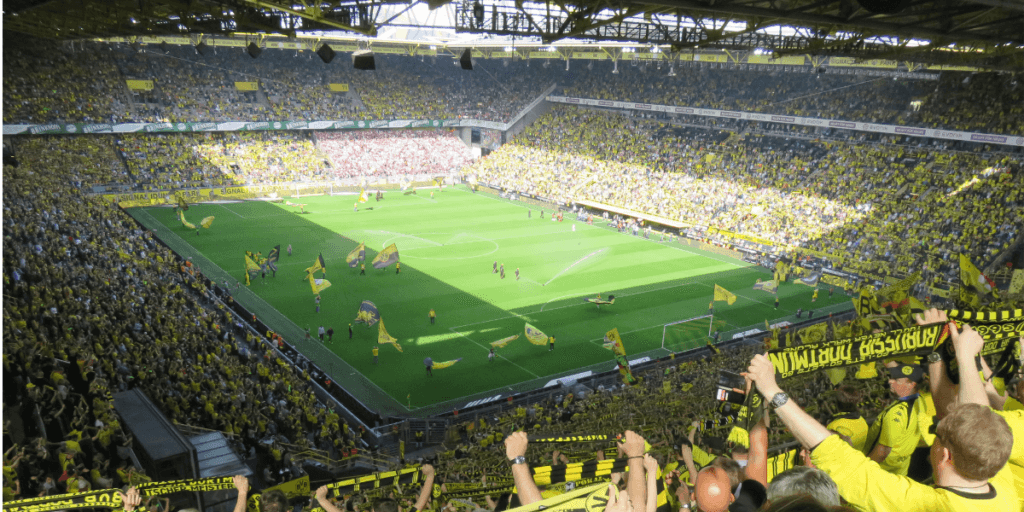 What is music bingo?
If you haven't come across it before, traditionally, music bingo is played and hosted in bars and pubs. Music bingo is a twist on regular bingo, but instead of numbers, it's played with songs.
The most popular form of music bingo is digital music bingo, where players access their music bingo card on their smartphone through a game code. The B-I-N-G-O still appears at the top of the bingo card, with songs appearing underneath.
So, you can have 'Pump It' by the Black Eyed Peas under the B and this will be announced. 'under the B'.
To create a game of music bingo, you need a playlist with 75 songs or more. This will generate random cards through the Rockstar Bingo music bingo generator.

How Rockstar Bingo works
Rockstar bingo comes with many features to make your music bingo game the best game for entertaining your sports fans. The game controller sits in everyone's pocket or purse – their mobile phone!
With the ability to create interactive, visual displays with the Jumbotron through YouTube, you can add a new dimension to your music bingo game. Simply add the music videos that you want to display, and Rockstar Bingo will show these videos with the relevant songs, your game code and branding.
Rockstar Bingo allows you to show your logos and branding, meaning that you can make these games your own.
Playing the game is easy.
Join the game from any device
Listen to clues under any letter B, I, N, G, and O
Call bingo if you get a row (or two).
From the host side, it is also easy to use Rockstar Bingo. You will need:
Internet and a browser
A sound system and a playlist
A good, fun attitude and prizes
Check out our blog on what you need to host music bingo to find out more about equipment for music bingo.
Starting a game is really easy; simply pick a music bingo theme, start the game and be have fun!
When to play music bingo at sports games
For most sports games, there are three definite opportunities where you can try shaking things up with music bingo:
Pregame and warm-up
During the game
Intermissions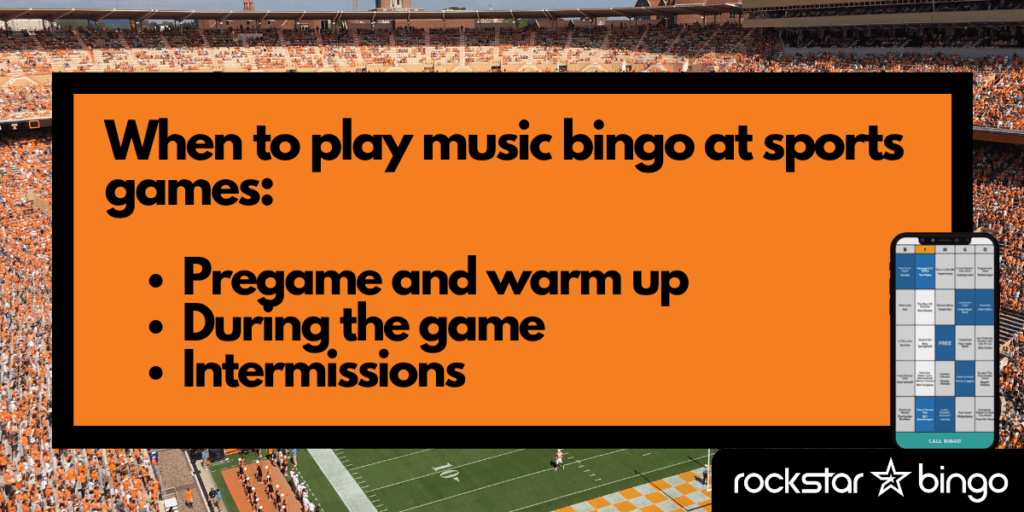 How to set up your Music Bingo game
Step 1: Log into your Rockstar Bingo account. We have three plans:
Free music bingo plan with up to six players (not so great for a sports arena).
Premium plan with up to 30 people. This is meant for people in their homes, small parties etc.
Pro plan with unlimited players. Here you get to choose your audience size, and you get a whole bunch of awesome features (the best for a sports game).
Step 2: Set your branding.
Add your team's logo on the join screen and leaving game screens.
Create a custom join screen so you can put your game code on the video display Jumbotron.
Link your join link to a QR code and create handouts or posters. This means people can easily join your music bingo game.
Pick playlists from our pre-defined playlists on Spotify, create your own bingo playlists or check out our music bingo inspiration playlists.
A playlist should have 75 songs or more as this is the required number of songs to create a music bingo game with. Once you pick your songs, you can select your playlist and start your game. Every new game gets a game code, very similar to Jackbox. As a host, you must communicate the music bingo game code to your players. You could also upload it to the custom joint screen. Once people enter the game code and their name, they will be able to get their digital music bingo card.
When players join, as the host, you will be able to see them waiting in the lobby. All you need to do is to admit them either one by one or by using the admit all button. These controls also allow you to kick people out of the music bingo game if they are misbehaving or using inappropriate names.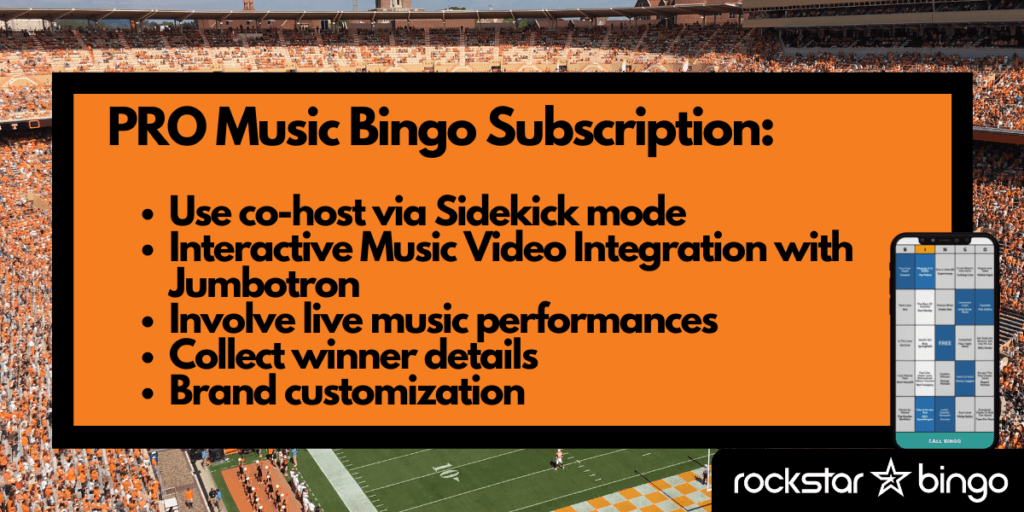 Step 3: Starting the game.
When you start the game, the players get access to their music bingo cards, and can choose your game target. Choose from targets such as 'one line', 'X' or 'full card'. If you want to incorporate multiple targets, select a smaller target first, and once someone wins that target, move onto another target such as 'full card'.
The game also has a card highlighting feature, but if you want to play with more advanced settings, you can actually turn the highlighting off. The highlighting feature lights up the column with the song being played, giving a hint as to what the song is.
The best part is that when someone calls bingo, Rockstar Bingo verifies whether this is a bingo or not automatically. Rockstar Bingo also allows winners to enter their contact details so winners can easily receive their prizes, and hosts don't have to wade through crowds of people to find the winner.
When to use the Sidekick feature
Sidekick is a feature available when you have a co-host alongside you hosting music bingo. A co-host is someone else who wants to help with running the game, assist with the lobby, or just wants to know what songs are coming up.
This allows the second host to access the screen, control functions and the Jumbotron! This could be helpful when hosting music bingo with larger crowds.
How to get started hosting music bingo today!
Getting started with Rockstar Bingo is simple. Head to our subscription page and choose the number of players you require for your games. This will allow you to host multiple games with that number of players per month, as long as games aren't played at the same time.
If you are interested in learning more about hosting music bingo or adding our platform to your event or venue, be sure to contact us!