Using a playlist from Spotify for your music bingo game is not a daunting task. But when starting out, it can be tough if you are not familiar with the process. Read on and find out how you can create a music bingo game with a Spotify playlist. It takes just a few clicks to create Spotify music bingo!
Rockstar Bingo has a range of music bingo playlists available on Spotify profile. These Spotify music bingo playlists are all ready to use, with over 75 songs. However, you can use other playlists that you find on Spotify to create games with Rockstar Bingo. This means you can select any Spotify playlist with over 75 songs to create a game of music bingo with. The playlist themes and music bingo playlist options are endless on Spotify!
To use the playlist for your music bingo games, you need to move it to your Spotify playlist library, or saved playlists. This is necessary only if you're using Spotify to host your Rockstar Bingo games.
What you need to save a Spotify music bingo playlist
You will need a Spotify premium account to save a playlist on your Spotify playlist for your music bingo games. This will automatically sync your playlist to your Rockstar Bingo account. After doing this, all your playlists are ready to go and visible on your Rockstar Bingo home page.
However, if you want to use a Spotify music bingo playlist and it is not showing in your Rockstar Bingo account, that means you haven't liked it or 'saved' it on Spotify. To do this, you need to head to Spotify, find the playlist and like it. The like button on Spotify is a little heart button, which when pressed, saves a song or playlist to your library. Always look for playlists that have 75 songs or over. 75 songs is the number of songs required to host music bingo.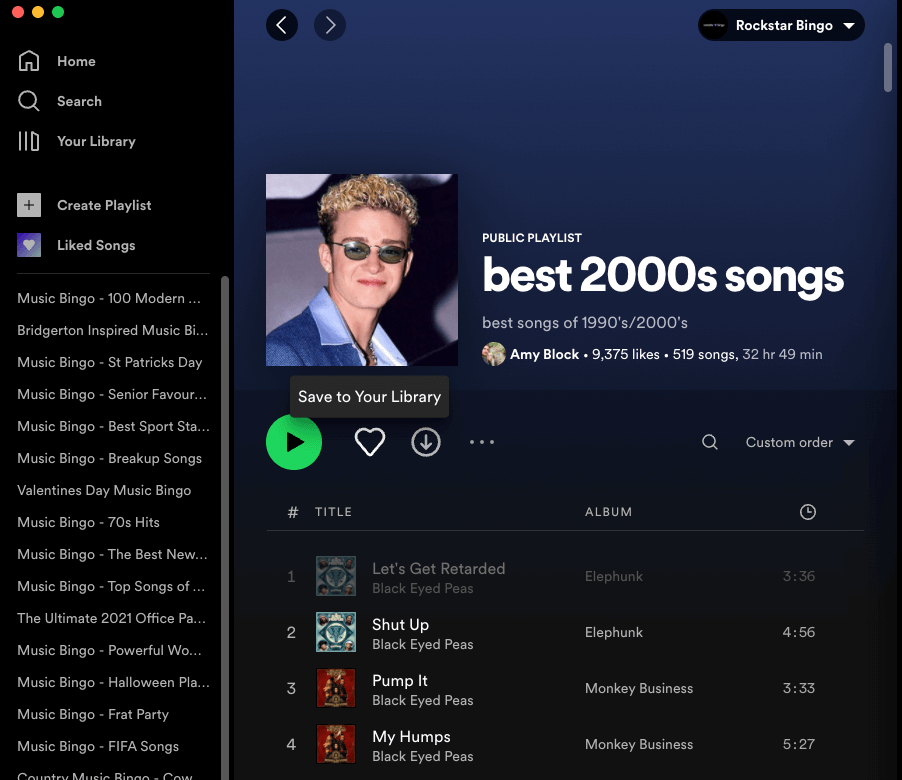 To find our playlists, go to Rockstar Bingo, click on our profile and find our public playlists. We have got 70s hits music bingo, Disney music bingo themes, a senior favourites playlist, the best stadium songs, movie hits music bingo and more! We have almost every music bingo theme you could think of. If we haven't created a playlist that you have in mind, please leave a comment, and we will create one for you.

How to add your playlist to your Rockstar Bingo account
To add a playlist to your Rockstar Bingo playlist library:
Use Spotify to search for your preferred music genre playlist in the search bar.
Click on the playlist, and it will come up with a heart-like button.
Press the heart button to like and save it to your library.
The playlist will now appear automatically on your Rockstar Bingo account if it has 75 songs or more.

Keep in mind that you do not have to create the playlist yourself to use it in your Rockstar Bingo game. You can use any Spotify playlist that has more than 75 songs, and you can find some examples on our Rockstar Bingo Spotify profile.

If you would like to watch our tutorial of how to use and save a Spotify music bingo playlist for your music bingo game, watch our Spotify music bingo playlist walkthrough above.
If you are interested in learning more about hosting music bingo or adding our platform to your event or venue, be sure to contact us!