Christmas family fun games are here!
Ready to celebrate the Christmas season with fun games, family laughs and party spirit? Rockstar Bingo has gathered the best family Christmas party games for your household this festive season! No longer are games limited to Christmas family board games or card games. You can mix up your fun family games with music, digital fun and never before seen platforms! Save the research for us to find the best party trivia games for Christmas Day!
Whether you are looking for a family game with music, Christmas trivia game or game you can play all night long for family game night on Christmas Eve, we have you covered! Read on to get some family Christmas game ideas!
And don't worry, we will provide some JackBox TV alternatives. Don't get us wrong, we love JackBox TV games. But, we know this popular family game platform has done the rounds in previous years at your family game nights!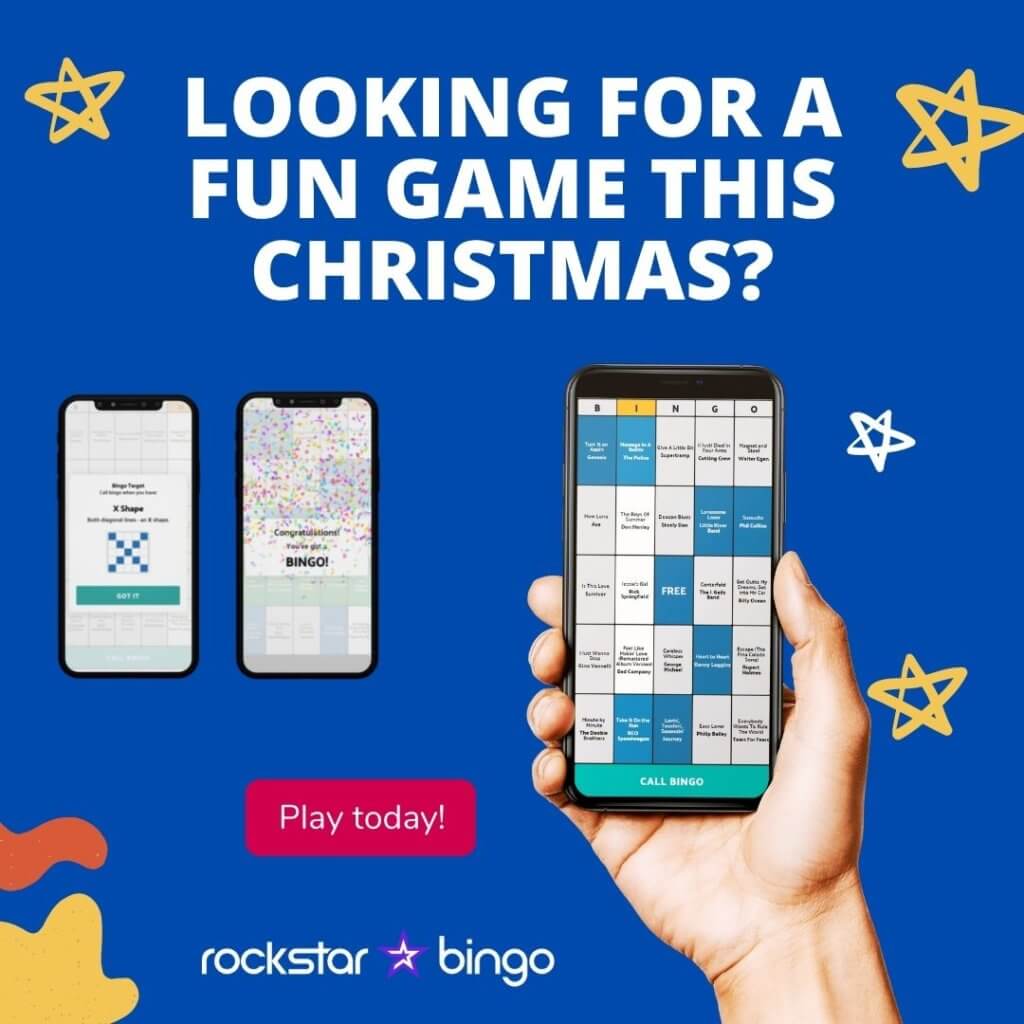 The countdown of the Best Family Christmas Party Games begins:
5. JackBox
The game that grew from 100 million total users in 2019 to 110 million between the months of March and June 2020 shows the true popularity of this family virtual party game.
The most popular Jackbox game pack seems to be Jackbox Party Pack 3. There is something for everyone at your Christmas party in this Christmas party game for kids, adults and all! There is a game for Quiplash lovers, two trivia guessing games, a drawing game and a social deduction game! Other people recommend that Jackbox Party Pack 2 is better for a younger crowd!
The reason for number five on our family game ranking is that many have already heard of it, play it, or think it is too expensive. Aimed slightly more towards the teenage years compared to younger kids, Jackbox Party Pack is not inappropriate but some humor that can be generated can verge on it with multiple generations in the room!
Like most popular digital games now, there is no controller required. You just need your smartphone is required as your controller… much like the paperless music bingo app, Rockstar Bingo! And you can do it even if you all can't be in the same room together. Across cities, across countries even!
4. Psych
This is a great alternative to Balderdash! Psych works great for both people physically at your Christmas party and is also a great virtual Christmas party idea!
Simply invite your family and friends to your virtual game room and choose a game question category. The aim is to make up a fake answer to a very real question, making your fake answers as believable as possible.
When you have finished creating your fake answers (a great alternative for a Jackbox TV game night), your group must guess the genuine answer amongst the fake answers! The faster you guess, the more points you get!
The trick to this is the number of players you have for your Christmas party game of Psych. More players mean more fake answers and more fun! When someone picks the fake answer, you get to 'Psych' them virtually by uploading a funny selfie!
3. Heads Up
Seen on the famous Ellen DeGeneres chat show, you may have seen even the celebs playing this popular party game! Heads Up is best suited for people that are in the room, so great for your at-home or office Christmas family game night!
Remember the game where you stick paper on your family's forehead and have to work out what the note says without asking questions? This is pretty much it!
With Heads Up, your family chooses a popular topic including celebrities, animals and movies. As this is a game using your smartphone as your controller, of course, the word will appear on your smartphone screen. Turning the back of the phone against your forehead so your family can see the word, your friends and family have 60 seconds to try to explain the word on the screen!
We do not take responsibility for the madness that comes next. From animal noises to screaming words, your family will do everything they can to win in this fun family Christmas game!
2. UNO – The app!
This game needs no introduction and gets a glow-up in Mattel's new virtual game night app! This family favourite game night card game now means that you can invite your entire family for a fast-paced card game!
This is one of the easiest accessible and virtual party friendly games as you can play UNO online on Facebook as well as download the app for iOS and Android. Truly a family game that is accessible anywhere and anytime!
1. Music Bingo with Rockstar Bingo!
Music and bingo I hear you say? How does music bingo work?
You may have heard of the popular Bongo's Bingo events or Musical Bingo sweeping across the U.K or Rockstar Nights in Victoria, Canada, the live band bingo event! The Rockstar Bingo app takes music bingo to the full musical level, combining with music trivia and bingo for the best family party game.
Music bingo eliminates the numbers on a bingo card and replaces them with songs from a host's imported playlist. Music bingo playlists usually comprise of a theme such as Disney songs, 80s music or classic rock and pop!
Much like Jackbox TV and Heads Up, Rockstar Bingo is a controller-less game, where a smartphone or laptop becomes your controller. One lucky Christmas party goer will be the musical bingo host, needing a laptop to choose a playlist from Spotify, create a game code like Spotify and check out all the player cards.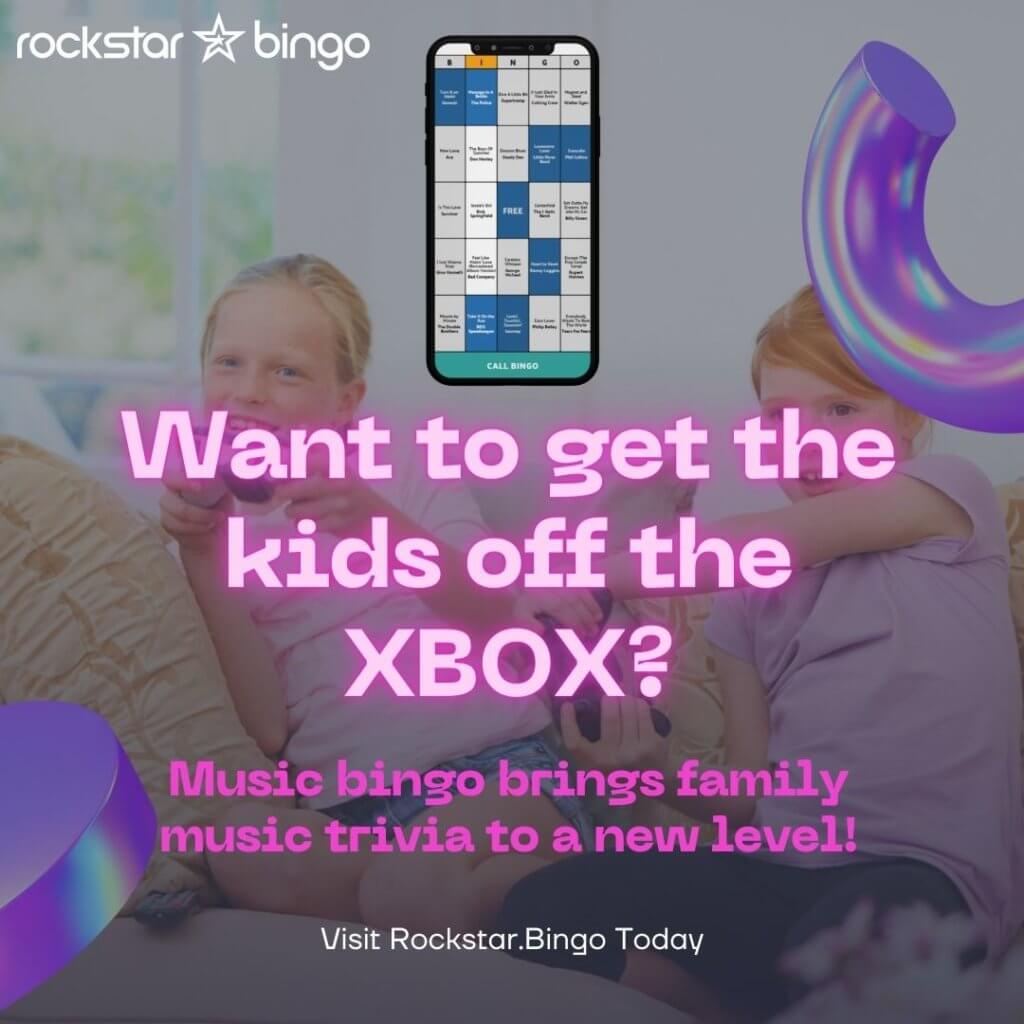 The aim of music bingo is to dab off your songs on your virtual bingo card just like you would a number. If you hear a song being played and it is on your card, tick it off. The host will choose a bingo target such as a line, two lines, an X or a full card. When you reach a music bingo target, 'call bingo' and the system verifies everything. This means the host can sit, back and relax while the system checks for a validated bingo!
It is also super easy to host music bingo via Zoom, Teams or other virtual video calling platforms. This makes Rockstar Bingo the perfect game for playing with other family members at your Christmas party, wherever they are in the world! Simply give them the game code and invite them to your Zoom or Microsoft Teams call and they can play along with musical bingo virtually! Check out the video below on how to host music bingo via Zoom.
How to host a music bingo game using Zoom for your next party or office party night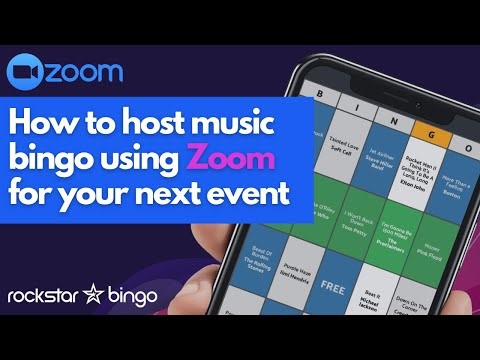 Want to host your own family music bingo game?
Do you agree with our choices for the Best Family Christmas Party Games? We'd love to hear your views in the comments below!
Rockstar Bingo is easy to host and is a music bingo generator that allows you to use your own Spotify playlists. There are many great theme ideas for music bingo playlists including Disney music bingo, 80s bingo, movies music bingo and more on our playlist blog here or Spotify profile!
We are offering 25% off our music bingo subscriptions especially for our blog readers. Simply head to https://rockstar.bingo/pricing and enter code 'XMAS25' to get 25% off your music bingo subscription. Accounts up to 30 players cost just $6.99 per month or $41.99 for the year, so this is a cheap and fun option for a Christmas party game!
What is Music Bingo? How to Host Rockstar Bingo!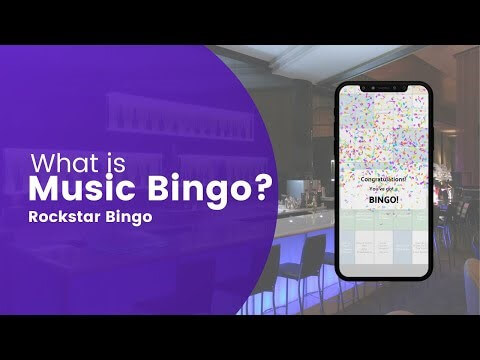 What Next?
If you are interested in learning more about hosting music bingo or adding our platform to your event or venue, be sure to contact us!