A fun, creative and popular music bingo playlist is essential for hosting a successful game of music bingo! The best playlists contain songs that people know, catchy choruses and of course, some great beats to dance to. Creating a music bingo playlist can be a dull, monotonous task for some, and a creative and fun task for others. Worry-not, at Rockstar Bingo we have heaps of music bingo playlist ideas and a Spotify profile enriched with ready to go playlists. These playlists can simply be saved and used for a Rockstar Bingo game straight away!
Ready to take you from summer hits into the fall, we rank our favourite music bingo playlist ideas with some awesome themes! But if you cannot find a theme you like, check out our 'Top Music Bingo Spotify Playlist' blog, containing some more 'classic' music bingo themes here!
TikTok Hits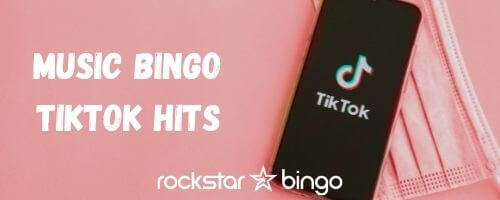 With TikTok quickly becoming one of the most used social media apps, the songs that headline the videos are hitting the charts. With trend after trend bringing a new viral song, we have combined these tunes into a pop music bingo playlist with a load of popular songs any TikTok user will know!
Hits from Olivia Rodrigo, Justin Bieber, 24KGoldn, Jason Derulo and Billie Eilish feature on this bingo playlist, with over 75 songs of pure TikTok wonder. Be warned, some of these songs are super catchy and may get stuck in your head for a long while.
You can find the TikTok music bingo playlist here on our Rockstar Bingo Spotify Profile.
Summer Hits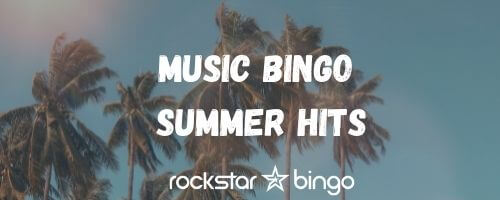 Looking for a fun filled playlist for a summer party? We have gathered our favourite feel-good summer tunes into one music bingo playlist. Fuelled with Avicii, Calvin Harris, Flo Rida, The Beach Boys, Dua Lipa and more, this playlist will have everybody up and dancing!
You can access our Summer Hits music bingo playlist here on our Rockstar Bingo Spotify Profile.
Country Music Bingo – Outlaw Country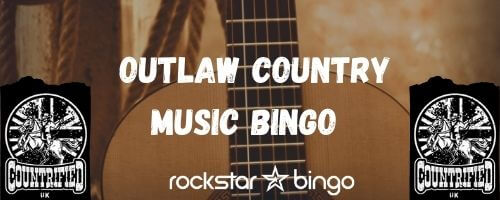 Our friends on the CountrifiedUK Podcast have created a range of awesome Country Music Bingo playlists ready to use on our Spotify. Not only is this playlist full of country anthems, but it is also created by country music experts!
This playlist features songs from Sugarland, Rascal Flatts, Florida Georgia Line, Brothers Osbourne and many more! Of course, this playlist has over 75 songs, so it is perfect for hosting your music bingo game.
You can listen to the Outlaw Country Music Bingo Playlist here on our Spotify Profile.
FIFA Songs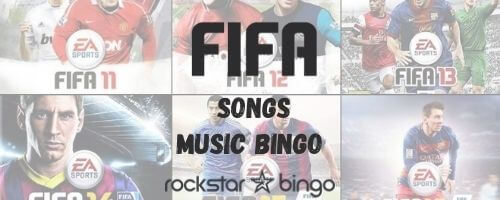 Looking for a fun and more niche music bingo playlist for your music trivia game? Look no further than our FIFA Hits playlist. With songs from the ever-popular FIFA EA Sports game, only the catchiest and memorable songs are included in this set.
Even though you may think people won't know FIFA songs, they are some of the biggest pop, EDM and Indie and Dance hits out there. Artists on the FIFA playlist includes Imagine Dragons, Foster the People, MGMT and Glass Animals.
You can find the FIFA music bingo playlist here on our Rockstar Bingo Spotify Profile.
Frat Party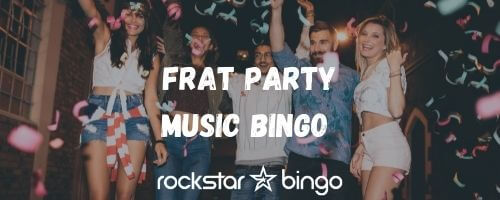 Our top music bingo playlist theme is of course, Frat Party! Perfect for college music bingo, a bar or club music trivia night or a big party. We bring you the songs of every party – fun, loud and catchy!
From Usher to Kanye West, Lizzo to Shaggy, you will have your crowd dancing on the tables. Music bingo is a great ice-breaker event for any college party or University freshers event.
You can listen to the Frat Party Music Bingo Playlist here on our Spotify Profile.
How can you host music bingo games with these music bingo playlist ideas?
Hosting a music bingo game with Rockstar Bingo is a walk in the park.
With a Rockstar Bingo subscription, you can host as many music bingo games as you wish in a month. Import your own playlists via Spotify, use ours, or use any other playlist store that you have in your music library.
After choosing a playlist, you will get a game code, which you use to invite your players to the music bingo game! Joining is super easy, you just head to the Rockstar.Bingo website and press 'Join Game'. Next, enter the code and your nickname – no apps, no accounts, no signing up!
How can I sign up to host Rockstar Bingo?
Head to our website and sign up to our Premium account which is $6.99 per month or $41.99 per year, this means you can host games with up to 30 players. Or fill in the form below to get a special deal sent to your email for a Pro account. We will include custom audience size plus all of our extra features – set lists, gaining winner contact details, co-hosting, customization for live music performances, Spotify Sanitization/Song name clean-up and game history!  
Hosts from around the world are using Rockstar Bingo for a fun, eco friendly and interactive game of music bingo, without the hassle of printing cards or organizing handouts! Join the modern music bingo subscription today!