What is Rockstar Bingo?
Rockstar Bingo is an interactive music bingo app (even better, a web-based app, so no need to download from app stores!). The music bingo app allows you to host music bingo games with ease and allows us to continue to provide more and more functionality. Linked to Spotify or your own music library of choice, you can host music bingo with your own playlists. This live music game combination could easily help you learn how to get booked for gigs, and help you get gigs without an agent!
A music bingo playlist needs 75 songs to work with our app (it's 'bingo math'), but the source list that games are drawn from can certainly include more than 75 songs!
Bingo numbers on a card are replaced with songs and artists. This means players get a bingo card with songs and artists. It is easy for your players to get music bingo cards with our app as all cards are virtual and paperless, meaning that your smartphone is your music bingo game controller. This is what makes it the perfect covid safe pub bingo app for your pub trivia nights!
Rockstar Bingo can easily be hosted with a laptop or table (iPad, etc.) and played via smartphones making it the easy, interactive, paperless, and covid-safe game of music bingo! There is no need for a bingo dauber, just your virtual music bingo card!
How can I use Rockstar Bingo as a live music artist?
Music bingo can be played easily as a live band, duo or solo artist. When you are a live artist, you need a set-list so that the game is in sync with the songs you are performing on the night. With Rockstar Bingo, you just have to prep a little in advance! No agent for your gig, venues will want to book you!
Rockstar Bingo provides you with all the features you will want that will help you to perform such as tempo/BPM, lyrics, key signatures and more – all displayed on your music bingo screen. Rockstar Bingo will allow you to shuffle or order your song set list so that you can start with a banging opening number. This is what makes Rockstar Bingo the best music bingo card generator.
Then, simply press the next button when you need to move to the next song and all the information to perform that song will be shown on the Rockstar Bingo hosting co-host (side kick) screen.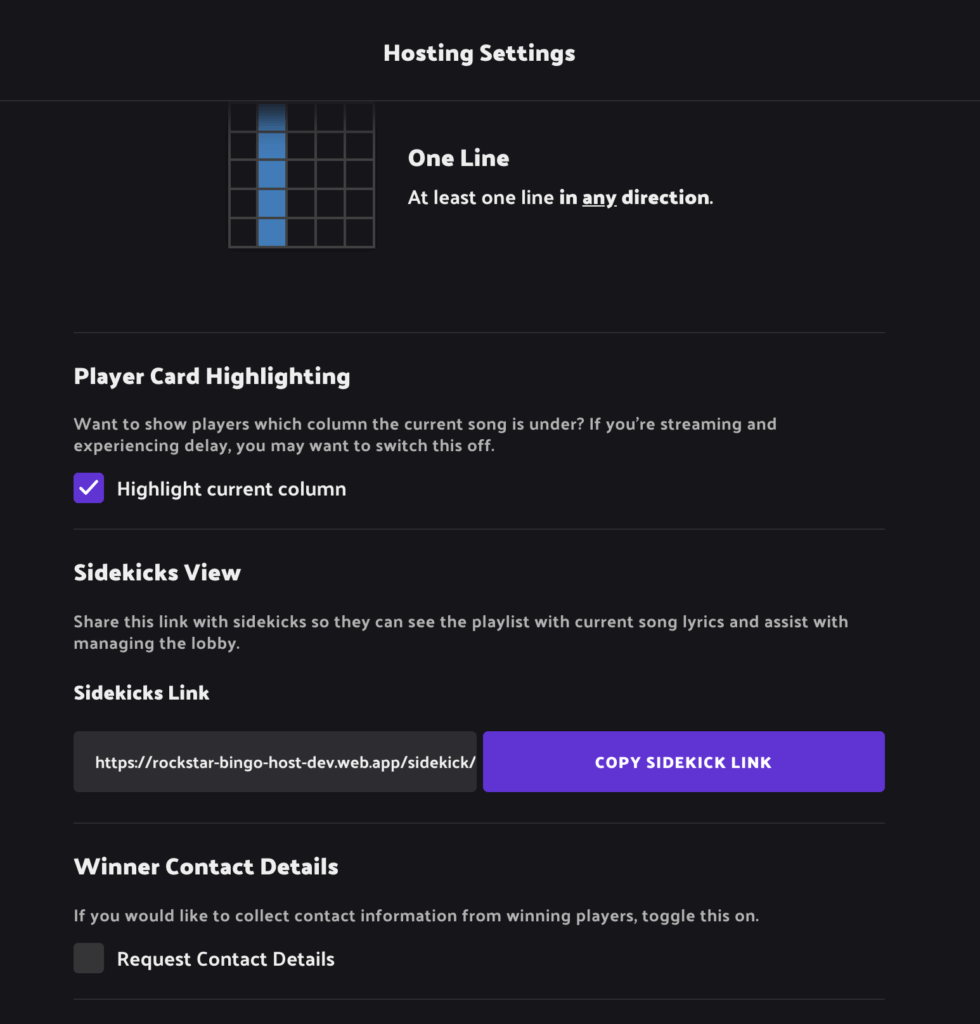 Here are the steps to hosting music bingo with a live artist:
Prep your set list – either create a companion Spotify playlist of the original artists tracks to keep the library of song you are familiar with aligned. Alternatively you can maintain a spreadsheet of songs and import them as new setlists. (note, this second method is less useful as we cannot then grab useful information such as key signature, tempo or lyrics as the information comes from Spotify and Genius and needs those 'hooks'
Create the game.
Share the sidekick (formerly called co-host) view with any other musicians you will be performing with).
Share the game code with your fans and allow them into the lobby.
Start the game and get on with your show!
What features of Rockstar Bingo make hosting with a live band or artist easy?
Rockstar Bingo is a paperless music bingo app, meaning no more paper music bingo cards! Not only is this modern and more interactive, it also gives the following benefits:
Paper free – doing your part as a music bingo host to save the environment. No paper music bingo cards used during the game and no paper wasted for unused cards. Read more about playing with virtual music bingo cards instead of paper cards here.
No extra time needed to set up. Simply log in and reveal a game code for music bingo! You no longer need to spend time printing bingo cards, distributing them around tables and manually checking.
Automatic verification of music bingo cards. The Rockstar Bingo system generates all the music bingo cards. This means that you don't have to manually check if somebody has a bingo. If somebody calls bingo, it alerts the bingo platform and it verifies bingo for you, accepting the bingo or denying it.
Tempo, lyrics and key signatures all includes in the Rockstar Bingo software. If the song is in your music bingo playlist, then all song information will be selected and displayed when this song is revealed and played by you in the music bingo game.
A great way of getting your guests to sing along. The audience will be loving your music as well be enthusiastic to win the game of music bingo!
What equipment do I need to host live artist music bingo?
The Game Host:
– Ideally a laptop or tablet (bigger screen) to run the game
– Wifi/Internet

The Game Co-Hosts (the musicians):
– A tablet or phone, per musician so they can see the current song, key, tempo and lyrics
– Wifi/Internet
How do I set up Rockstar Bingo prior to hosting the music bingo night?
Rockstar Bingo allows you to choose your subscription based on the number of players that will be playing your music bingo games. Once you have your subscription, you can host as many music bingo games as you like. If you are looking to host a one-off music bingo game, simply sign up for an account and cancel when you no longer need it, it is the same subscription price.
Make sure you choose your music bingo theme or playlist prior to the night. Remember, you need a prepared 75 song playlist to host music bingo (at least 75 songs for bingo). We have a bunch of ready-made music bingo themed playlists on our Spotify profile here, and some music bingo theme ideas here in this blog.
Make sure you take your laptop or iPad with you to host your music bingo game on. We have a range of Rockstar Bingo marketing assets such as table cards and information sheets here at this link for you to use. Using QR codes (included in the hosting asset link) is very helpful in guiding your music bingo players to the right place to play music bingo, https://rockstar.bingo/join
Tip: Ensure the venue provides good Wi-Fi so everyone can connect and enjoy and share the game code often so that nobody is missing out.
How can I promote my new pub live music night?
Music bingo is a trendy and fun trivia game which pubs are wanting to include as part of their entertainment offering. There are numerous ways in which you can advertise your music bingo game to attract guests to your music bingo event or to get a music bingo gig in a local pub.
Ensure that you offer posters to put up in the pub of your new live music bingo night and some images. Adding the time, dates and fun images will draw more music bingo players. Why not also include a fun prize in your music bingo game? From free drinks to gift vouchers, a prize can draw many new patrons to your venue!
Make sure that you post about your new music bingo game on social media! Tagging the venue and any other partners as well as documenting the location can help to get the word out there about your new music bingo pub night!
How can I approach a pub about hosting music bingo?
The best way to approach pubs with a live music bingo gig is to show how Rockstar Bingo is a covid safe pub game in the way that each player uses their own device as a much bingo card. This means no handing out papers, mixing of people and sharing dabbers.
Music bingo is also a fantastic way to bring new customers to your pub on the quieter nights. Our music bingo hosts at Smitty's Cinema host music bingo on their quieter cinema nights and this has increased revenue massively. You can listen to our podcast with them below or read the blog here.
A great way of showing pubs how they can host music bingo with you as a live artist is showing how easy it is to host. Our promotional video here is a great way of showing this. Highlighting your music bingo games on social media works as great advertisement for how you can host a fun and entertaining pub night with Rockstar Bingo.
How can I get started hosting music bingo?
We love to ease you into the life of hosting music bingo, so why not take up our FREE month of premium subscription. Simply enter the promotional code 'GREENBINGO' at the payment page to get your first month free.
If you are looking for more players and the best interactive features for your music bingo game, look at our Pro music bingo subscription. This offers the best hosting experience for a larger and more interactive game of music bingo.
What Next?
If you are interested in learning more about hosting music bingo or adding our platform to your event or venue, be sure to contact us!