What are crowd warmer games?
Crowd warmer games are used to hype a crowd up and get them more engaged and interactive prior to a performance or show. Many hosts use audience warm-up games or comedy to get the crowd excited and ready to interact with a performer.
Best known as audience warm-up, the entertainer or host performs prior to the filming or performance and during breaks, such as commercial breaks during TV show filming. The goal of the audience warm-up is to increase the energy and interactivity of the audience. This means that the audience appears more engaged, louder and more involved in the show or music performance. Music bingo is an awesome way to get your crowd raring to go, and we will show you how to hype up your crowd using Rockstar Bingo.
What are some examples of audience warm-up games?
Many entertainers or hosts use a range of games to increase audience interactivity prior to a show or music act performing. Check out some of the best audience warm-up games below:
Music Bingo
One of the most interactive audience warm up games out there is music bingo. Not only does the music get everybody on their feet dancing and singing, but it involves some competitive trivia. We all know that when trivia prizes get involved, things get exciting! Everyone will want to get involved in this crowd warmer game and it is super simple to host.
Apps like Rockstar Bingo mean that everyone can get involved in the audience warm-up game of music bingo, with a smartphone acting as a music bingo card. Simply display the game code on the screen, load up your Spotify playlist and start a game of music bingo. This game will increase audience interactivity and be easy to host with limited setting up time or handing out of music bingo cards . No paper cards = more fun!
Finger Applause
A fun game to get your audience in the clapping mood is the finger applause. Instruct your audience to start clapping with 2 fingers as opposed to a hand. Then gently add the number of fingers used to clap until the whole hand is used. This is normally most fun when clapping to music is involved, so be sure to dial the tunes up!
Mexican Wave
The classic Mexican Wave is often used to get a crowd cheering and loud! Start from one end of the audience and encourage people to wave their arms in the air from the left of the crowd to the right. This will for sure energize your crowd.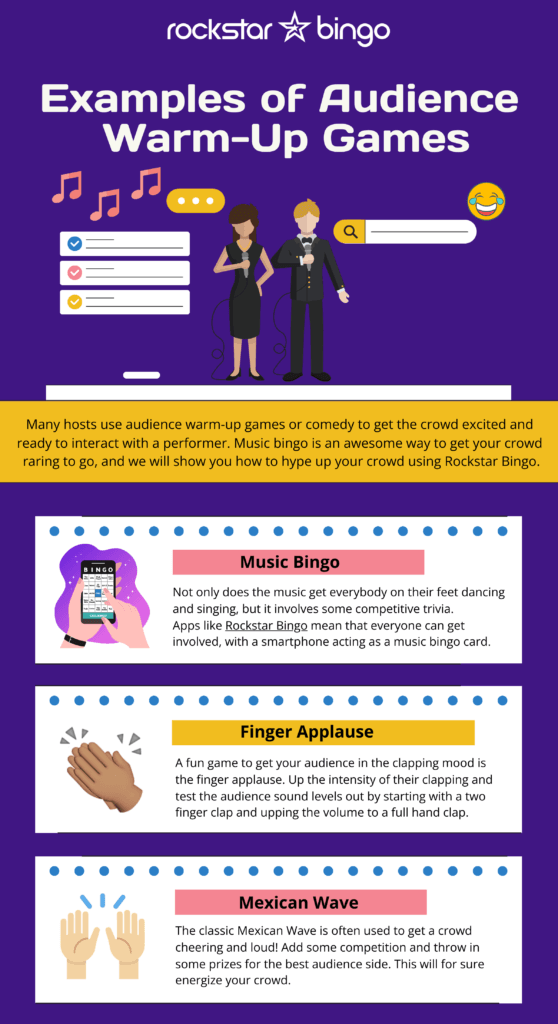 Why music bingo works as an audience warm-up idea
There are a few reasons why music bingo games such as Rockstar Bingo work so well with a large audience prior to a festival performance or show recording. Here are a few reasons why:
Utilize existing equipment on the stage
Shows will already have sound equipment and screens ready to use. Why not take advantage and play some music as well as a fun background video displaying the music bingo game code. The Rockstar Bingo Jumbotron allows you to showcase fun videos alongside your game, the last three songs played and a game code to join. Simple, fun and musical!
No handing out of paper cards or equipment
Gone are the days where you need to print and hand out paper music bingo cards. Rockstar Bingo means that you simply give a game code and people get their card by Googling https://rockstar.bingo/join – a digital music bingo card!
Choice of themes
Create your own Spotify playlists to use for your music bingo crowd warmer or simply pick any existing playlist with over 75 songs. The themes are endless! Hosting a music bingo game before a festival? Choose a playlist with songs featured in the festival setlist! Hosting prior to a live X Factor recording? Feature songs from past X Factor singers! It is easy to save a Spotify playlist for your music bingo game.
Get your winner contact details via the system or invite the player onstage
No hassle if the player can't or should not enter the stage once they have won. Rockstar Bingo allows you to collect winner details on the system, so that you can reach out and send the prize after the game has finished!
Gets your audience upbeat and more interactive
The combination or music, bingo and prizes will get your audience more involved and ready for the performance or show. Music bingo is a fun and entertaining event and players will be familiar with the easy format of the game – no new rules, just listen to the song and dab your bingo card!
How to host music bingo as an audience warm-up
Head to https://rockstar.bingo/ and choose your subscription account and level. This depends on the number of players or audience size you have!
Once you have signed up and logged in, you can connect to Spotify and all of your saved playlists with over 75 songs in will appear.
Click 'Host game' and choose your playlist. Rockstar Bingo selects 75 songs to play the music bingo game with.
Choose where the music will play from. This is where you connect your device if you choose to use Spotify. If you had your own playlist to use outside of Spotify, simple click 'Manage playback method using another method' and upload a CSV or song titles and artist names. This will create your own cards and you can manually play your playlists.
Access your game code and give it to your players. This is 4 randomly generated letters.
Players head to https://rockstar.bingo/join and enter the game code and their name. Their music bingo cards will then appear when you start the game.
You are hosting music bingo! Easy as that. Simple click the 'Next' button when you are ready to move to the next song. Your 'Next up' songs will display in host mode.
Alter your bingo targets depending on the number of prizes or rounds you desire for your audience warm-up.
Players press 'Call Bingo' when they have a bingo and the host can see who has called. If 'Collect winner details' is toggled on in settings, the winner will be able to enter their details.
What's next?
We will need to know:
How many total tickets or players you would require for your music bingo game.
Realistically, how many of those people would play the game of music bingo. Perhaps you could say 300 players is a full lobby, to encourage people to join the game and have fun!
Ensure you have an Internet/Wifi/Cellular connection at the festival as the event will need internet!
If you are interested in learning more about hosting music bingo or adding our platform to your event or venue, be sure to contact us!