Finding a great playlist can be difficult, especially when you are looking for a playlist ready for music bingo games. We have created the ultimate 70s hits playlist which is perfect for a music bingo theme of the 70s!
Choosing a theme for your music bingo game can be a fun yet daunting experience. You want to include music that players will recognize, then come to realize this may not be possible!
At Rockstar Bingo, we have a bank of ready-made Spotify bingo playlists, that once saved, can be used to create a music bingo game!
So, if you are ready to play songs of the 70s in a music bingo game, head to the Rockstar Bingo Spotify page and hit 'save' on our 70s music bingo playlist!
The Best 70s Hits Playlist Songs
With so many great songs to choose from the 70s, we are going to rank the most popular music bingo songs that will get your players singing and dancing along to your game!
If you are wanting to try a more difficult game of music bingo, why not consider a 'Versus' music bingo game. An example could include 'ABBA vs The Beatles'. There is less chance of all players knowing song names and this encourages more collaboration in the music bingo game!
We think an ABBA music bingo night would go down a hit and be a musical bingo night to remember with an ABBA music bingo playlist!
For now, we show you our top 5 songs of the 70s hits music bingo playlist: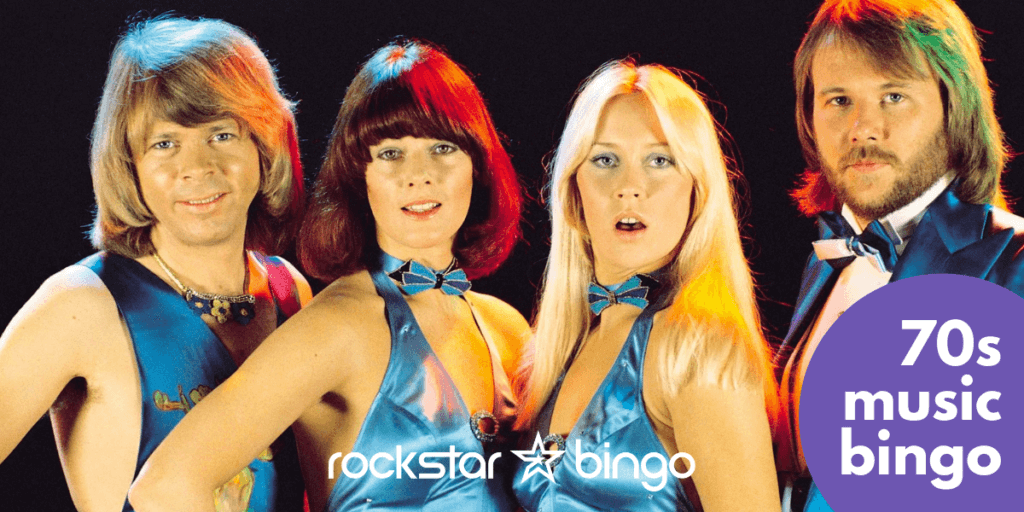 Dancing Queen – ABBA
A true feel-good song that is loved across generations. Including this ABBA song in your music bingo playlist is always a clever idea! A memorable song that most will know the name of. This means players will spend their time singing and dancing rather than guessing a song name.
ABBA Dancing Queen Facts
This ABBA song was performed in 1976 in tribute to Queen Silvia and King Gustaf XVI of Sweden, who were getting married the next day. However, it appears Queen Elizabeth is also a famous ABBA fan. As revealed to BBC DJ Chris Evans, 'I always try to dance when this song comes on because I am the Queen and like to dance'.
Do Ya Think I'm Sexy – Rod Stewart
A song that has recently sparked a TikTok trend dancing to the 70s hit, this song will get all generations singing and dancing in your music bingo game. This song also features in our TikTok music bingo playlist since the Rod Stewart music video dance got everyone's attention from the 'Do Ya Think I'm Sexy' TikTok trend.
Classified as 'Disco Rock', this song mixes the sounds of rock, pop and disco in a fun song perfect for music bingo!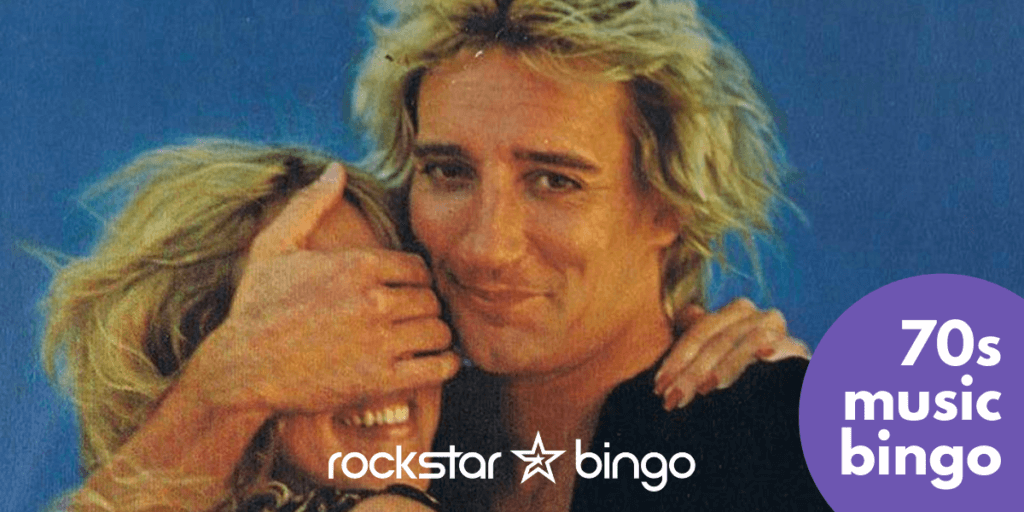 American Pie – Don McLean
Known by many, this song is a 70s musical bingo wonder hit! American Pie was released in 1971 and alongside Don's other songs 'Vincent', 'And I Love You So' and 'Castles in the Air'. Together they have been played over 3 million times on US radio.
American Pie Song Fact
The song was famously used by Apple TV in number of shows in 2021. American Pie was used in the Apple TV movie 'Finch' and in 'The Morning Show'. Finch is also a character in the American Pie movie, but in the Apple TV movie, he is played by Tom Hanks.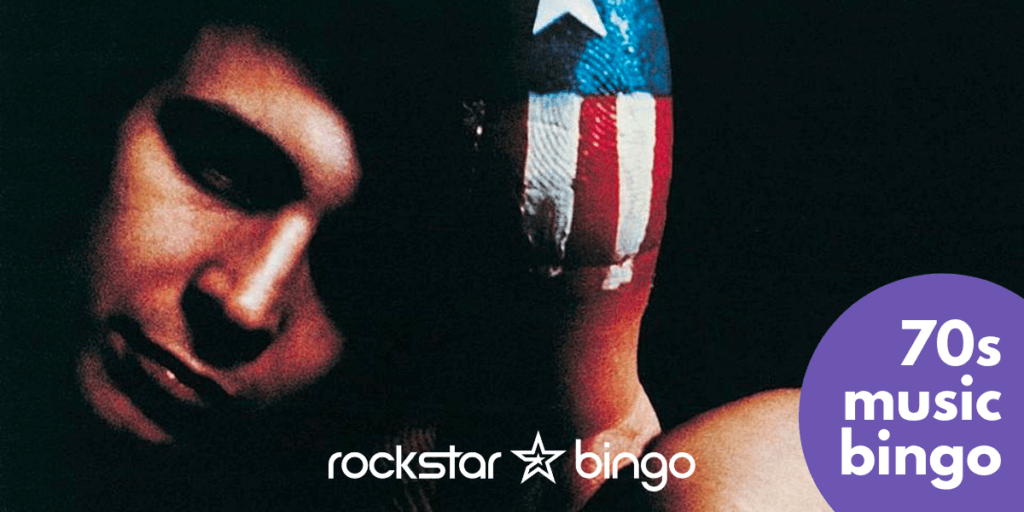 Dreams – Fleetwood Mac
A classic from the 70s, Dreams is one to get your music bingo players dancing! This was Fleetwood Mac's only number one hit single in the US. This song also returned to the charts in 2020 thanks to TikTok, with over 16 million streams in the week in October 2020.
One of the most popular 70s songs, this 1977 number one became famous again with a viral TikTok Dreams. The viral TikTok featured a man horse-riding with his daughters whilst drinking cranberry juice. This song then became a Major League Baseball advert featuring the original video!
What a journey this song has been on, and one of the 70s hits you must include in your music bingo playlist!
September – Earth, Wind and Fire
Another sing-along 70s hit! This tune will be known by most, and you will hear the lyrics echoing around your pub bingo venue! Combining soul, R&B, jazz and pop, this is a song everyone will be dancing to!
The question is, 'Do you remember, the 21st night of September?'
You could speed through this song super quickly in your music bingo game, as the song title is given away in the first line. However, due to the popularity of this Earth, Wind & Fire song, we recommend that you at least play the chorus!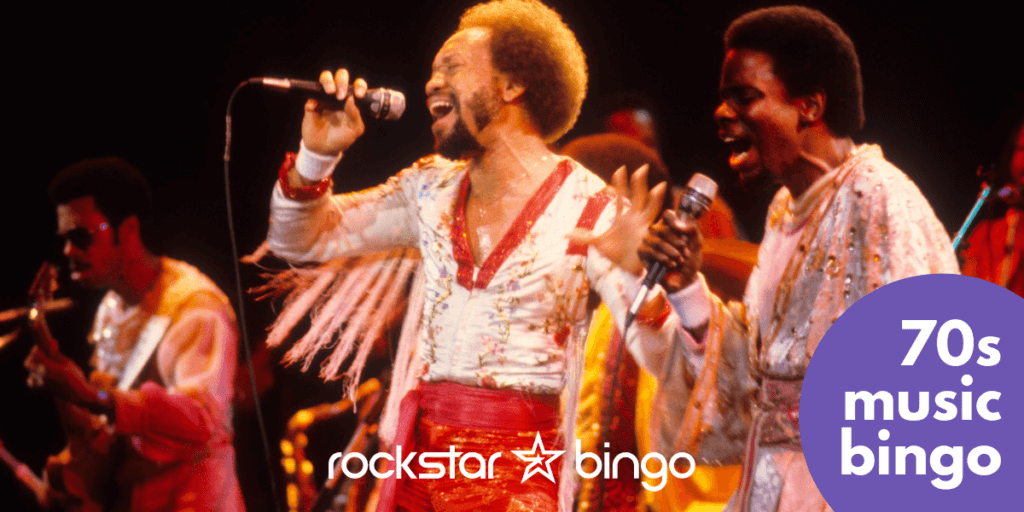 Music bingo fact – this 'living in the moment' song became very well-known due to its 'ba de ya' phrase. It is one of the most popular pop song lyrics! Many people think the 'September' song lyrics are 'Party On' but they are actually 'ba de ya'.
How to Host 70s Music Bingo
With our Top 5 70s hits songs being revealed, you now have the perfect 70s music bingo playlist ready to host your game with Rockstar Bingo.
Hosting bingo is super easy with Rockstar Bingo. Compatible with Spotify, you can simply load up a Spotify playlist, connect your account to Rockstar Bingo and start hosting.
Rockstar Bingo subscriptions come in a range of sizes, depending on the number of players that will be in your bingo game. Once you start a game, you will receive a game code for players to use to join.
Once players have entered the music bingo game code, they can join your game. Players receive digital music bingo cards which are available on their smartphones. No need to download an app, these music bingo cards are available by heading to the https://rockstar.bingo/ site.
Looking to find out more about music bingo? Head to our YouTube channel here where you can find a range of tutorials and walkthroughs.
What is Music Bingo? How to Host Rockstar Bingo!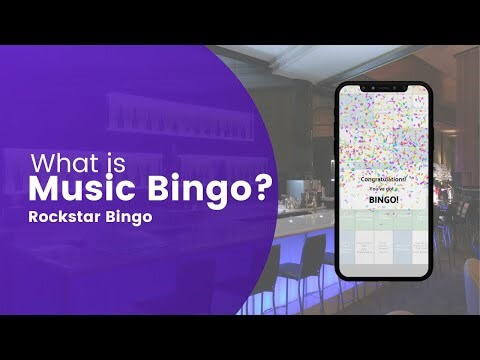 What Next?
If you are interested in learning more about hosting music bingo or adding our platform to your event or venue, be sure to contact us!