Zoom, Microsoft Teams and other video calling platforms are an excellent way to connect safely online from home or any remote location for a game of music bingo. Rockstar Bingo is easy to host via Zoom and offers several features that compliment hosting a virtual game of music bingo. In this blog we will explain how to host a music bingo game using Zoom!
We will also touch on other ways that you might play Rockstar Bingo online for party or social events. Your players can play on their smartphones, but because they are not there physically to hear the speakers in the same room that you're in, you need to push the sound and visuals to them using some medium. We will let you know the best way to share sound via Zoom so players can hear your music bingo playlist.
Zoom and Microsoft Teams
Zoom and Microsoft are great for hosting bingo games because they operate in real-time, and you can interact with your audience. Players can go on camera and hang out with you virtually. Also, there is no sort of listening or music copyright protection involved with these platforms, which is a bonus compared to hosting music bingo on YouTube. Zoom and Microsoft Teams let you play music for any duration, which is perfect for virtual music bingo games.
The downside of hosting Zoom music bingo or via Microsoft Teams is that you can't just only share audio. You must play the game and get it in front of people via video too.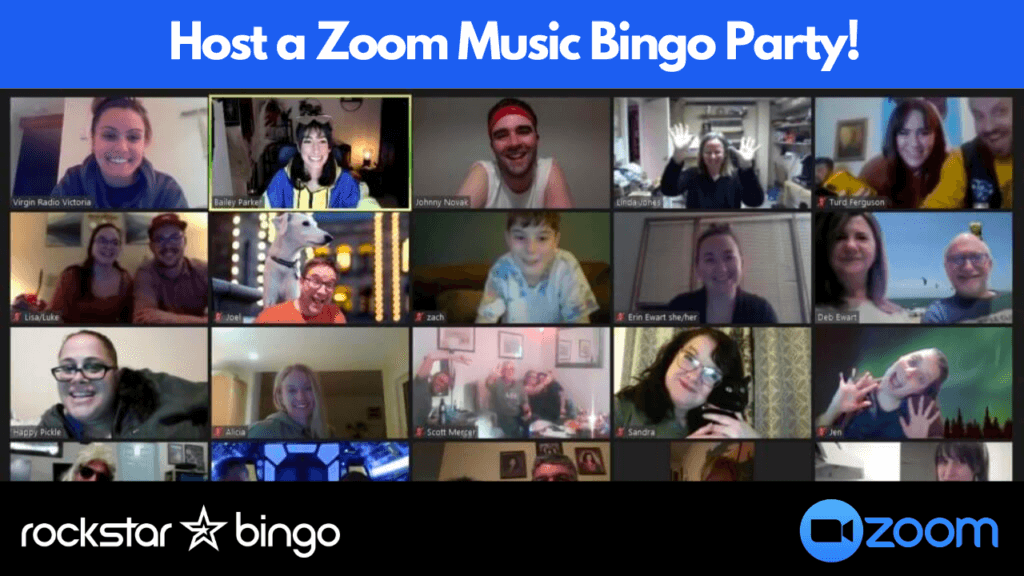 Twitch, YouTube, and Facebook
Twitch, YouTube, and Facebook are all big platforms that are easy to pull people in for a music bingo game. There are two things that you need to know about hosting music bingo on Twitch, YouTube of Facebook.
If you are playing songs for more than 20 seconds, there is a good chance you will be shut down or muted by these platforms because they will detect the music. Your music will be muted due to copyright reasoning.
Next, with these three platforms, you will be streaming to your audience and not doing a real-time video. You're going to be ahead by a few seconds and what they will be playing, seeing, or hearing will be delayed. So, if you're ahead whilst streaming music bingo, you may want to turn off the highlighting column feature on Rockstar Bingo so that your players can play along and not be out of sync.
How to Host a Music Bingo Game Using Zoom
As a Rockstar Bingo host, you are going to host the game like a regular game, but instead of sending it to the speakers in a room, you're going to send it out through a Zoom meeting. On the player end, you will need to encourage all your music bingo players to ensure they're showing up with their smartphones or game controllers.
So, everybody who is going to play will need to have a smartphone to get their digital music bingo card on. Then because they will be remotely watching, they will need a laptop, tablet, or something that will be showing the Zoom meeting. That second piece of equipment is the interaction between you and the players visually.
Start the Game
On Zoom, you are either going to schedule a Zoom call and give out the Zoom call URL or create a new meeting. There are a couple of things to keep in mind when doing this:
When sharing your screen, you might want to share your video. So, you could either share your screen that has the game play (not ideal as people will see what songs are coming) or show a different screen with the Rockstar Bingo Jumbotron if you have the Pro subscription. You can learn more about using the Jumbotron to incorporate music videos into a music bingo game here.
One advantage that Spotify has is that you can choose computer audio-only. So, when sharing your screen, you can just be on video (your face interacting with your audience) and just playing your audio. You don't have to share your screen with Zoom when using Spotify. This means that if your playlist is via Spotify, you could just communicate the game code with players, or post it in the Zoom chat, share audio so that they can hear the songs, and interact as yourself.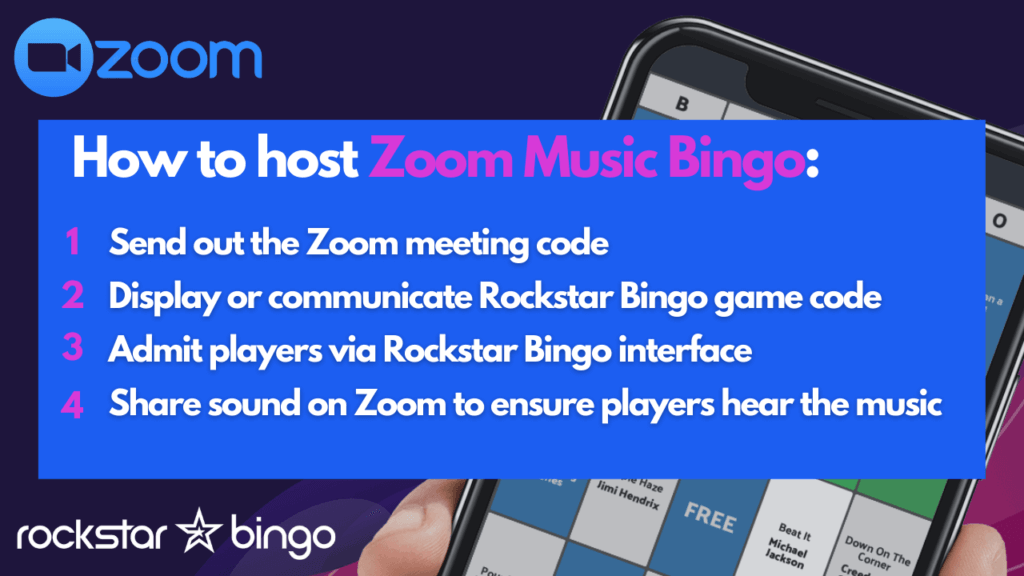 Zoom settings to consider when hosting a virtual event:
Take a look at your audio settings. It is best to check out your background noise suppression to allow some background noise depending on what is going on. Also look at how you're sending the sound to the speakers out, and whether you want your voice to overtake what people are hearing.
You can also play with different echo cancellation features in the advanced setting; however, it's not actually needed for most parts.
To go back to basics, the easiest way to host music bingo or a virtual event via Zoom is to:
Send out the Zoom meeting code
Display or communicate Rockstar Bingo game code via Zoom
Admit players via Rockstar Bingo interface
Share sound on Zoom to ensure players hear the music
How to get a music bingo subscription
If you are interested in learning more about hosting music bingo or adding our platform to your event or venue, be sure to contact us!