Rockstar Bingo is the paperless solution to music bingo. Ditch those paper music bingo cards and host in a modern, eco-friendly style with our music bingo web-app. Paperless music bingo has never been so easy to host. However, this blog answers common questions about how to transition from paper bingo cards to a virtual music bingo game card. 
First, why not check out our video on why we don't offer paper music bingo cards. Of course, we also give the many benefits of hosting digital card music bingo – some reasons of which you may not have thought of!
We often encounter questions such as 'what if somebody doesn't have a smartphone or iPad to play Music Bingo on?' We simply answer, 'Table Play Music Bingo'!
How to Involve Players Who May Not Have a Smartphone
In situations where you may have players such as elderly bingo players or children who do not have a smartphone, we offer a simple solution which is common in bars and pubs across the world.
Table play involves group games of music bingo. You could couple up or join together a whole table of 6. Table play allows creative collaboration between music bingo players to create a team music bingo game. This involves shared music bingo cards.
Not only does this encourage teamwork and crossovers of knowledge, but this also allows players to get to know other people or existing friends whilst playing music bingo.
'How can you play music bingo in a group?' I hear you ask? Well, one player in the group will be the owner of a smartphone or device to play bingo on. This device is placed in the middle of the table so everyone can see the virtual music bingo card.
Depending on whether you use apps such as Shazam during your music bingo games, or whether you use pure music knowledge, group members can contribute song title information and check the bingo card to see if they have the song.
How Do I Give Prizes Away in Music Bingo Group Games? 
It may be suitable to provide prizes that can be divided between a team or utilized by each member of the team. As the group will be working together to win the music bingo game via paperless music bingo app, Rockstar Bingo, they will all deserve a prize for being a member of the winning team.
Team prizes work well if each member can use their prize on what they'd like or as a prize they can collectively partake in as a group.
Here are our top ideas for group music bingo prizes:
A free drink or bar snack for each team member
A free ticket each or table to the next music bingo event
A novelty prize e.g. free t-shirt
Prize money
Gift cards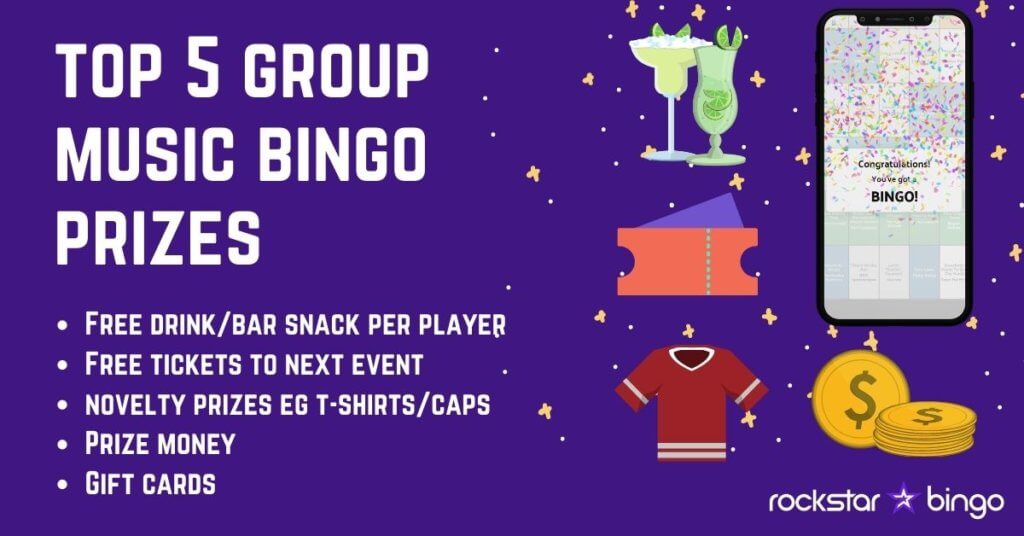 How do you Create a Fun Group Music Bingo Game?
Hosting a music bingo game for groups doesn't differ hugely from playing a regular music bingo game, where individual has their own virtual music bingo cards.
The differences stem from the initial hosting period where you will need to:
Gather team names and the tables they correspond to
Ensure each table only has one active music bingo card/active device
Check if team members are using Shazam and if so, ask them to put their devices in bags
Music bingo games are super fun to host with groups and can provide a fun alternative and shake-up to a regular game with our music bingo app!
Want to Start Hosting Music Bingo in your Venue?
We would love to get you started with Rockstar Bingo's music bingo app. Fill out our enquiry form and we will be in touch shortly. Alternatively, if you are looking for a Free or Premium account, click here to sign up.
In the meantime, why not check out our awesome demo video here, so that you are ready to get hosting today!