Hosting Music Bingo has never been more fun! If you are looking for a fun, quick, and easy way to entertain your audience, then Music Bingo is for you! In this episode, we speak to the awesome virtual Twitch music bingo hosts (couple; Lady Coo and Casual Coo) known as Dauber Tunes. You can check out their Dauber Tunes music bingo channel here.
Dauber Tunes brings musical bingo to your screens every Saturday night live on Twitch and has been at it for over 2 years! Recently adopting the Rockstar Bingo app, we discuss how hosting with Rockstar Bingo has transformed their music bingo game and how they have become such successful music bingo hosts on Twitch!
If you'd prefer to learn more about Twitch music bingo via our podcast or on YouTube, you can watch The Music Bingo Podcast below!
How has Rockstar Bingo transformed your music bingo game and hosting on twitch?
Casual Coo: There is so much that came out of COVID, and we have been doing this for 2 years now, every Saturday night. We loved going out to live music bingo, and we still go whenever we get a chance to do so. However, when COVID hit, and everything was shut down, we didn't know what to do. It took us two weeks to figure it out. Then we started putting online music bingo together for friends and family to find something fun to do.
Our first stream was about 15 people, but the biggest challenge that we had was finding a way to deliver the cards. When we started using Rockstar Bingo, delivering the cards and the playlist on Twitch became very easy and neat. We also play the videos along with the songs, and with the Rockstar Bingo app, people don't have to be involved with us on stream if they don't want to. They don't have to be on camera or in chats. They can just load us up on their television or whatever internet device they are using and sit back with their family and friends around their table to listen to the music or watch it.
It seems like COVID is dying. What do you think will happen to your music bingo setup? Will you move it to something else or continue with virtue?
Casual Coo: Probably a combination of both, but we have already been talking about what we need to do now. Instead of doing it weekly, we will be doing it bi-weekly on Saturday nights. The best thing about Twitch music bingo games is that it allows us make a lot of interactions with people, and we use channel points or tips to allow us to do something stupid like dance-offs or lip-sync contests. I'm also planning to create a soul Dauber Tunes Twitch channel, where I will get 24-7 hosts, and people can drop in and play at any- point-in-time. We have also been doing live music bingo events in Victoria, BC. Last summer, we broadcasted music bingo locally from our yard and other people's houses, and they loved it.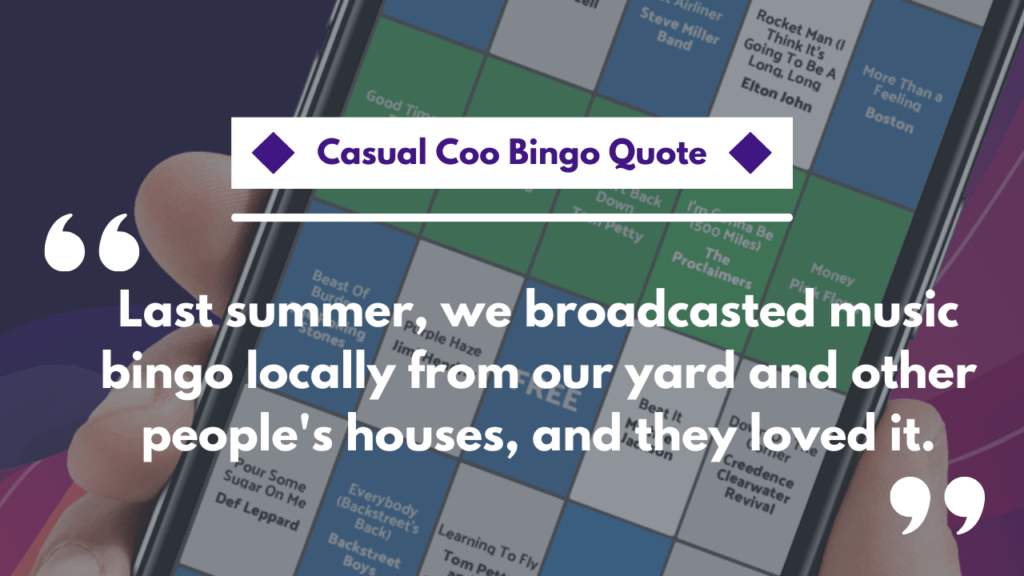 Sean: I'm thinking when things return to normal, the normal nights will be busy. Friday and Saturday, when you are doing this, you'll be competing with somebody who is getting out of the house. But Monday through Thursday, instead of watching TV or Netflix, people can do it while doing their homework. It is not like the opportunity is gone. It's a matter of shifting because this is going to be the roaring 20s, and people will want to go out of their houses for a while.
What prizes do you give out in your music bingo games?
Casual Coo: We basically give two prizes each round. We give away 20 Bucks for the first part, and the winners have to choose. They can get an Amazon gift card, a T-shirt, one piece of our merch, or three months subscription to the channel. We don't do wire transfers for money.
For the second part, we give a subscription to the Twitch channel. The reason why we do that is because it is pretty much a no cost to us. We give a subscription, and we get half the money back. What it does is it gets people committed. We used to give extra cards away to people who had subscribed. So, they got three instead of one, but since we moved to the Rockstar Bingo app, most people prefer just to have one card. So, what we do is we give them two free spaces during the month.
For the game, we have made it a pay-to-win, and up to song number 30, people can buy their own free space. So, the winner typically comes between songs 30 and 45, and the prizing is fairly straightforward.
You recently adopted the Rockstar Bingo app. How did people respond to it?
Lady Coo: We had so much positive feedback from people. We tried out the Rockstar Bingo digital cards a few times, and people just love them. It is easy for somebody who crosses the bingo box by mistake to return to their card and carry on. If they also mark something off by mistake, they can just untick it and continue with the game.
Casual Coo: We started using Rockstar Bingo app in the summer, August, we tested it for around one month, and we asked for feedback. We figured out how to go about the free bingo space, and it's not an issue anymore. People are now having fun, and they love the cards.
When you say you figured out the free space, what do you mean by that because you're not giving multiple cards?
Lady Coo: We give people two free spaces in a month when they subscribe. So this means that when you are one space away from getting to the two lines, you call bingo.
Casual Coo: We just ask them to fill the space if they want to get a free space. It comes up as an X, so we can still verify it.
Lady Coo: Basically, we check everybody's card and say where they missed it to ensure they got the words. We used to go through the list again to write down the songs that we played, do a recap, and read out all the songs so that people would check out if they got them. Using the Rockstar Bingo app is a lot easier. You can just flip and see what people have in their cards. The game runs smoothly, everybody is happy, and you can see when somebody gets a bingo.
Which is your most popular playlist?
Casual Coo: We got a couple of them but our most popular playlist that people like the most is our Mashup music bingo playlist. People gave us suggestions, and they gave us a mashup idea. I just went to YouTube and looked for a mashup. The best thing about the mashup music bingo playlist is that it's not only a song mashup but also titles. So, what we do is that we get our audience to try and guess what the mashup title is, and we give away channel points to the people who get it right. This is the most requested music bingo playlist as well as hit cover songs, the 80s and 90s, jaunt "fluid gender," and hard rock done in country style are the most popular songs in terms of music bingo themes.
If you could have one feature added to Rockstar Bingo, what would it be?
Lady Coo: I wish people could see their cards and Twitch on the same window. Sometimes I feel like our chat is down a little bit because people are on their cards window and not the Twitch window.
Casual Coo: One thing that will be helpful on the streamer side would be an option to allow or somehow facilitate people buying extra cards, which will be kind of neat.
Sean: That is interesting, but we will never charge the end-user because that is not our goal in this space. I think we can add the ability to have multiple cards, and maybe in the lobby, you can authorize whether this person has two cards or one card and charge them for the cards. The multiple cards feature is something that may come in the future!
Co-host Updates, New Rockstar Bingo Feature
We recently added a new feature to Rockstar Bingo. We renamed the co-host view as a sidekick, and they can now control the lobby. So, one of you can now be in the main game controlling, and the other can control the lobby, pretty neat!
What Next?
If you are interested in learning more about hosting music bingo or adding our platform to your event or venue, you can find all sorts of information on our website (see link buttons below). Alternatively, click the "Tell us about your unique event or location!" button to reach out for a chat.