Why host music bingo at your wedding?
Weddings are a celebration of love and life, celebrating with friends and family at one big party! There is no doubt that there will be tears, laughter and music at a wedding and Rockstar Bingo can help boost the music and laughter elements by hosting a fun, interactive game of music bingo – easily! Many couples choose a range of activities, musical games and family bonding elements to fill gaps at their wedding party, perhaps even before the DJ arrives, while waiting for photos to be taken, before cutting the cake or as a final wedding night game! So read on to learn more about music bingo for weddings.
Music bingo brings everyone together for one interactive musical game at your wedding. Heard of Bongo's Bingo? You can recreate that experience at your wedding with Rockstar Bingo! Choose a music bingo playlist close to your heart with songs loved by family and friends and turn this into a game with awesome prizing. Everyone wins!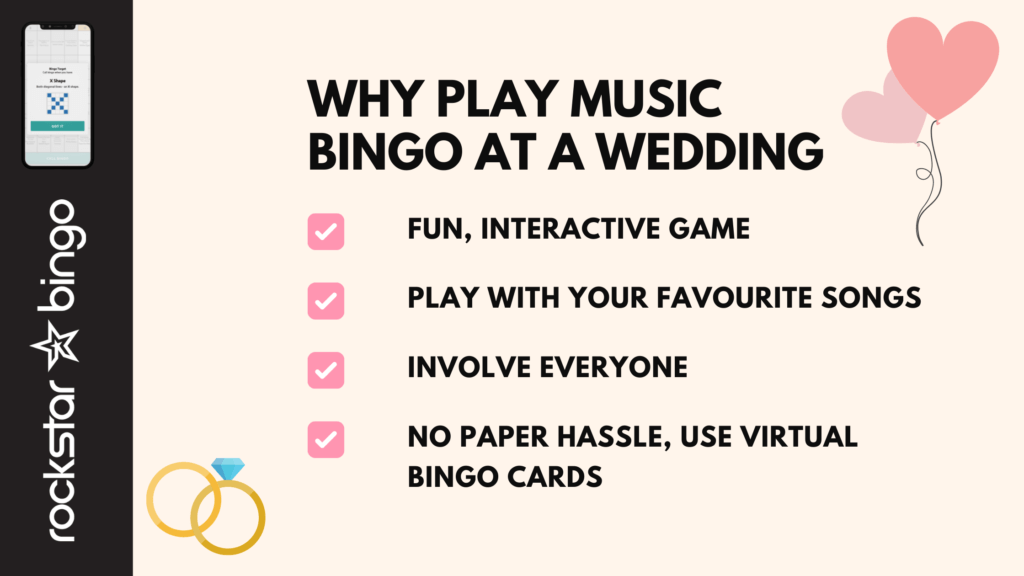 Who can host music bingo for weddings?
It is easy to host a game of music bingo. All you need is a Rockstar Bingo 'Premium' (up to 30 players) or 'Pro' (you define your audience size) subscription with the number of players that will be at your wedding. And if you just want to host a one-off music bingo event, you simply sign up for a monthly music bingo subscription, and cancel your plan within that month (upon signup, your subscription is good for one month, from purchase date). This means that you get one month's use of Rockstar Bingo to practice hosting before the event and you can continue to enjoy the game after your wedding day is over … perhaps a wedding reunion on Zoom a couple of weeks later? The celebration continues!
Once you have a Rockstar Bingo subscription, you can link your Spotify playlists to your music bingo games to create music bingo cards. Worry not, if you don't have Spotify, you can manually play your music from your preferred medium and create bingo cards from a list of your songs! To host music bingo, you will need a playlist of at least 75 songs to work with our music bingo generator to give your players virtual bingo cards.
This means that any family member with a 75 song or more playlist can host music bingo! As long as they can connect to speakers so the music playlist can be heard, anyone can host the game!
However, if you don't have a music lover and potential bingo host in your family, you could always ask your DJ who will be hosting the wedding part to host. They might even be excited to add this platform to their service offerings.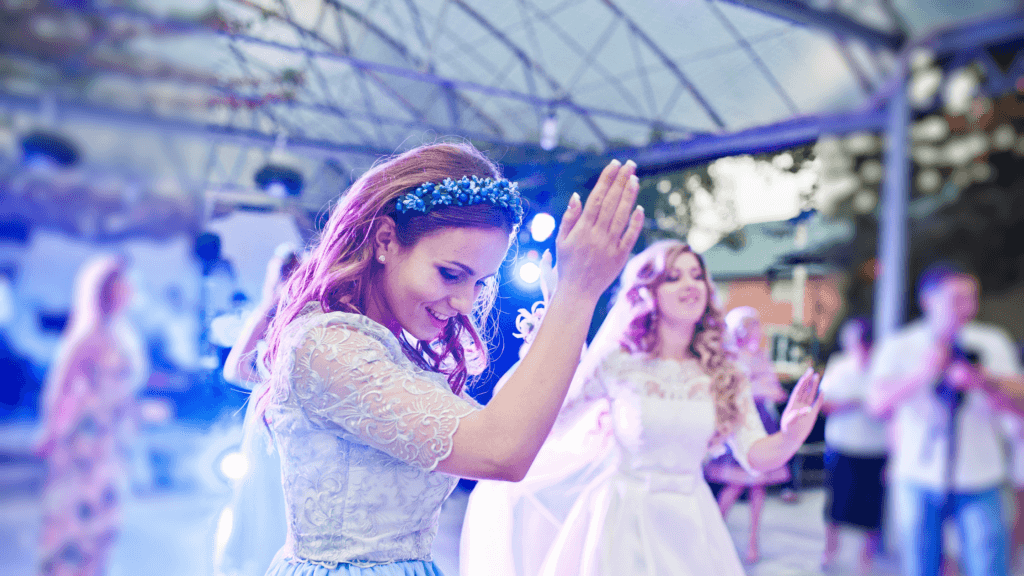 How Rockstar Bingo would work well at your wedding?
Music is always a winner! Combining it with a popular game is a fun way to experience your favourite songs with friends and family at your wedding. Consider creating some fun wedding memorabilia for prizes such as a T-Shirt with 'Jenny and Sam's Wedding Bingo Winner' – this is a fun prize that will be treasured!
Many choose music bingo for weddings as the game can be adapted to the time you wish to spend playing the music trivia game. As most weddings have at least 50 people, you stand a good chance of getting through your songs and someone getting a bingo or reaching a target quickly which leaves time for more games and fun!
There is no hassle or mess from paper bingo cards as Rockstar Bingo is a virtual bingo card platform where, similar to Jackbox, you enter a code to retrieve your music bingo card on your smartphone. This means no hassle in organizing paper, printing cards or collecting them at the end of your game. And you are helping the environment to boot! Good on ya!
Validation of a bingo is quick and easy with Rockstar Bingo. If a player believes they have a bingo on their card, they click 'call bingo'. This then sends an alert to the host's system which then gets automatically verified. This means no manual checking, messy paper cards or stress!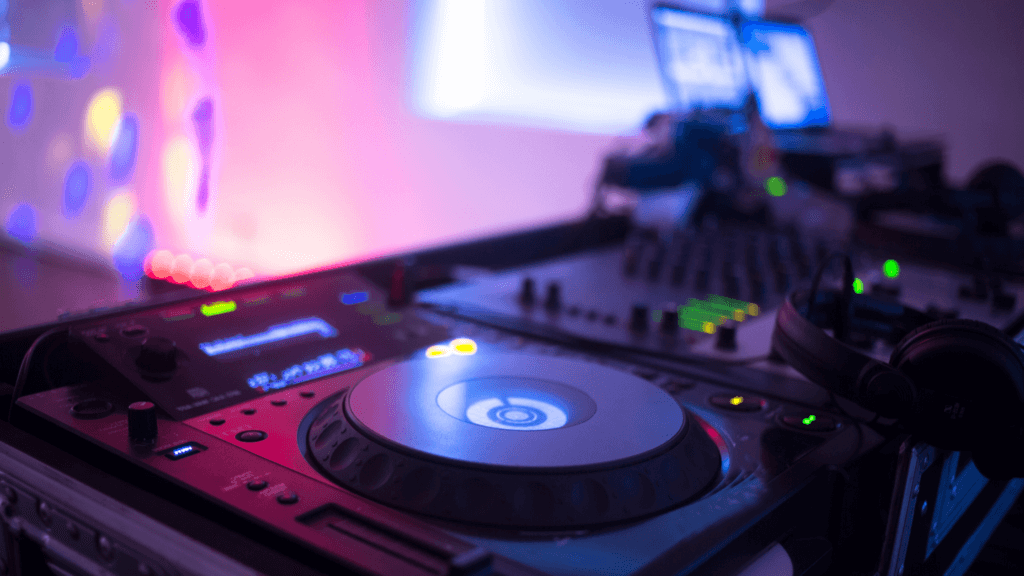 Equipment to host music bingo at a wedding
Hosting music bingo doesn't require much equipment. To host music bingo for weddings, you will need:
A music bingo host (hey, maybe that's you! Or your DJ?)
A laptop 
Speakers 
Spotify Premium or alternative/offline music source 
Rockstar Bingo subscription 
Prizes (optional, but recommended – even silly prizes are a hit!) 
The 5 best ways to fill gaps at your wedding
Music Bingo – involving everyone at your wedding party, you can party away with a fun game of wedding music bingo!
Caricaturist – whilst expensive and involving fewer individuals, these pictures will be memorable souvenirs of your wedding.
Children's activity packs – keep the children amused with colouring, puzzles and more!
Photobooth – although this only involved a few at a time, photobooths can create lasting memories!
Croquet – if the weather fits, croquet can be a fun game for all!
What Next?
If you are interested in learning more about hosting music bingo or adding our platform to your event or venue, you can find all sorts of information on our website (see link buttons below). Alternatively, click the "Tell us about your unique event or location!" button to reach out for a chat.