Are you hosting a Halloween party and looking for a great Halloween game idea? Mixing music trivia and Name That Tune with bingo, we introduce Rockstar Bingo – the paperless music bingo app. Halloween music bingo with a spooky Halloween playlist is a great way to throw a party with some themed songs!
Replacing bingo card numbers with songs, by hosting music bingo with a Halloween music bingo playlist. Music bingo themes are always a hit on our Spotify profile!
Answering entertainment and hospitality workers questions before they ask is the way we roll. 'What about the printing of bingo cards', 'I don't want to have the hassle to print music bingo cards' … we have you covered! Rockstar Bingo is the GREEN (paperless) and covid safe pub night game. Music bingo cards are virtual, meaning players simply head to https://rockstar.bingo/join and type in their name and game code. Music bingo cards to print are both unsustainable and leads to paper wastage for your company and community. Save time handing cards out and blurred cards with drinks spillages by using player's smartphones as music bingo game controllers.
Seasonal music bingo is a great way of creating a fun themed event, involving trivia and music. Music bingo is a great idea for a party game!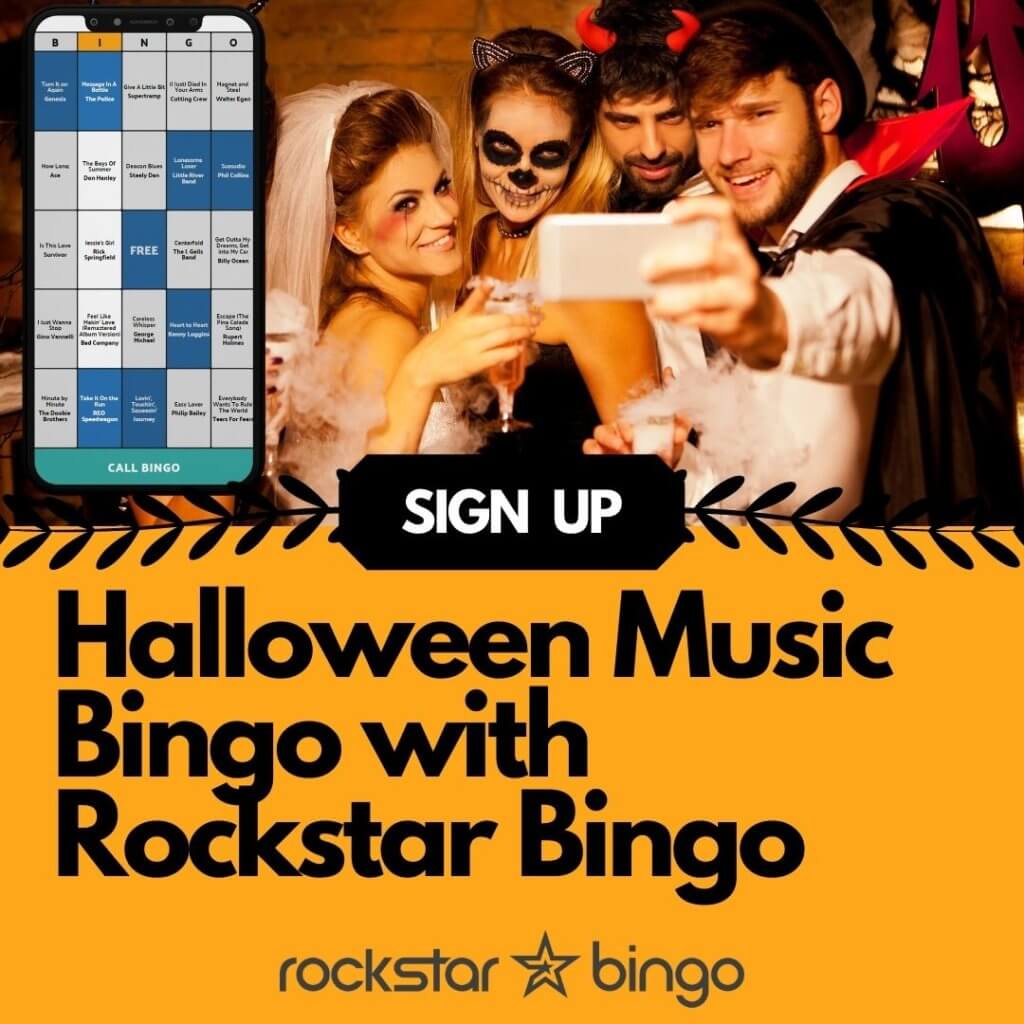 Is there a ready-made Halloween Music Bingo playlist?
Yes, on the Rockstar Bingo Spotify profile, there is a ready-to-go music bingo theme playlist for Halloween. Featuring songs like Thriller by Michael Jackson, This is Halloween by The Citizens of Halloween, Monster Mash by Bobby Pickett and Disturbia by Rihanna, this music bingo playlist has the perfect mix of spooky Halloween songs for your next music bingo game.
Simply head to the Rockstar Bingo Spotify profile and 'save' the playlist. This means that when you log into Rockstar Bingo to host your music bingo game, the playlist will be available for your event. Looking for other fun music bingo playlists? Check out our blog here for Country Music Bingo, TikTok theme and FIFA songs!
This playlist would be perfect for hosting a student music bingo night. If you'd like to read about hosting a successful student music bingo night, check out our blog with The Kilted Kangaroo, a pub in Scotland who do so!
Can I use a live band to host music bingo?
Yes, Rockstar Bingo's Pro subscription includes a range of features to allow live bands to host music bingo games with their live setlist. Simply upload the songs that you will be performing to a 'playlist' and choose this to host seed your music bingo game setlist.
The live band or artist will perform the songs in the same order as Rockstar Bingo orders them in. This ensures that the validation of your player's music bingo cards is correct.
Singers, duos, bands and other performers can customize set lists with Tempo/BPM, Key Signatures and other information to host live music bingo performances.
Can I host Halloween Music Bingo Virtually?
Yes. This is a great way to get people virtually together and having fun at a Halloween party, the virtual way! It is easy to host music bingo with Microsoft Teams or Zoom with Rockstar Bingo. Simple invite people to a Zoom or Microsoft Teams call and share your sound – this means that they can hear the Halloween music bingo themed playlist.
Virtual music bingo over Zoom or Microsoft Teams is a great way to host a charity Halloween event and is a fun idea for a Charity trivia game. Raising money whilst listening to great music and playing an interactive game is always a hit!
Check out our video below for more information on how to host music bingo virtually with Microsoft Teams.
How to share your Rockstar Bingo Game online using Microsoft Teams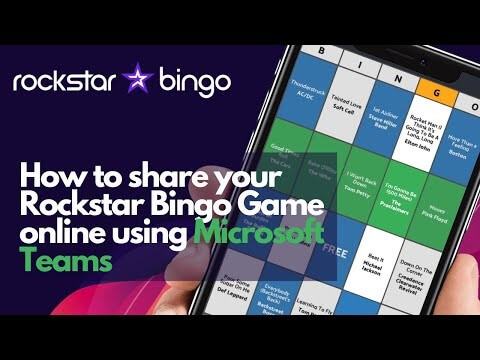 How can I host music bingo?
Rockstar Bingo allows you to choose the number of players on your music bingo account. If you are playing with a maximum of 100 players in your venue, you can choose a 100 player subscription. This allows you to host unlimited music bingo games as long as they are not simultaneous. Make the most of your monthly subscription by making a weekly music bingo event, or simply cancel after one month – the choice is yours.
Rockstar Bingo offers music bingo subscriptions for a number of player caps, and you can find out more about our bingo subscriptions here https://rockstar.bingo/pricing
If you are looking for more information on how to host music bingo with Rockstar Bingo, check out our walkthrough video here Rockstar Bingo – How to Host your First Music Bingo Game