Rockstar Bingo is a music bingo app that is relentlessly committed to empowering great hosts. By that we mean we give you an epic tool and you intertwine it with your hosting ability to create an awesome music bingo game. The scale to which you host your music bingo game influences the level of music bingo subscription that you will require with Rockstar Bingo.
In this blog we will go through the music bingo subscription offers that we have available and how they could work for you.
Free Music Bingo Subscription
Rockstar Bingo offers a Free Music Bingo app subscription so that you can try the game out with friends using a set range of Rockstar Bingo playlists curated by us! Our free subscription allows you to try out our music bingo platform to play small games with up to 6 people in a cozy setting. You can still have great fun with our free subscription or simply take it out for a spin.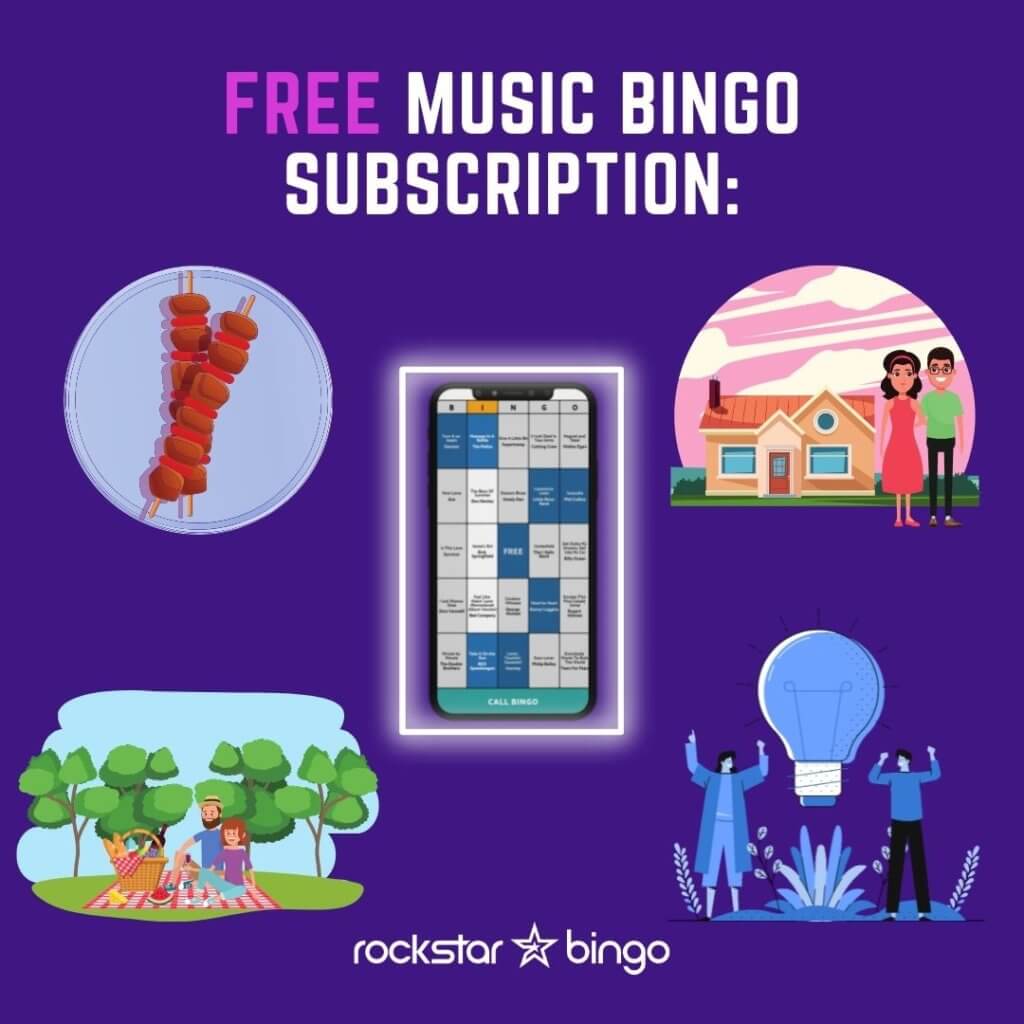 With Rockstar Bingo's Free Music Bingo Subscription, you get:
Automatically generated virtual music bingo cards
Players get access to games only from any device
Integration with third-party music services such as Spotify. In the future we hope to add support for Apple Music and Amazon Prime Music (and you can simply use those services today, manually controlling those apps).
Premium Subscription
The Premium Rockstar Bingo subscription is great for parties and events using your own music. For music bingo games up to 30 players, this subscription offers everything that you need.
The Premium plan works well for the following music bingo events:
Sports Club Socials
Friend and Family Events – e.g. Birthday Parties, BBQ's or even around a campfire
Small DJ Events – Pubs and Small to Medium Weddings
Work and Business Socials and Team-building events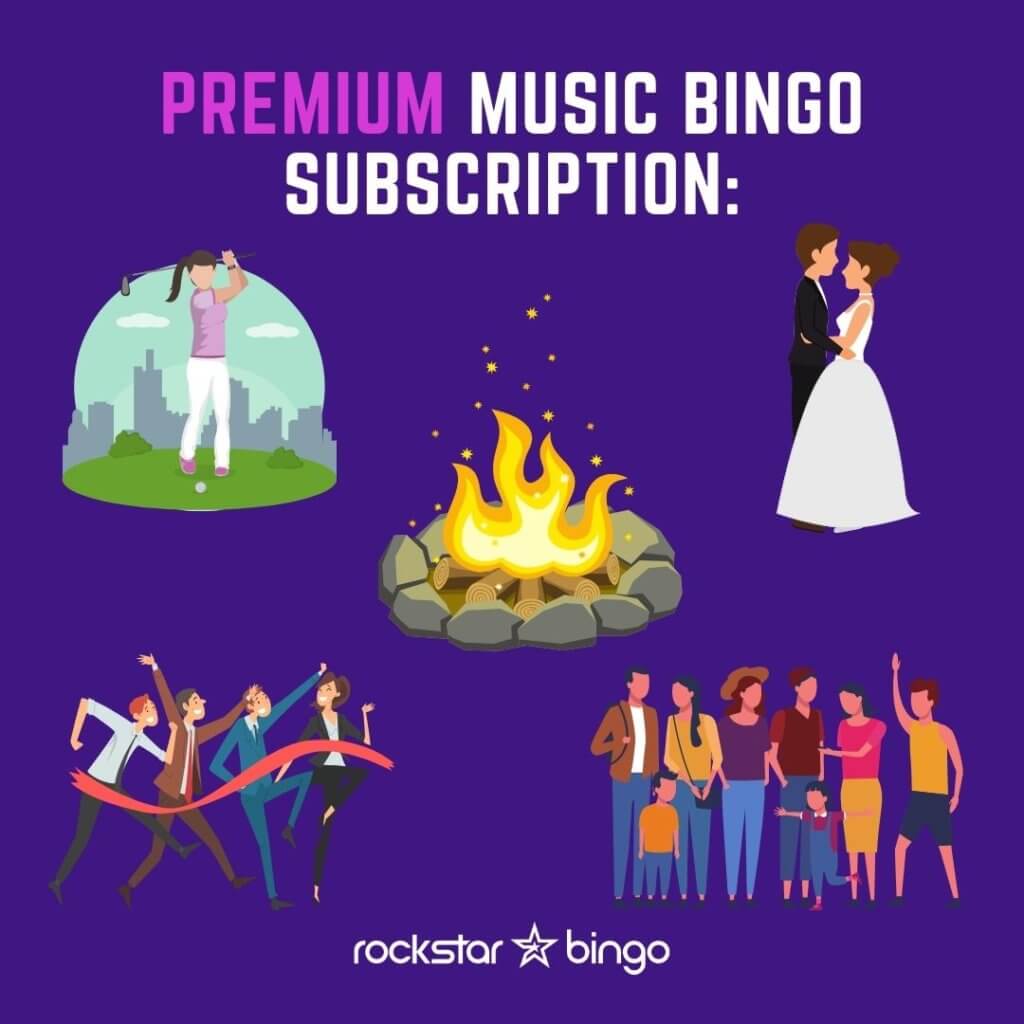 With the Premium Music Bingo subscription, players access their virtual music bingo cards with the game code revealed by the host. The platform integrates with third party music services meaning that you can grab a playlist of all your favorite songs from platforms such as Spotify (you can check out the best music bingo playlists here).
With Premium, you get the features from the Free Plan plus some added bonuses:
Up to 30 players
No 3rd party advertisements within Rockstar Bingo
Use of your own playlists
Customization of Playlists (including start positions and song titles)
Pro Music Bingo Subscription
This is the plan that has it all (with more coming!). For those events with a number greater than 30, or where you'd like to utilize all of the features of Rockstar Bingo. Pro is perfect for large events, venues and other business entertainment opportunities.
The Pro Music Bingo subscription works well for the following music bingo events: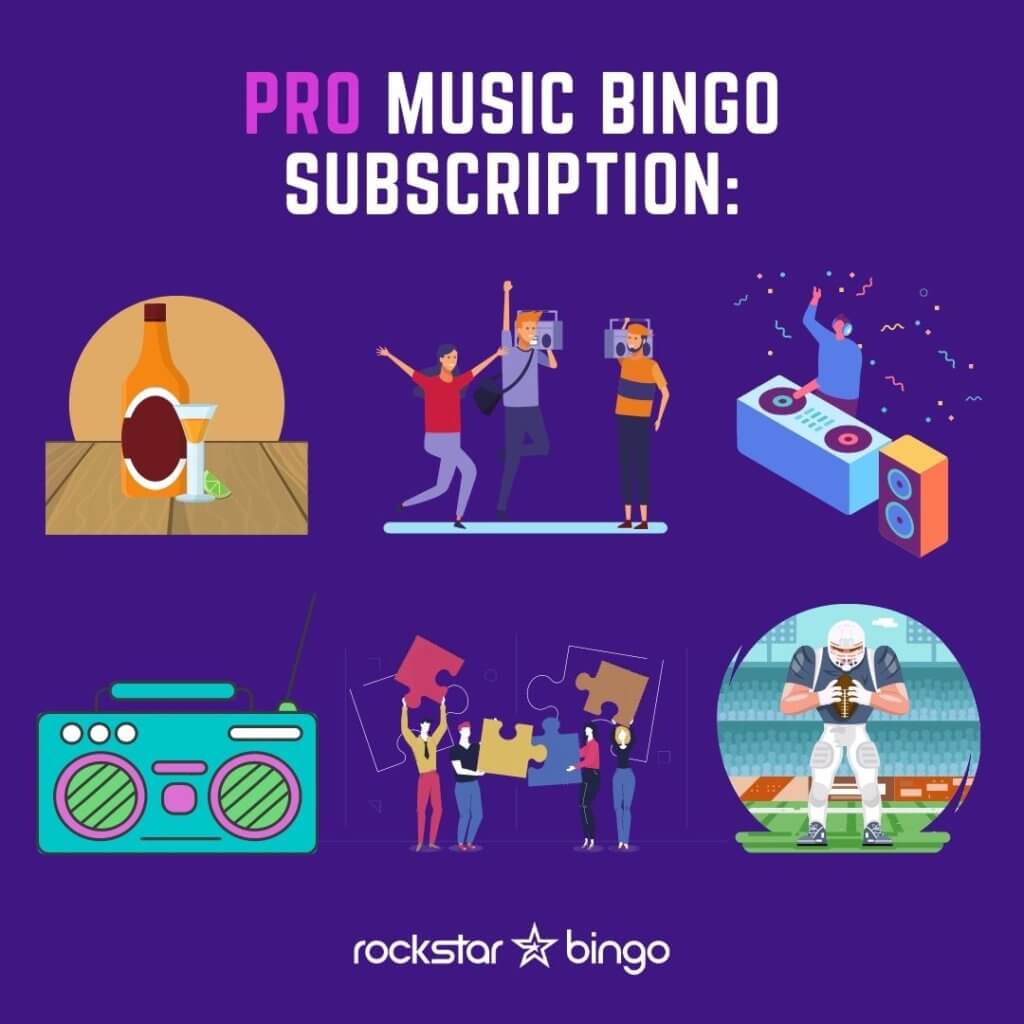 Pro includes all features of the Premium Rockstar Bingo subscription and includes the additional features of:
Larger audience sizes (pricing is per player) 
Setlist creation and sorting 
Co-host view. This allows a second host to view the game hosting screen, with the inclusion of lyrics  
The Jumbotron. This gives you the ability to add music videos to your music bingo game or a video background to use on pub screens.
MORE exciting features are always coming to Pro and these will be exclusive to this subscription tier.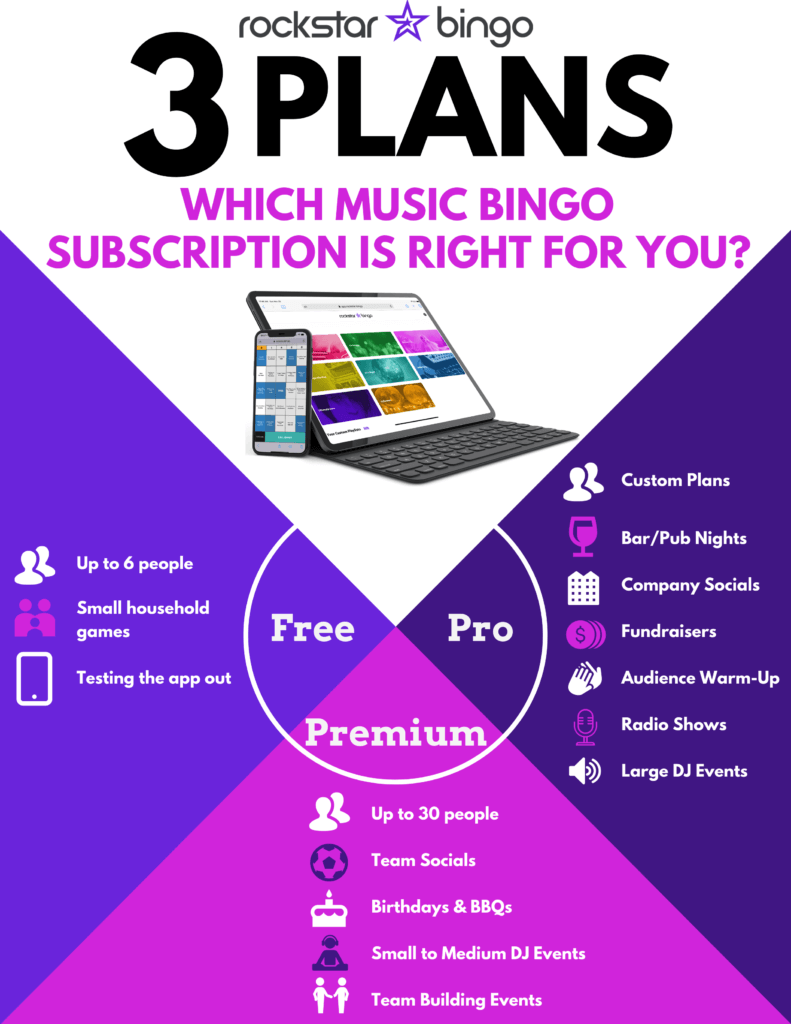 Want to start using our Music Bingo App?
Be sure to let us know any questions you may have, or submit your interest on the form below, we will get back to you shortly! Alternatively, feel free to email marketing@rockstarantics.com