Rockstar Bingo is saddened to hear the increase in "spiking" victims in the United Kingdom and wants to help the Girls Night In campaign. With over 30 UK universities teaming together to stage a boycott of nightclubs, we see this as an incredibly important campaign to support.
Girls Night In has come about after students have called for boycotts of city bars and clubs to tackle an "epidemic" of drink spiking. The Night Time Industry Association (NTIA) has reported a rise in drink-spiking throughout the UK over recent weeks. Reports have shown an increase in students getting spiked by injection, meaning even those not drinking are at risk.
The Girls Night In campaign is raising awareness and insisting that bars and clubs implement protocols to combat drink spiking, as many girls report venues do nothing to prevent spiking happening in the first place.
Rockstar Bingo alumni went to Loughborough University and witnessed the nature of the issue of spiking drinks within the nightclub scene. "Reading all about the Girls Night In campaigns on social media from girls currently at university really resonated with me. I saw the effects of spiking whilst at university, and girls must be kept safer. I feel as an entertainment service we need to offer a way for these girls to have a fun night in whilst these boycotts take place".
How to make your Girls Night In fun with music bingo
Rockstar Bingo is an easy way to host music bingo for groups of any size. Music bingo replaces bingo numbers with songs. Simply choose a fun Spotify playlist and turn it into a music bingo card! No need to print, your smartphone is your virtual bingo card.
Rockstar Bingo is offering those supporting Girls Night In a free month of Premium music bingo. This means that university societies and girls spending the night in can have fun playing a game of music bingo together whilst listening to their favourite playlist.
Simply head to Rockstar Bingo's subscription page, click 'monthly' and enter the code 'GIRLSNIGHTIN' in the promotional code box. This will give you a month of free music bingo. Why not host again at your society social or with family? Virtually or live, Rockstar Bingo can be good, safe fun!
*Remember to cancel after your month is up so you do not get billed the following month*
How to host music bingo
You may think hosting music bingo could be tricky, but you are wrong! Simply sign up, choose a Spotify playlist with over 75 songs, launch Spotify whilst starting a game on Rockstar Bingo and invite players with your game code. Music bingo is a great virtual music game for all – played in person or virtually!
Click here to see our full demo video – only 10 minutes long and it covers everything you need to host a game of music bingo for your Girls Night In.
Rockstar Bingo – How to Host your First Music Bingo Game
The Best Playlists for Girls Music Bingo
Powerful Women in Pop – The songs from the most powerful women in pop, made into a music bingo playlist! Including songs such as Good as Hell by Lizzo, Irreplaceable by Beyonce, U + Ur Hand by Pink and Easy on Me by Adele.
TikTok Hits – The songs headlining TikTok Hits in a ready-made music bingo playlist, created by Rockstar Bingo. This playlist features songs by Olivia Rodrigo, Billie Eilish, Britney Spears, Mike Posner, Bee Gees, Drake, Soulja Boy, The Weeknd, Lady Gaga, and 5 Seconds of Summer.
Boybands vs Girlbands – Songs to celebrate Boybands vs Girlbands, all in one ready to go music bingo playlist. Dance along to hits by UK and US bands; NSYNC, Backstret Boys, Spice Girls, Sugababes, One Direction, 5 Seconds of Summer, Jonas Brothers, Atomic Kitten, G.R.L, and The Wanted.
Movie Hits – Reminisce to the hits from Movie Hits in a ready to use music bingo playlist by Rockstar Bingo. With popular songs from Jurassic Park, Harry Potter, Indiana Jones, Jaws, Star Wars, James Bond, Star Wars, The Hobbit, Twilight, and Superman.
RuPaul Inspired – Songs to celebrate RuPaul's Drag Race, all in one ready to go music bingo playlist. Dance along to hits by RuPaul, Kylie Minogue, Cher, Britney Spears, Lady Gaga, Gloria Gaynor, Taylor Swift, Rihanna, Miley Cyrus, and Nicki Minaj.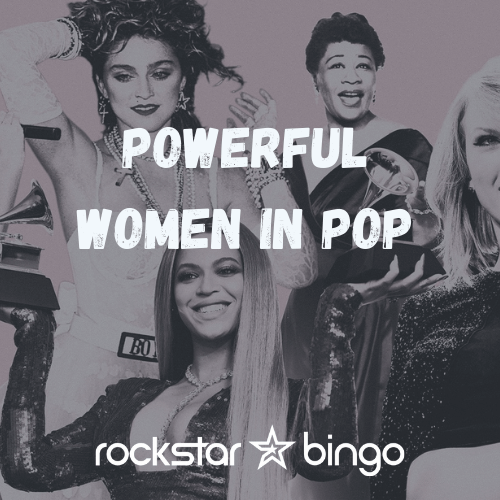 What Next?
If you are interested in learning more about hosting music bingo or adding our platform to your event or venue, you can find all sorts of information on our website (see link buttons below). Alternatively, click the "Tell us about your unique event or location!" button to reach out for a chat.