Are you looking for the perfect party playlist for your music bingo game this 4th July? Check out Rockstar Bingo's 4th July Spotify Playlist, perfect for hosting music bingo with an American 4th July theme!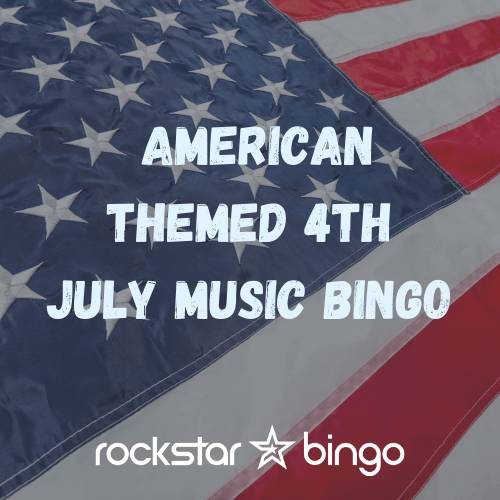 Starting your 'Party in the USA' with a game of music bingo to celebrate 4th July? Rockstar Bingo has put together a party mix of American classics, patriotic titles and some popular party hits to start your music bingo game off with a bang!
Of course, we had to include some American themed song titles in this music bingo playlist, see Rockstar Bingo's favorites below.
Top USA Themed Songs for your Music Bingo Game:
Born in the USA – Bruce Springsteen
A classic American song, which people young and old will recognize. The ultimate American song perfect for your 4th July Music Bingo playlist!
Party in the USA – Miley Cyrus
What better feel-good American hit song to get you in the 4th July party mood than this hit from Miley Cyrus!
Surfin' USA – The Beach Boys
You can't miss this tune in your American themed songs playlist. Get everybody singing along to this beachy classic.
Kids in America – Kim Wilde
No matter how many versions are released, this will always be a classic American themed song, perfect for a 4th July Music Bingo game.
Hey Mickey – Bella Heart
Celebrating all things Mickey, this American classic encapsulates America's sweetheart that is Mickey Mouse! Adding the fun to your music bingo game!
Of course, we couldn't leave out the party tunes. Head to our Spotify profile to find this awesome ready-made music bingo playlist, of course with over 75 songs, the required number for your music bingo playlist with Rockstar Bingo.
How to host Music Bingo via our app:
Rockstar Bingo is a one-of-a-kind music bingo hosting platform, offering virtual music bingo cards via an easy-to-use web-app. The music bingo host simply starts the game, announces the game code, and players join via a simple code. Eco friendly, fun and engaging! Why not host music bingo at your pub, restaurant of next event?
Please head to our website https://rockstar.bingo/pricing to get your music bingo account set-up. Alternatively, submit your interest on the form below, we will get back to you shortly! 
If you are interested in learning more about hosting music bingo or adding our platform to your event or venue, be sure to contact us!