What a year 2021 has been! 2021 has flown by and been a year of highs and lows, much like your Spotify Wrapped Playlist! Read through Rockstar Bingo's music bingo facts of the year to get a feel of how things have gone in the music bingo world with the best music trivia app out there!
The Rockstar Bingo hosting community and Facebook Group has grown massively and over 5000 music bingo games have been hosted!
In the style of Spotify Wrapped, we bring to you the Rockstar Bingo Top Facts of 2021…
How many games of music bingo have been hosted with Rockstar Bingo in 2021?
A massive 5310 games and counting have been hosting using the Rockstar Bingo generator in 2021! From launch of the music trivia app, this is a huge achievement and something we are very proud of. We want to give a huge thank you to every host, DJ, venue, entertainer or family who has trusted Rockstar Bingo to be their music bingo app of choice!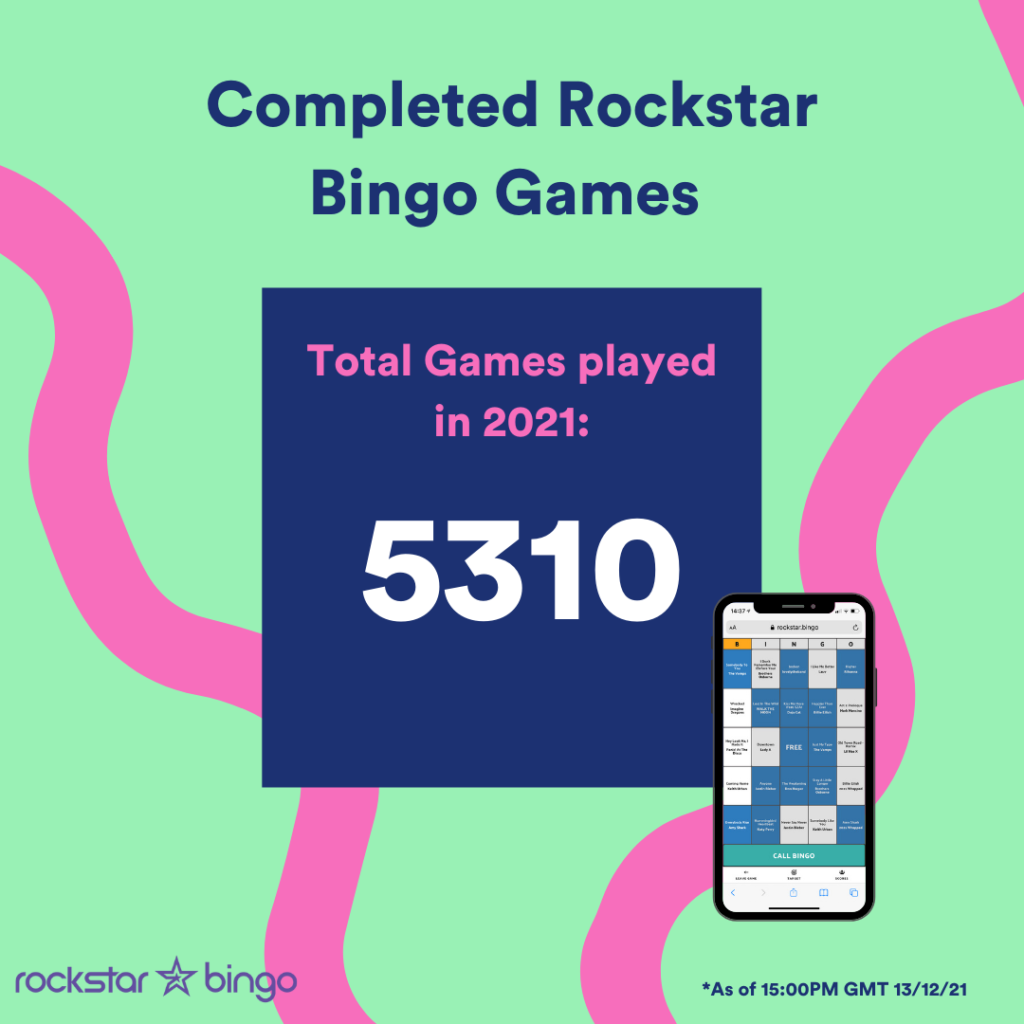 How do you play bingo music with the Rockstar Bingo music quiz generator?
Hosts using the Rockstar Bingo music trivia app are divided in their music playback preferences! Equally split, hosts either use Rockstar Bingo playlists, their own custom music bingo playlists or Spotify library playlists!
There are many choices with Rockstar Bingo on how to host, and we hope to integrate some exciting new features to enhance your music trivia games in the future!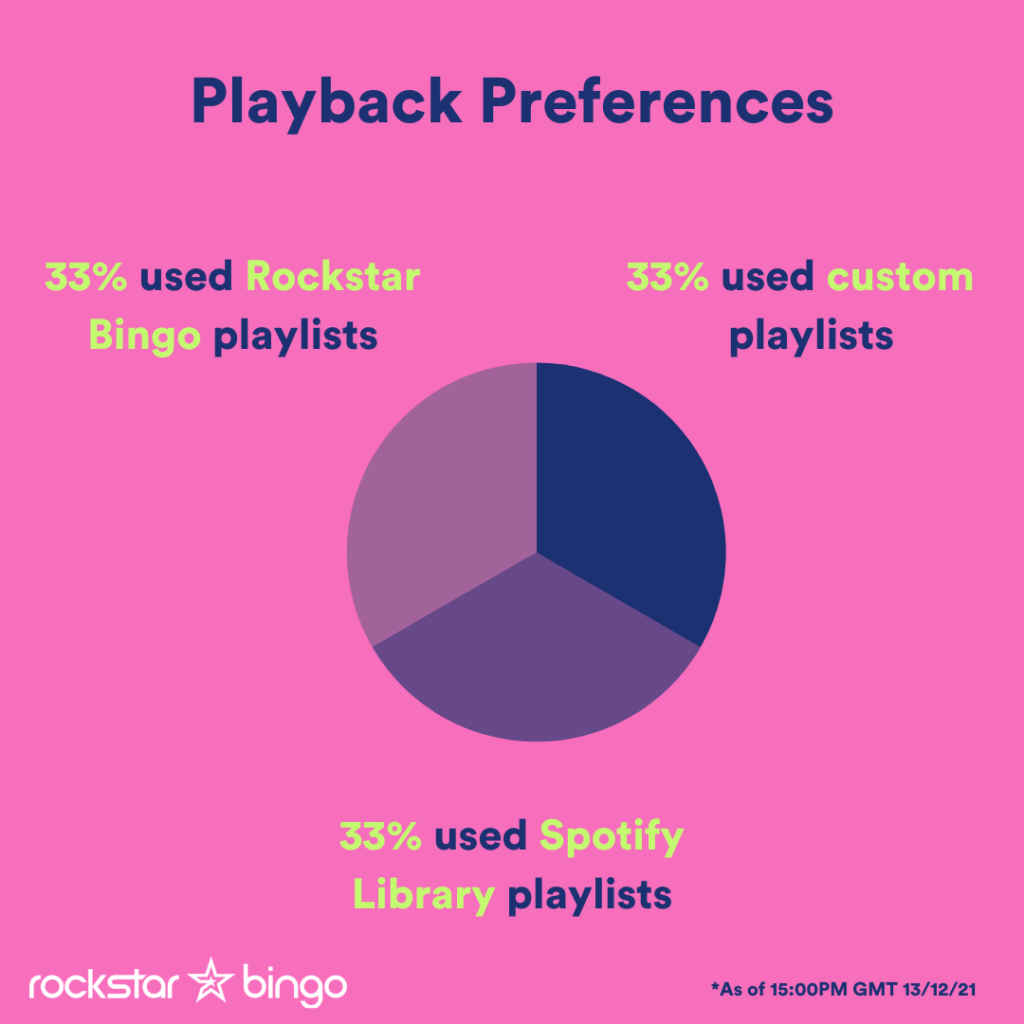 The most popular music bingo playlists of 2021
Now this is a funny one! Rockstar Bingo is hugely popular around the Christmas period and this is evident by the most popular playlist! Our very own Christmas music bingo playlist is the most played throughout the year – it seems Christmas bingo games are a hit!
We think this is explained by the uptake of our hosts using music bingo for Christmas parties as well as family games at Christmas times and themed pub music bingo trivia!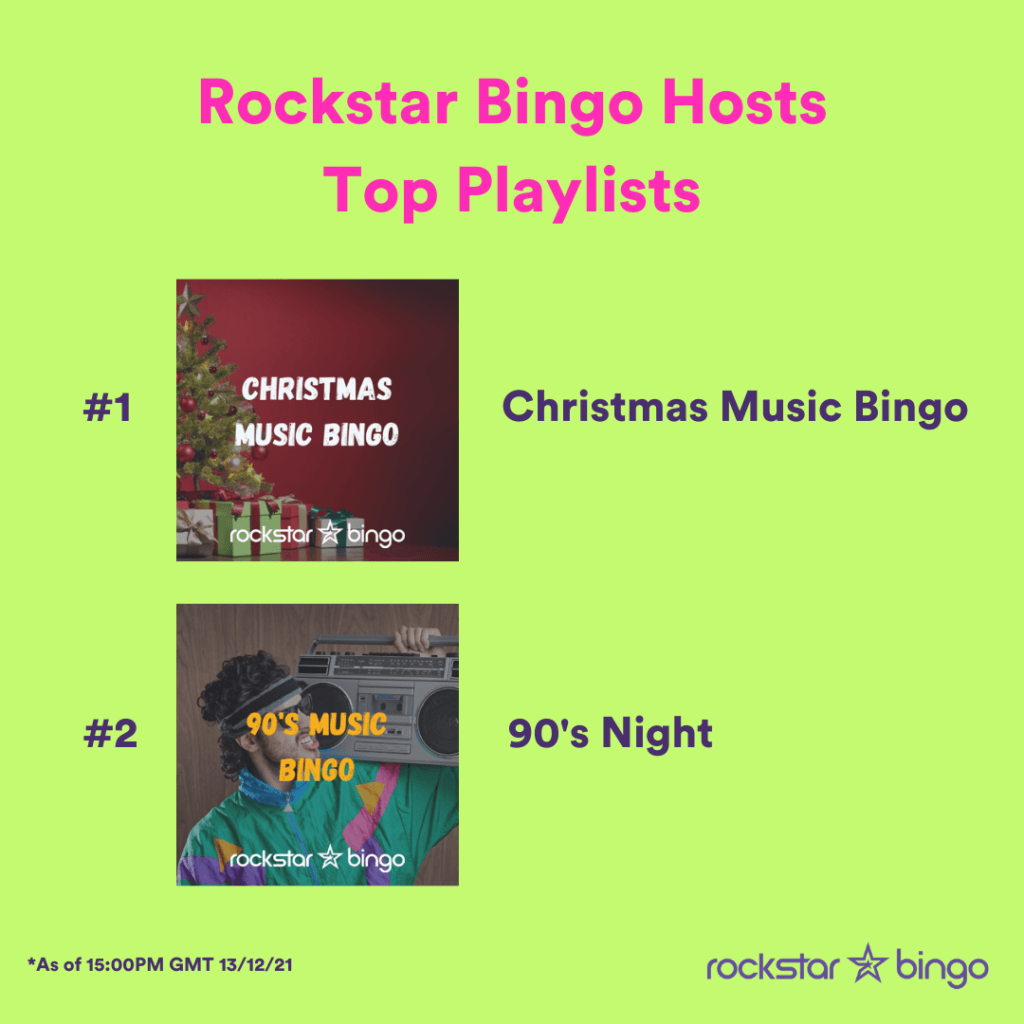 How many songs does it take to get bingo with our music trivia app?
Our data showed that on average, it takes 34 songs to reach bingo! That means that 34 songs from a music bingo playlist were played before someone reached a music bingo target. Remember, our targets range from one line, two lines, X shape, four corners and a full house!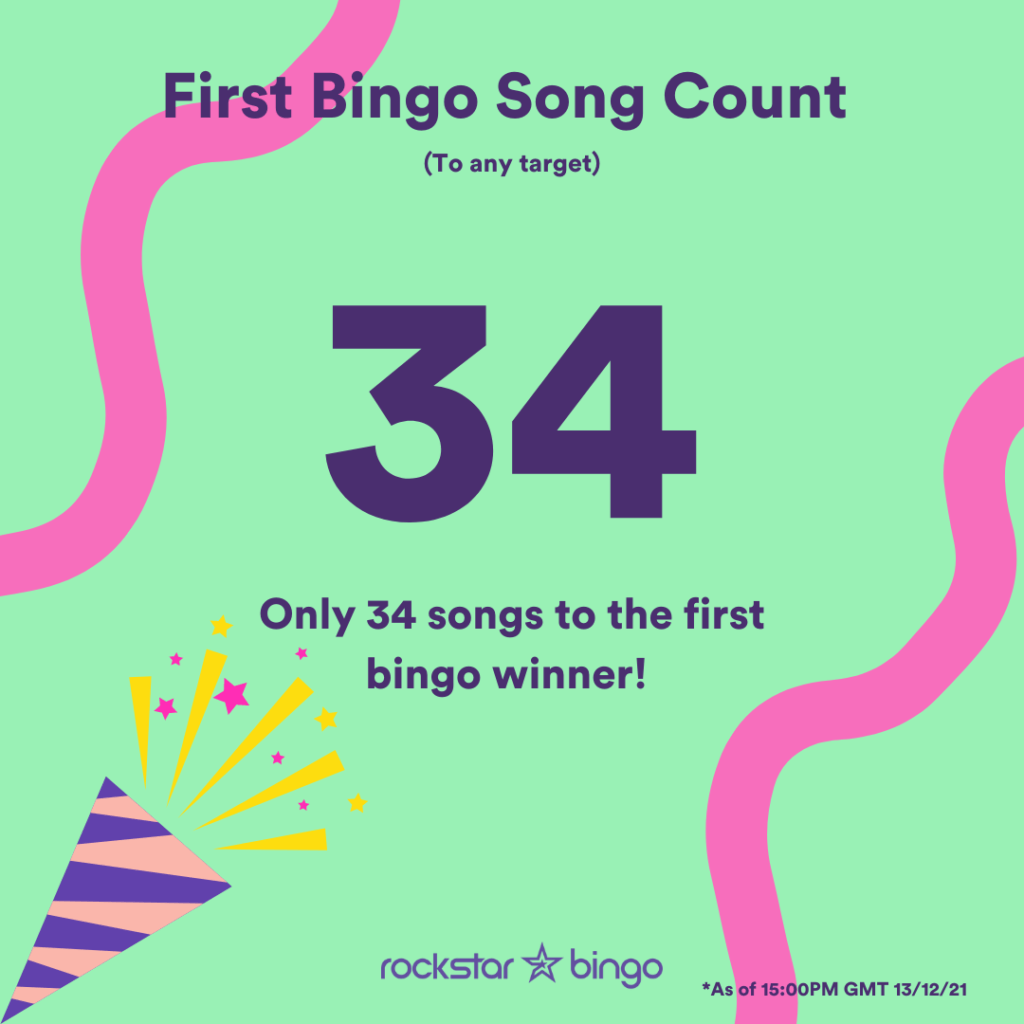 How many bingos are called during a music bingo game?
The majority of music bingo games hosted with Rockstar Bingo had just one music bingo winner per game!
We have found out from our music bingo podcast that many hosts choose to switch playlists after a winner is called and to change up the game. This gives everyone a fresh start to win music bingo!
However, we do know that many hosts choose to stagger the bingo wins. YouTube hosts Get Binky and The Music Bingo People have stated on our podcast that they like to award a smaller prize for one or two lines and a bigger prize for the full music bingo card – blackout!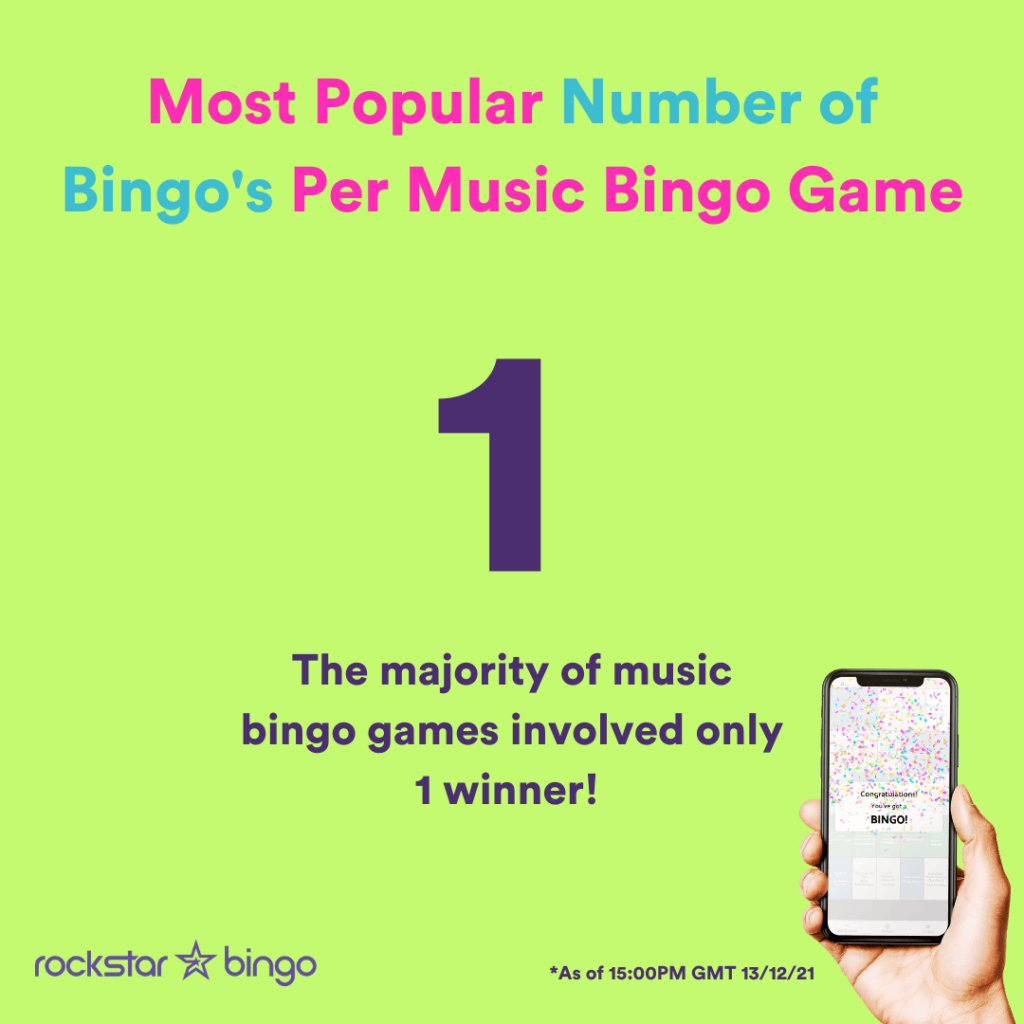 How long does a music bingo game take with our music trivia app?
This is one of the most popular questions that we get asked, and there is simply not one answer. But we do have one statistic! The quickest Rockstar Bingo game to reach a bingo target was 50 minutes…
Obviously, the higher the number of players and the quicker you play through your songs, the faster the game of music bingo. More players mean more chance of winning and a greater variation in bingo cards. Playing shorter clips of songs from your music bingo playlist means you will fly through the songs on your player's music bingo cards. This means that the time taken to get to a bingo is reduced!
So, the duration of a music bingo game depends on 2 things:
Number of players
Length of song clips played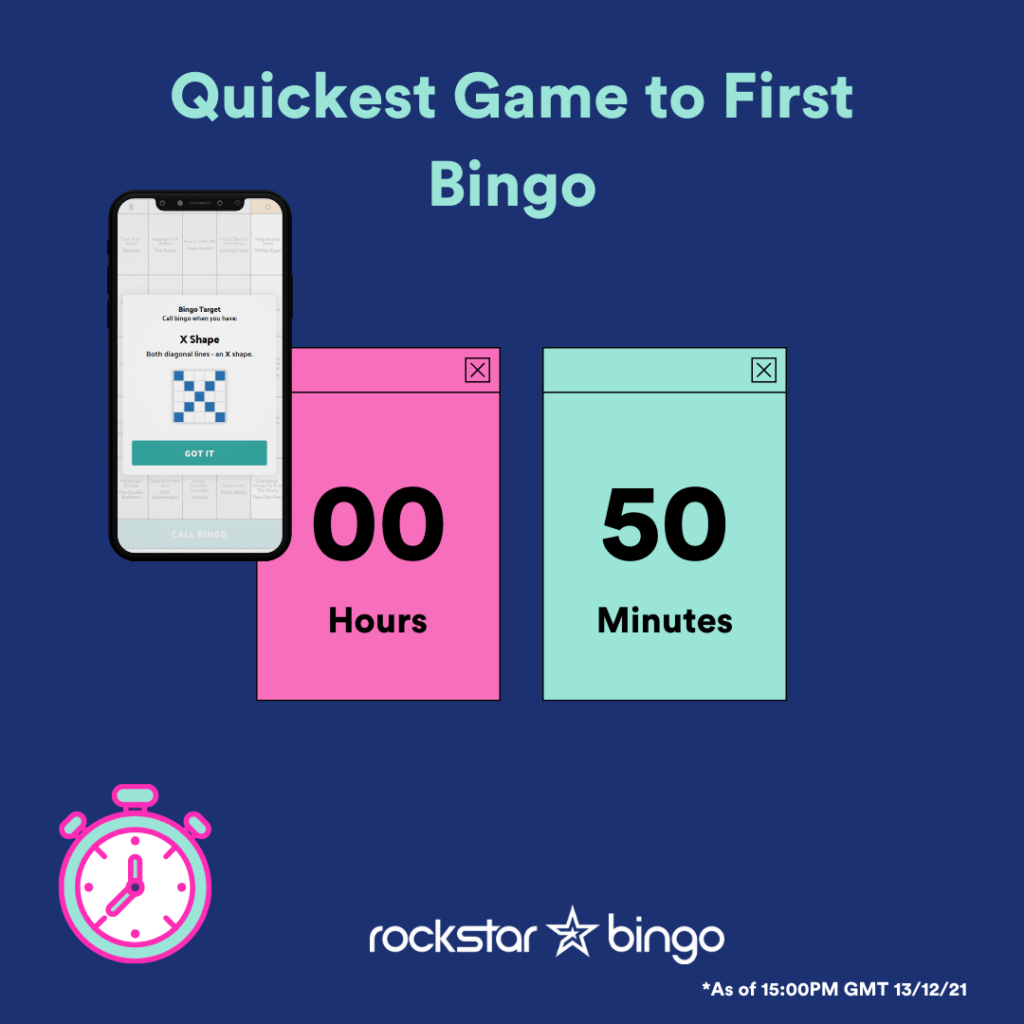 Want to join the many hosts using Rockstar Bingo to host music bingo?
Rockstar Bingo is the solution to the same old pub trivia nights! Stand out with your entertainment and offer something different, like music bingo. Just like manipulator music bingo?!
Looking to try Rockstar Bingo out for a month? Use code 'MONTHOFBINGO' to get one month free of our Premium music bingo subscription. 
What Next?
If you are interested in learning more about hosting music bingo or adding our platform to your event or venue, you can find all sorts of information on our website (see link buttons below). Alternatively, click the "Tell us about your unique event or location!" button to reach out for a chat.