What are the dates for the Queen's Platinum Jubilee?
The Queen's Platinum Jubilee celebrates 70 years of service on the throne and Her Majesty The Queen will become the first British Monarch to celebrate a Platinum Jubilee. There are many celebrations in place for the Queen's Platinum Jubilee that runs up to the Platinum Jubilee Central Weekend, taking place from 2nd to 5th June 2022. Ensure you have the best Queen's Jubilee Party playlist for your street party game with the Rockstar Bingo 'Queen's Jubilee Party Playlist'.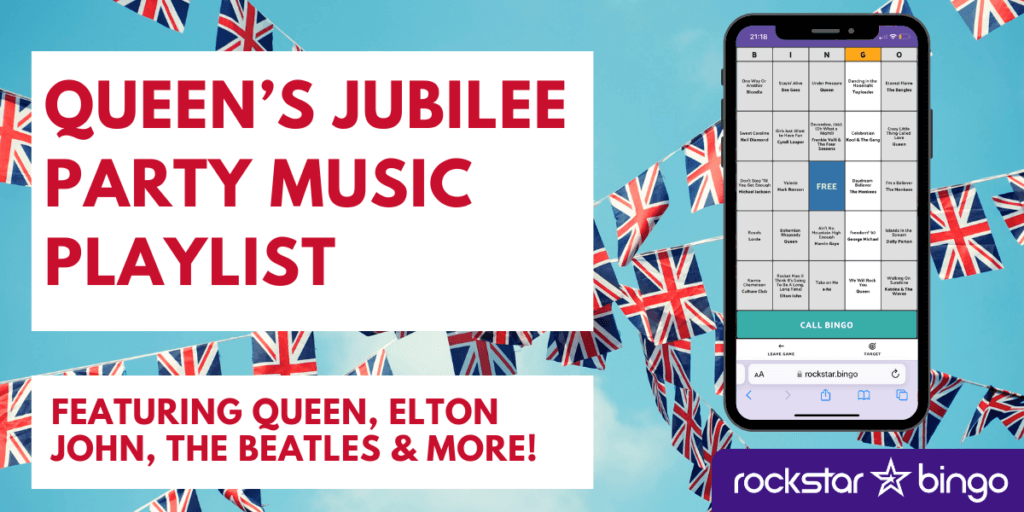 How is the Queen's Platinum Jubilee being celebrated across the world?
The Cayman Islands, Gibraltar, Guernsey, Isle of Man, Jersey and United Kingdom will all observed the Platinum Jubilee on June 3rd 2022. The UK culture secretary announced that the late May bank holiday will be moved to Thursday June 2nd 2022 with an extra bank holiday to follow on Friday June 3rd 2022 to create a long bank holiday weekend.
What is the best Queen's Platinum Jubilee Playlist?
There are a few independent playlists out there, but the best Queen's Platinum Jubilee Party playlist is featured on the Spotify profile of Rockstar Bingo. This Jubilee Party playlist contains from British and Global artists throughout Her Majesty The Queen's reign, as well as British national favourites and related 'royally' titled songs.
Artists on the Queen's Platinum Jubilee Party music playlist include:
Queen
The Beatles
Elton John
Lionel Richie
Abba
George Michael
Rick Astley
You can find the best Queen's Platinum Jubilee Playlist here on Spotify. Be sure to click 'Save' to use it in your Rockstar Bingo music bingo games, straight from Spotify.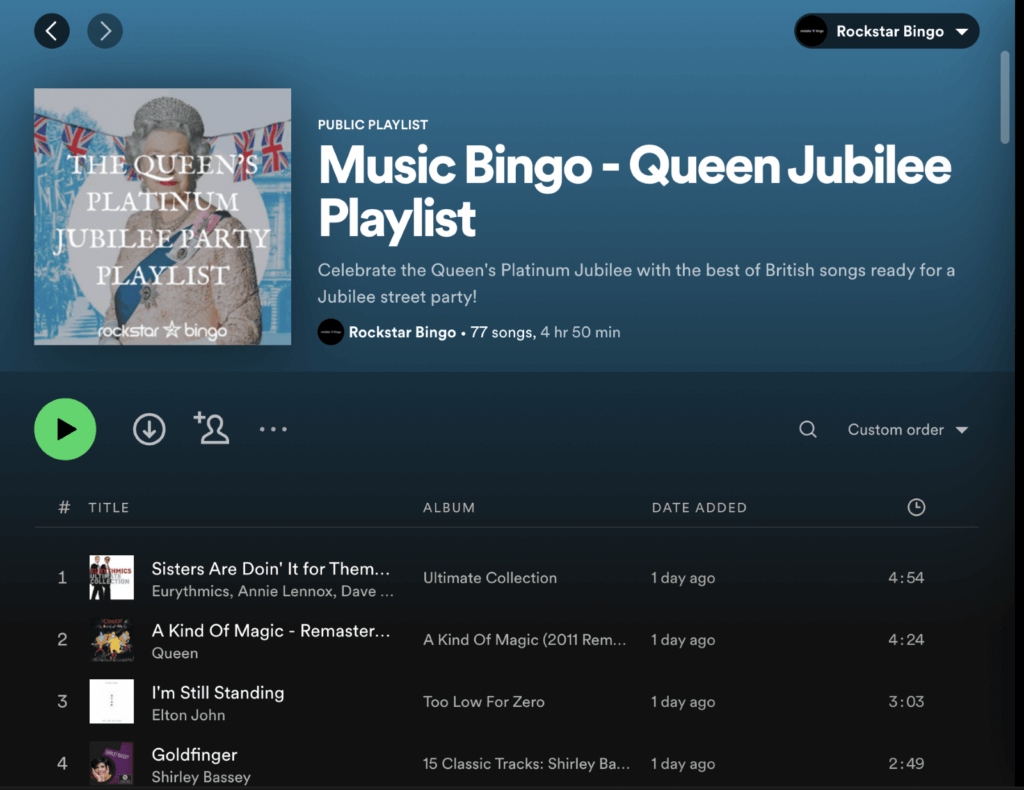 How to host a Street Party Music Bingo game for the Queen's Platinum Jubilee
It is easy to host a game of music bingo for your street party!
Sign up for a Rockstar Bingo account. Choose the account type depending on the number of players in your game.
Choose whether you will use Spotify for music or your own playlist.
If using Spotify, open the browser or app and connect your playlists (to see a playlist from your Spotify on Rockstar Bingo, you must have created the playlist or like/save' the playlist).
Start your game and invite your players using the game code.
It is quick and easy to host a game of music bingo with Rockstar Bingo. You can host both online via a virtual format using applications such as Microsoft Teams or Zoom. Alternatively, most tend to host games in person as a pub quiz game or fun music trivia game for friends or family.
Is there a new song to celebrate the Queen's Platinum Jubilee?
There has been no official 'Platinum Jubilee' song released, however in a recent poll, the United Kingdom wants to sing 'Sweet Caroline – Neil Diamond' to mark the Jubilee. Sweet Caroline is a national favourite and becomes highly popular during large football tournaments like Euro 2020.
Is there a live music event for the Queen's Platinum Jubilee?
BBC's Platinum Party at the Palace is the official music event of the Queen's Platinum Jubilee, taking place on the 4th June 2022. The Queen's Jubilee concert will be hosted at Buckingham Palace and headlined by Queen, Adam Lambert, Alicia Keys, Craig David, George Ezra and more! Many other stars will be featured at the event, including British sports stars, movie stars and of course, the UK's Eurovision star, Sam Ryder.
Themes for the Queen's Platinum Jubilee concert will include those that have evolved during the breadth of the Queen's reign, including fashion, sport, music and the environment. Andrew Lloyd Webber will feature with an array of his musicals making the musical cut!
Diana Ross will close the show with her first live performance in 15 years.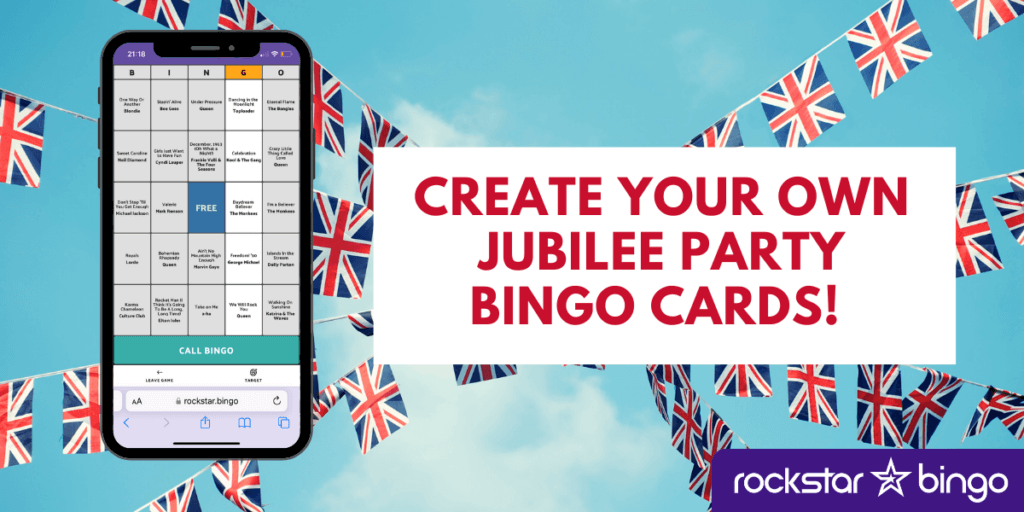 Host Queen's Jubilee Bingo Games at Your Street Party
If you are looking for games to play for your Queen's Jubilee street party, Rockstar Bingo has you covered. The Jubilee party playlist linked above means you can purchase a Rockstar Bingo account and create your own Jubilee bingo game with your Spotify Playlist! To find out more about how easy it is to play Queen's Jubilee Party bingo, watch our tutorial below.
What Next?
If you are interested in learning more about hosting music bingo or adding our platform to your event or venue, you can find all sorts of information on our website (see link buttons below). Alternatively, click the "Tell us about your unique event or location!" button to reach out for a chat.